Driver Talent Review: Update, Repair and Install Windows drivers

Read our review of Driver Talent tool, a utility that claims to take care of your Windows drivers related issues and needs. Get the stable versions of your Windows drivers, repair corrupted drivers and more with this tool.


Driver Talent is a Windows-based third-party driver utility that scans for your hardware drivers, checks the state of currently installed drivers and updates or repairs any drivers in the need of so. It is not a new tool and was previously in the market by the name of DriveTheLife.


It has all the features that you would generally expect from a program to take care of your computer drivers. When you launch the program you are greeted by a Scan button that checks for any outdated or corrupted drivers. You can update the drivers, reinstall or repair them with the tool. Before a deep analysis, let's see the important features of Driver Talent:

Works for drivers of Windows 10, Windows 8, Windows 7, Windows Vista, and Windows XP


Backup your installed drivers on an external drive so that if you format your computer due to any reasons in future, you aren't struggling for finding the right drivers.


You can also use the backed up drivers as a safety in case after an upgrade or due to something else, one or more of your drivers is giving you an issue.


If your current drivers are the reason you are going for a format, you can use Driver Talent to download the latest compatible drivers and store them somewhere to use them later.


Outdated drivers can be directly updated or the driver file downloaded which you can use later to perform the upgrade.


It shows the version number of the drivers available, so if you want to install a version other than the latest version, you can do that too.


Driver Talent can automatically shut down the computer after driver installation which will be useful if you know that there will be a reboot required after the driver installation or your installation is taking a lot of time and you want to close your computer after that is done.


Driver Talent also has the ability to trigger your system backup


You can use this tool to search for Peripheral Drivers like a Video camera, Bluetooth driver and Printer and install their drivers correctly. You can search for a printer attached both locally or on a network.

Features of Driver Talent

Now that we have seen the important features of the Driver Talent, let's check out the detailed sections that the software is divided into:

Driver Status

This feature is the default screen that you get to see after running the scan. It will show you if there is any problem with any of your computer drivers which you can repair using this utility. The section just below it shows you some optional software that you can install to improve your gaming experience. These tools are basically performance improvement tools that are add-ons you can choose to install. Hover the mouse pointer over the description area and it will show you what improvement that specific tool will offer.

Rescue Center

This section is to be used to create a backup of your install drivers on the current computer. Use it when your computer is working perfectly without any driver issue so that later in case of any driver issue, you can use this backup to restore to the stable point.

Peripheral Drivers

As also explained above, this section can be used to install drivers for your printer (local or on the network), Video camera or any Bluetooth device.

Pre-download Drivers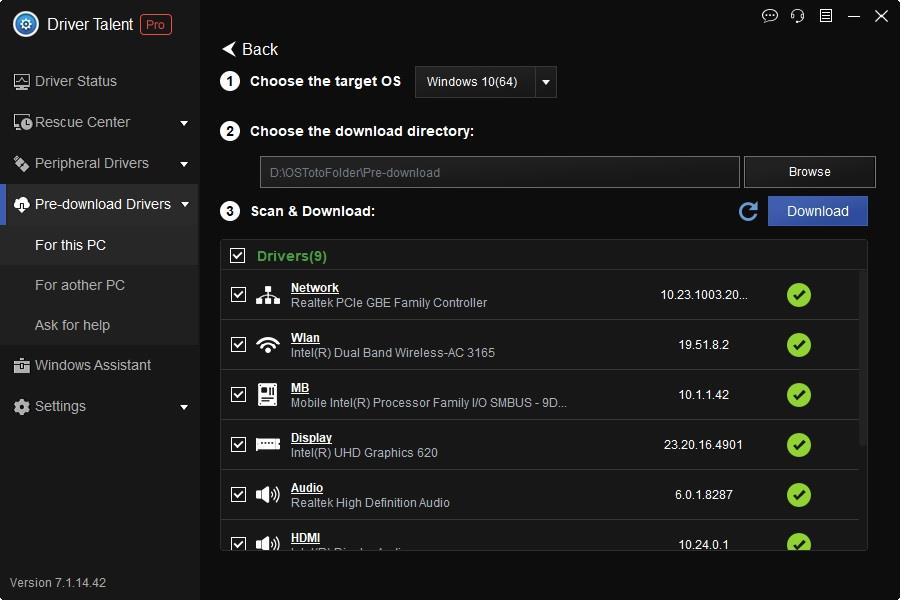 Before doing any major system change or update you can download the latest stable drivers for your computer or any other computer. However, if you want to download drivers for any other computer, you will need to have a Hardware Profile file. While it is easy to get it in Windows XP, for the higher versions there is no straightforward way to generate the profile. You can use Driver Talent to generate the Hardware Profile for your own computer by using the Ask for help section.

Windows Assistant

This section contains links to some other tools that can help you resolve system performance and environment problems. There are separate software that need to be downloaded and installed. If you feel the need to have any of them, feel free to go ahead.

Settings

Use this section to change the location where your Drivers are backed up, downloaded and from where the software will pick up your backup drivers for fresh installation.

Wrap up

Driver Talent is a wonderful tool to have on your computer to keep a backup of your drivers while your computer is working smoothly. However, I would not suggest unnecessary tinkering with your computer unless you are already facing some issue. Windows updates make sure that you are running the latest stable drivers for your computer. Driver Talent is a troubleshooting tool that will come in handy whenever you are faced with a Driver issue or you are connecting some new device like a Printer or a Bluetooth headphone which more or less always fails to install the first time for a majority of us.