ATI Radeon HD 7730 - Gaming Graphic Card Review

Have a look at ATI Radeon HD 7730 - Gaming Graphic Card Review. ATI Radeon HD 7730 is the best gaming graphic card under Rs.10,000. I have provided ATI Radeon HD 7730 features and specifications with a detailed review.


ATI Radeon HD 7730 Review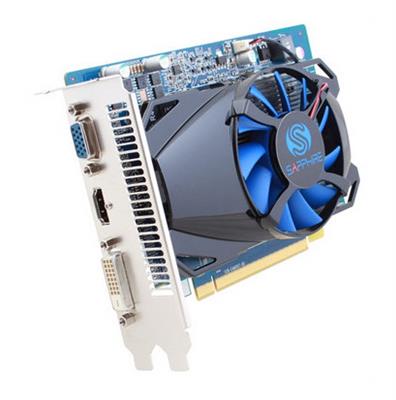 AMD ATI Radeon HD 7730 GPU provides gamers a high end gaming experience. ATI Radeon HD 7730 belongs to 7700 series of AMD graphic cards. It relies on GCN architecture which is considered to be one of the world's best GPUs. With AMD eyefinity technology, you can enjoy gaming on multiple displays rather than on just a single display monitor. But remember you may face lags while running high end games on multiple displays unless you have a small display resolution. With AMDs crossfire technology, you can crossfire (join) two similar GPUs and harness the power of multiple GPUs to experience the ultra smooth high end gaming. Apart from all these cool features, the best considered feature which makes the AMD 7730 GPU to shine unique from the rest of its competitors is its "Zero Core Power Technology". The AMDs "Zero Core Power Technology" allows ATI Radeon HD 7730 GPU to consume virtually no power while in idle state. So, now you can enjoy gaming and at the same time save energy. ATI Radeon HD 7730 GPU's sleek and awesome design will definitely throw you into its control. So, loose no time in buying this gaming graphic card if you want a high end gaming experience at a low cost. Moreover, have a look at its "HD3D Technology" which enables you to enter the third dimension with stereo 3D and mind blowing real graphics creating an in game feeling.

This graphic card is capable of playing most of the games at high and ultra high settings. ATI Radeon HD 7730 can play the latest gaming titles like:- Batman: Arkham origins, NFS rivals, Metal gear rising, Spec ops: the line, Resident evil series, Far Cry 2, Max Payne 3, Sleeping Dogs, FIFA 14, Lost Planet 3, all Call of duty series and all battlefield series on high to ultra high settings. While some graphic demanding games like Far Cry 3, GTA 4, GTA 5 on medium settings. But if you have a small screen resolution of upto 1366 * 768, then all the current game titles would run smooth on your system, provided that your system has good processor and sufficient RAM.

In short, this gaming graphic card immerses you in high end gaming experience and considerably fits in the budget.
Let's have a look at some of the ATI Radeon HD 7730 GPUs salient features and specifications.
ATI Radeon HD 7730 Salient Features

Engine Clock Speed Up to 800MHz

Available Memory Type GDDR5 or DDR3 memory

Memory Clock Speed Up to 1125MHz (4.5 Gbps GDDR5)

Memory Bandwidth 72GB/s (maximum)

Compute Power 614 GFLOPS

GCN Architecture

6 compute units (384 stream processors)


24 texture units


32 z/stencil ROP units


8 color ROP units


Memory Interface 128-bit

Supported Bus Interface PCI Express 3.0 x16

DirectX compatibility DirectX 11.2-capable

OpenGL compatibility OpenGL 4.2 Support

Texture technology Ultra high-resolution texture streaming technology

Image Quality Enhancement Technology>

Up to 24x multi-sample and super-sample anti-aliasing modes


Adaptive anti-aliasing


Morphological Anti-Aliasing (MLAA)


Enhanced Quality Anti-Aliasing (EQAA)


DirectX® 9/10/11 Super-Sample Anti-Aliasing (SSAA)


16x angle independent anisotropic texture filtering


Read ATI Radeon HD 7750 - Gaming Graphic card review