Batman Arkham Origins game review, gameplay and tips to play

Read about the game Batman Arkham Origins game and know the features of this game. Know the pros and cons and decide whether the gameplay suits you and what all to expect.


Have you fought the fight of Batman and won an Arkham game? If not, it's time for you to have a look at the latest version of Batman Arkham Origins game. The trilogy includes Arkham Asylum and Arkham City. Batman is rendered here as the young angry man sporting a black mask and he leads a gang to solve mysteries. Now you have a new set of negative characters that are not yet known by their predictable attacks. Rather that is the twist of Batman Arkham Origins game where you have to deal with those unpredictable moves of these characters and build up your scoreboard.

Storyline

Batman Arkham Origins game uses the background of Christmas Eve being celebrated at Gotham City. Once you are done with the introductory phase, you are now given the permission to explore the city at your own discretion. But remember your mission of tracking down those hooligans who has wreaked havoc in the city in search of their treasure collection and indulging in every kind of crime made possible. The primary focus of Batman Arkham Origins game is on the fighting scenes that follow a conventional puzzle and acquiring weaponries to handle and shun down those criminals. You will be armed with the glanderous Arkham set, explosive gel, baterang, grappling claws. But the fight isn't always a straight forward game. You need a presence of mind to choose the methodology of going ahead with your mission, and it may involve maintaining secrecy, unpredictable decisions and movements and ability to adjust in a mysterious surrounding.



Batman Arkham Origins game gives you the wonderful opportunity to dwell in the city and experience its magnificent look. Glide down by each and every structure you like, get a chance to have a close look at the marvellous architectural buildings and travel through the Batwing, teaching the criminal a lesson. In the process you might have to drop few anarchist bombs and destroy few monuments that otherwise you would have loved to visit. But now you are on a mission and you can't let those heinous criminals crack down your scoreboard.

The agile movements allowed in Batman Arkham Origins game are simply matchless and you can glide by the walls, attack your enemies from the top and whiz pass the skyscrapers. You need your gaming skill to understand the logical sequence regarding what you need to do next once you cross a level. All you have to focus on is the usage of the tools and weapons against the enemy racket. Batman Arkham Origins game has some unique challenges which will knock the door when you are least prepared for it. The combats are quite difficult to predict as easier ones can follow the tough steps.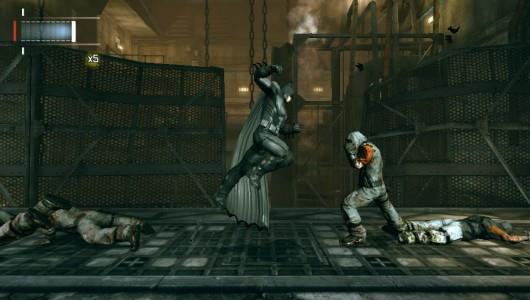 Wrap up

On the go, Batman Arkham Origins game will be a smart collection for its smooth and sleek graphics with decent soundtracks. If you have watched the Batman movie series, here you'll definitely feel yourself as a part of it. The storyline, the plot and the suspense keep the game at a high strung note and it claims a glory added to the legendary presentation of the Dark Knight.

Pros: Challenging fighting challenges, nice storyline
Cons: Not as great as its previous versions, too many win buttons

Read List of PC video games releasing in India in April 2014