Features and Specifications of Nintendo 3DS gaming console

Nintendo 3DS gaming console has dual screens and a mini-laptop design. This attractive gaming console has won many hearts and is dominating the gaming market. Read this article to know about the features and specifications of Nintendo 3DS.


About Nintendo 3DS :

No matter what your age is, Nintendo 3DS will entertain you. Nintendo 3DS takes you into an exciting 3D gaming world where you don't need your glasses to play 3D games or watch videos. The good thing is that you need to spend only $199.99 for this console. Interesting? Let's take a look at its features and specifications.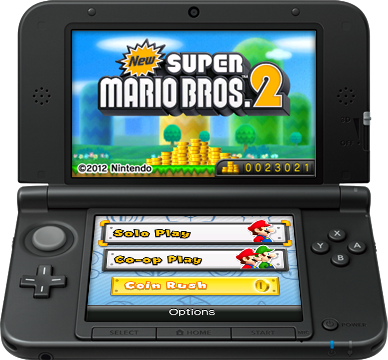 Design & display of Nintendo 3DS :

Nintendo 3DS looks like a mini laptop. It is about a palm-long. The only visible difference between a mini laptop and Nintendo 3DS is that the latter comes with a dual touch screen. Only the top screen is 3D enabled. You can play the 3D games and adjust their settings by using a built-in depth slider. By adjusting this slider under your right hand, you can even play games in 2D. So, the choice is yours.











The top screen is relatively wider with a resolution of 800x240 pixels. Nearly 400 pixels are allocated for each eye to create the 3D effect. The base screen has a resolution of 320 X 240 pixels and displays 16.77 million colors. The dual touch screen feature makes this console unique. A major drawback that I personally feel is that Nintendo 3DS is too small. It would have looked more attractive if it had a larger screen.


3D camera & stylus of Nintendo 3DS :

The uses of Nintendo 3DS are not restricted to 3D gaming only. Users can also capture photos & videos and that too in 3 dimensions. Though the touch feature is easy to use, Nintendo 3DS also comes with an adjustable stylus to work on the bottom screen.


Memory & compatibility of Nintendo 3DS :

Nintendo 3DS comes with an in-built SD memory card that allows users to store stuff like photos, videos, recordings and music files. Users can also download games from Nintendo e-shop. The memory expansion option gives enough space for storage. Coming to the compatibility of Nintendo 3DS, all Nintendo DS and Nintendo DSi games can be played in 2D. It is believed that some DS games that use accessories cannot be played on 3DS.


Built-in software & games :

Mii maker is a tool for fun. You can use it to create funny avatars of yourself or your friends. It is very easy to use. Just take a photograph on your console and Mii maker auto-generates a fun character for you. To play the Augmented Reality (AR) games in Nintendo 3DS, you require cameras and AR card. You just have to place your AR card (it comes along with console) on the console. The camera reads the card and the game is initiated automatically.


e-shop and internet browser :

The e-shop of Nintendo is similar to other game stores. You can find all downloadable stuff like 3D games, virtual console games and game trailers. Nintendo 3DS internet browser is provided to surf the web. You can connect Nintendo 3DS to wireless internet points and enjoy web surfing. When surfing web, you don't have to end your game. Just pause the game and by pressing the 'Home' button, the game will re-start automatically.


Other features :

Street PassTM and SpotTM Pass are two new features are added to Nintendo 3DS. The Street Pass feature allows the players to exchange data like high scores and custom characters. Spot Pass is also a similar feature which can automatically connect to internet access points. Once the connection is made, it automatically downloads updates from Nintendo zone, 3D videos from Nintendo video service and add-on game content from your favorite 3DS games. You can see this auto-download process by a blue LED on console.

On the left, you will also find an analog circle pad with the message, "this analog control combined with touch, gyro and motion sensors will give you a wonderful gaming experience". There are two variants of Nintendo 3DS. The smaller variant comes for $169.99 and the bigger one for $199. Nintendo 3DS may not be a competition to today's PS4 Xbox 720, but it is an excellent console with a unique design.

Read Why you shouldn't buy consoles at launch dates