How to check if a website is safe or not - Website safety checker tools

Website safety checks are crucial to staying safe online since the internet is full of scams. Here are some tips to ensure you stay safe on all the websites you visit by checking website security.


The safety of a website is crucial when you're browsing the web since you never know if it's safe. The domain safety check can help you determine how safe a website is before you visit it. It is advisable to use a tool to check URL safety so that you can avoid scam websites or websites that use your data for malicious purposes or that use your data for their gain.

Often, being cautious is a good thing. Online, however, it is crucial to verify a site's reputation before interacting with it or entering personal information. Are there any suspicious elements on that streaming site? Would you like to check that the e-commerce store is legitimate before entering your credit card information? Do you want to make sure that the e-commerce store you are considering is legit before you enter your credit card number? You should always verify your website before doing anything online. You can find easy and effective tips in this article on avoiding scam websites, checking links, and verifying a website's trustworthiness. If you encounter a scam, don't forget to report it.


What is a domain safety check?

Domain safety checks are used to determine whether a website is safe. Domain safety checks are frequently used by people who want to stay safe on the web. If a website has been compromised or is deemed unsafe, that information will appear in the domain safety check. It's crucial for business website owners to ensure their websites are safe and pass domain safety checks.

Easy-to-use domain safety checks are especially helpful. A domain safety check tool allows you to check URL safety simply by entering a website's URL and pressing a button. You can use these safety checks when building a website to ensure it's secure. Antivirus programs even include domain safety checkers so you can stay safe while browsing the web without having to check each URL manually.


To check if a website is safe, follow these steps:
Check for SSL certificate: Look for the padlock symbol next to the URL or see if the URL begins with "https" when you're browsing the web. A valid SSL certificate indicates that a website is secure. There will be a warning symbol (or simply no padlock icon) next to the URL if the website does not have a valid SSL certificate. A valid SSL certificate is a requirement for every reputable website. They ensure the safety of website visitors, and they are affordable and easy to obtain.


Check out the privacy policy: When you sign up for a website, reading all the terms and conditions can be daunting, but the privacy policy is worth a closer look. It explains how your privacy is protected when visiting a particular website, including what kind of data is collected and who gets access to it. Most sites have a privacy policy at the bottom of their pages.


Examine the URL: In general, you can evaluate the safety of websites by examining their URLs. Scam websites may have very strange URLs, such as those with several hyphens, numbers, or odd domain extensions. Also, keep an eye out for websites that use URLs that appear very similar to popular websites. These could be phishing scams. You can't always tell a website's safety just by looking at its URL, but you should get in the habit of checking URLs frequently. It is still a good idea to keep an eye out for suspicious URLs, even if you don't use a domain safety check.


Look up the website owner: Use a domain information lookup to find out more about the domain owner if you want to make sure you're visiting a safe website. Remember that some people may use domain privacy, so when you look up their domain, you won't see their actual contact information. In any case, researching a website's domain owners can help you determine if it's safe to visit.


Check for spam: You can also check domains against spam databases to see if they have a history of spamming along with looking up more information about domains and who owns them. It is a sure sign that a website is malicious if spam emails are sent asking for money or personal information.


Browser safety features:The features built into your web browser can help you avoid scam websites and monitor website safety. You can check URL safety with all major web browsers, including Chrome, Firefox, and Edge, to protect yourself on the web. Chrome has several security features that protect you wherever you are on the web. Chrome stays up-to-date with automatic updates, so you won't have to be concerned about substandard security. You should understand the basic security features built into all browsers, regardless of which one you use.


Google Transparency Report:Google Chrome flags websites that are deemed unsafe as people visit millions of different websites. In the Google Transparency Report, which is a shared database that contains information about privacy and security on the web, these websites are tracked. Using this database, you can check if URLs have been flagged by Google.


Google Safe Browsing:Google Safe Browsing works along with Google Chrome to identify unsafe websites. Google flags websites that are potentially unsafe as they are used by billions of devices. When a user attempts to access that website, a warning appears, helping keep users away from malicious sites.
Website safety check tools

When it comes to website safety checks, there are a lot of tools available. It takes only a few seconds to run a website safety check with these tools, and you don't need to be an expert to use them. Check out these tools if you want to run a website safety check.

1. Sucuri SiteCheck




One of the most popular online safety tools is Sucuri. Among its features are malware, virus scanning, blacklist checking (consulting Google Safe Browsing, McAfee WebAdvisor, PhishTank, etc. ), and software updates. It returns a simple results page that contains the results of the scan as well as potential improvements to website security.

Many large companies use Sucuri's website safety tool, including GoDaddy, WP Engine, and Yoast. The Sucuri WordPress Plugin also includes specific features like file integrity monitoring and security activity auditing. A paid service that offers more proactive website safety checking is available alongside Sucuri SiteCheck and its WordPress plugin.

2. Virus Total




Virus Total is one of the most comprehensive URL scanners available. The service consults over fifty blacklists to determine if a site is deemed unsafe by most services. Additionally, Virus Total provides detailed security reports, including information about malicious files and external links within the website. It also uses smart anti-malware software to detect possible viruses, worms, or trojans. The tool's downside is the amount of information it returns. Filtering through the results and finding relevant information can take some time.

3. WPScan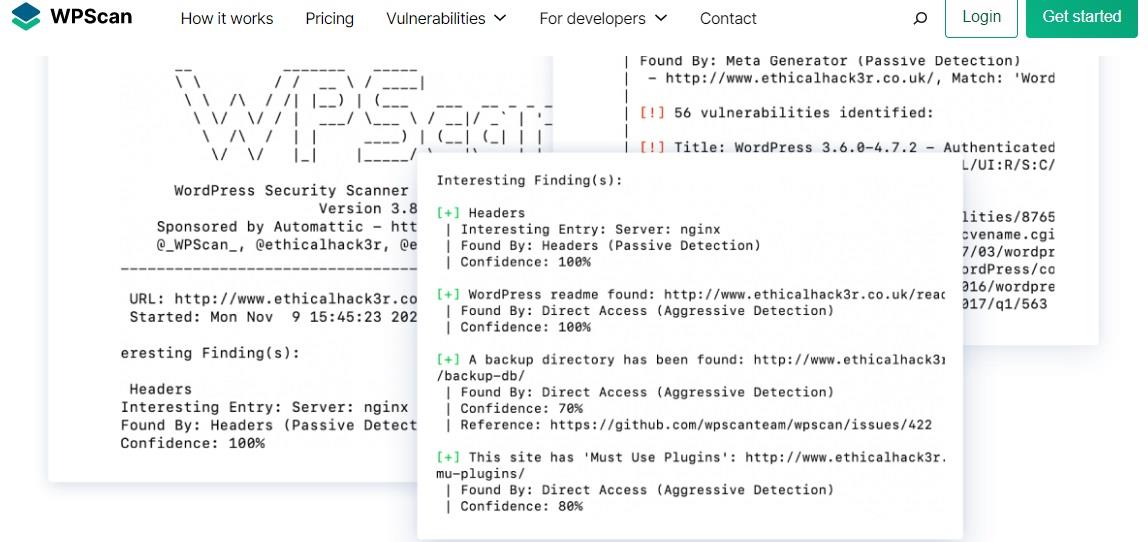 The WPScan web security tool is a great tool for WordPress websites. There is a large database of known vulnerabilities and irregularities for WordPress's core, themes, and plugins. You can download WPSan's code from GitHub and install it on your server for free. Users who are unfamiliar with this process can run scans and download free plugins from cloud services (WPScan.io). Users should combine WPScan with other website security checker tools that target general vulnerabilities on websites. WPScan is a free WordPress plugin you can download from WordPress.org.

There are two good options for cloud services:

WPScan.io is the "official" service that provides free monthly scanning or daily automated scanning for a fee.


Third-party service WPSec uses the WPScan code and some additional algorithms on top. Manually running scans is possible at any time.
4. Mozilla Observatory


Mozilla, the company behind Firefox, offers a free website security check called Observatory. The platform includes both its tests as well as built-in tests from third-party platforms like SSL Labs. There is probably no better free tool for checking the security of a website than this one. Results are broken down into four sections by Mozilla Observatory:

HTTP Observatory


TLS Observatory


SSH Observatory


Third-party Tests

The results of Mozilla's tests can be a little confusing at first, but it provides extensive documentation explaining each one. Mozilla Observatory is the only tool listed here that is 100% free with no additional charges, despite its complexity.

5. Detectify




Detectify is a more robust website security checker...but it's not free. In other words, trade-offs! Detectify scans your site for 1,500+ vulnerabilities, including CORS, OWASP Top 10, and Amazon S3 Bucket misconfigurations. Detectify uses crowdsourcing to build its scanner. A team of over 150 "handpicked ethical hackers" builds automated tests for the scanner.

This is the most detailed scan of any tool on this list. However, it's not free, once again. There is a 14-day free trial available (no credit card required). After the trial period ends, paid plans begin at $50 per month (annually) or $60 per month (month-to-month).


Bottom Line
You now know how to determine if a website is legitimate. It is important to note that not every website follows all of these guidelines. It may look like some resources are trustworthy at first glance, but that doesn't mean they are. Now it's up to you to determine whether a website is legitimate! Take advantage of modern security tools and educate yourself on what to look for.