Top 8 employee Collaboration suites for remote working

Employee Collaboration tools are a must-have tool for organizations of any size. With work from home becoming a big part of the new work culture, it's importance has increased many folds. Know the best cloud collaboration tools that you can use in your company to help your employees give in the best.


The COVID 19 pandemic and the dangers that the disease has brought with it has forced the companies to move towards remote working. This end of the decade year shock has brought about a lot of changes, both good and bad. Some companies are still struggling to adjust to this new normal while the most innovative ones see a lot of silver linings in this pandemic.

If you have the right employee collaboration suite, it helps your employees collaborate easily whether they are working from the office or from a remote location. Today, we are looking at some cloud-hosted collaboration tools like GSuite which provide an end to end solution for the needs of a modern digital company. Right from email, chat, online storage, productivity tools and more, we list out the tools can be and are used by companies of all size, right from a start-up to Fortune 100 companies


Top 8 Employee Collaboration Suites for the best remote working needs

With more and more workers now working remotely due to the Coronavirus pandemic, it has been quite essential for an organization to invest in a powerful and efficient employee collaboration suite, These collaboration applications and suits help the employees come together virtually no matter where they are located.

The right tool or suite should have all the possible options that can replace physical meetings, physical documents, and conference meetings into digital once while taking care of data security. The availability of multiple options such as email, video conferencing, chat, online storage, and calendar would add up more value to an employee collaboration tool.


1. G Suite

Google has been one of the prominent organisations that have been cramming everything possible into a suite. The G-Suite is one of the powerful employee collaboration tools that has revolutionised the concept of remote working. G-Suite has practically everything that Google offers and combines all of those into one single platform.


Yes, you have plenty of those individual applications and services that include Google Currents, Hangouts, Calendar, Drive, Docs, Sheets, Slides, Keep, and Sites neatly combined together providing you with a complete suite for a powerful collaboration possible. Almost all the products are integrated seamlessly with Gmail and other Google key offerings which provides access to a smoother workflow at all times. No matter which Google service you are currently on, you can be assured of a linked workflow at your fingertips.

Using Google Suite brings about a change of shifting from offline tools to online ones. This change is especially highlighted when you want Document productivity apps. You need to start making use of Google Docs, Google Sheets, and other such Google Suite document-related apps. While it might be unsettling for the employees at first, but it is a good change that improves the confidentiality of your office docs and yet makes it easy to share data when really required.


2. Microsoft 365

Previously called Office 365, the suite has now had a name change and is called Microsoft 365. Except for the name change, everything else that the suite offers has remained the same. In fact, when you compare it to G-Suite, Microsoft 365 might feel more user-friendly because many of us are already familiar with using these applications.


The suite integrates almost everything that we have all along used for our productivity needs. Be it the apps such as Word, Excel, or Access that have been the best offline tools from the tech giant, or the newly introduced productivity tools such as SharePoint or OneDrive; you would find Microsoft 365 to be a strong competitor to G-Suite. And perhaps more robust than the latter.

Microsoft 365 puts all the essential apps such as Word, Excel, and PowerPoint on the cloud. Then there are other additions for perfect remote working experience. One good example is Microsoft Teams that brings instant messaging right on to your Office Suite. The ease of working across multiple operating systems including Mac, Windows, and Android is yet another added advantage. Finally, the flexible pricing takes it a step ahead, which makes the suite financially viable too.


3. Zoho Projects

This is an outstanding service that makes it one of the excellent choices for most of your online employee collaboration. Complete integration with almost all the tools that you have been using makes it a prime choice. This includes Zoho Docs, Zoho CRM, and Invoicing, to name just a few. In fact, the suite also integrates with other third-party apps such as Zapier, Google, and Slack.


The software offers you access to several advantages such as a clear interface, a huge array of features, and practically everything you would need to have access to in an efficient employee collaboration tool. Each of the projects can be broken down into several pieces that can be managed rather easily. Support for project planning through Kanban boards is yet another added advantage.

Collaboration assisted by Zoho goes beyond the limits you might have faced in case of a few other options in its genre. A built-in calendar for viewing the projects, message boards that tend to be extremely interactive, and special chat rooms for an effective collaboration would bring Zoho at par with the services such as G-Suite or Microsoft 365.


4. Samepage

One tool that packs unlimited advantages of employee collaboration. That is what Samepage stands for. It combines everything that you need in one single platform. Samepage provides you access to several online collaboration activities such as online meetings, project management, communication, and complete online collaboration.



The cloud-based collaboration service with a variety of services that include video conferencing, real-time document sharing, file sharing, and screen sharing. Work from any device right away - you can add text, videos, maps, diagrams, and spreadsheets. In fact, keeping track of communication can be a huge task in any sort of project management, but Samepage simplifies it by offering a dedicated chat tool that integrates and connects with the project you are working on. This will make it easier to work with your co-workers in real-time.

The high level of integration between tasks and calendars is yet another plus point we observed on Samepage. You can use tools such as mindmaps and sheets (or even task boards such as Kanban boards) to schedule small projects and upcoming campaigns. Meetings can be a quite interactive with the inbuilt capability for preparing the agenda, taking notes, taking a call, and capturing and assigning action points with ease.


5. Wimi

Wimi has been offering good quality features in terms of productivity enhancement and effective team collaboration. They have three different offerings catering to varied needs - Wimi Drive, Wimi Teamwork, and Wimi Armoured. While Wimi Teamwork is an excellent tool for team collaboration fro almost every need, the Wimi Armoured is designed for those scenarios where you would need to have access to a highly secured tool for employee collaboration.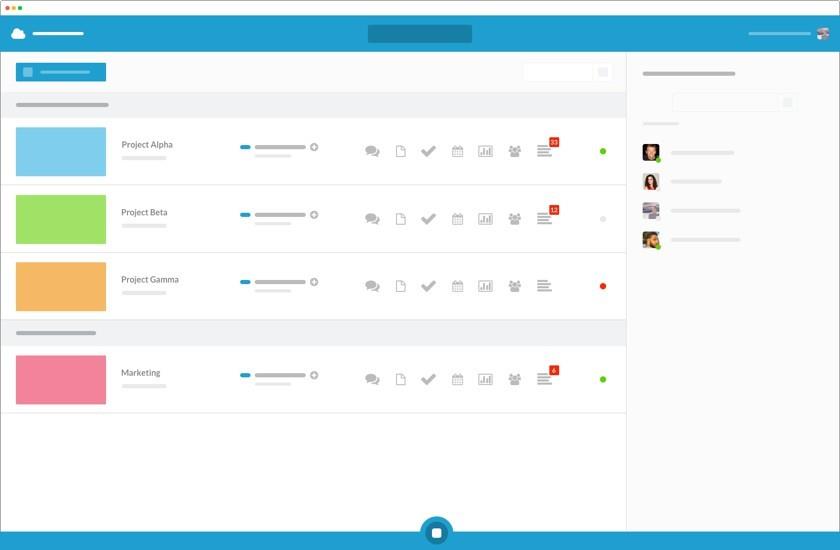 The tool centralises your tasks and provides you access to a truly powerful experience with five tools in one single platform. It complies with the Patriot Act and RGPD which make it one of the prominent options you can find for high-end security. The suite comes with centralised tools such as documents, sheets, tasks, calendars, and notes. This can go a long way in helping you get access to a dedicated workplace that keeps your projects up to date.

The Wimi Drive provides you access to cloud storage and tightly integrates with the Wimi suite. It syncs all your files and folders and thus enhances the collaborative interaction in real-time. The security options offered by Wimi are one of the added advantages that makes it a strong contender and powerful competitor for most of the employee collaboration suites listed here. End to end encryption, two-factor authentication, private storage, and single sign-on are a few features that definitely makes it a well-informed choice.


6. Facebook Workplace

Well, Facebook has not remained a just social media service. With a host of acquisitions and interactions, it has become a powerful tool or a suite in itself. Workplace, coming from Facebook, is not only a chat tool. It provides you access to a suite of features that would make your employee collaboration a cakewalk.


The email threads or the mail threads can be rather much difficult to handle. Workplace lets you create separate groups for each of your projects. You can add the relevant people to your groups and begin posting updates, files, videos and whatever you want to share with your team as long as your projects are concerned. The suite also comes with an option to include a live video so that you can add news and announcements to your project mates.

Your team will get access to the real-time updates with respect to your projects in the familiar newsfeed format. Powered by the Advanced UI capabilities, your team would be able to keep themselves updated with everything they need to stay updated with respect to your project. Facebook Workplace provides you access to a Knowledge Library. This can be used to store the static content that you would need to have access quite frequently.

And then, the suite - despite having its own special tools for different purposes - packs in a host of integrations with over 50 third-party tools. These include Dropbox, Salesforce and SharePoint. You can expect a complete integration with leading cloud services such as Microsoft 365 and G-Suite.


7. Blink

The all in one solution for employee collaboration and communication, Blink is specifically designed for mobile or field workers. The app has now become one of the prominent tools for employee collaboration in the newfound work from home culture. It provides you access to several forms of options for communication, content sharing, and teamwork. Of course, players like Google and Microsoft have taken the lead in this arena, but there is still scope for alternative apps, and Blink definitely fills this void.


Blink works as a tool with multiple functionalities. It can act as a tool for storing information and double up as a messaging service as well. The tool also doubles up as an excellent solution in digitising most of the paper-based tasks and provide you with an automated hub for the purpose.
The suite comes with micros apps that let you handle a wide range of project management tasks that would include project reporting, timesheet management, and a wide range of other activities. The AES-256 encryption should be yet another huge factor that goes in its favour.


8. ProofHub

What if you have a large team and do not want to spend heavily on those project management tools? ProofHub can be the right answer for you. With more than 85,000 teams and businesses globally, it is one of the Go-To employee collaboration suites you can rely upon.

What makes it one of the best competitors to the likes of Microsoft and G-Suite is the flat price that they offer. Unlike the other tools that come up with a per-user pricing module, ProofHub offers a flat price. Once you get your platform set up, you can continue adding as many users as you would want to. Moreover, it seamlessly integrates with almost every tool that you have already been using.
Of course, the suite is not much feature-packed as in the case of other high-end tools, but that does not mean it is not effective for your specific needs. The simple interface is one of the factors that makes it the right option for the employees who are new to the online mode of working.

The suite offers you several services that include a centralised file storage, custom workflows, time tracker, and Gantt charts.


The Closing Thoughts

The remote working and online collaborations are a requirement whether you are working from office in a big company or from the home on your comfortable chair. The employee collaborations suites we have discussed in this article should help you shortlist the right service for your organisation.

Check them out and share your experiences with these apps and suites. That would perhaps help others who are trying to find the best employee collaboration tools worthy of trying.