How to Download Kodi on iOS 13 Devices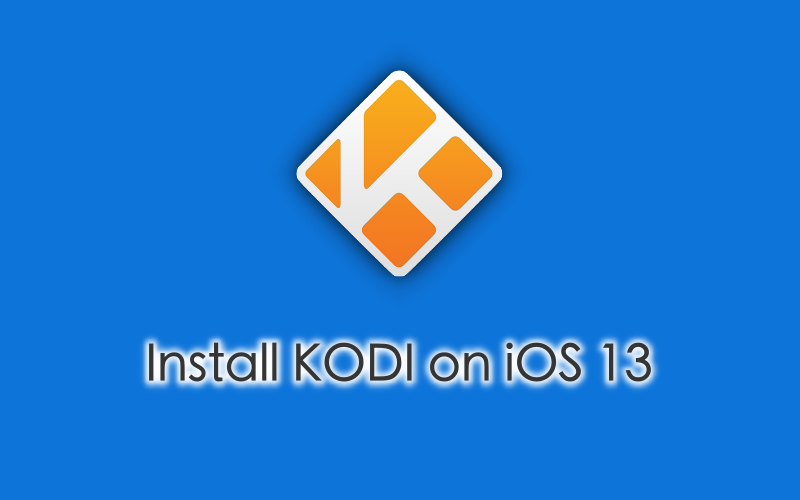 Read this article to know what exactly Kodi is, what are its key features, from where you can download it and how to install it on your iOS 13 devices.


Kodi is the best-known open-source media streaming app in the world, with versions available for almost every platform. We say almost because the only platform it doesn't support is iOS. Not with the official app anyway. There is a way to install it on your iPhone or iPad, benefitting from a ton of other content too. Read on for more details.

What is Kodi?

Kodi is an open source home media hub. As well as letting you store your own media – movies, music, photos, etc. – you can also stream other content, watching moves, TV series, live TV sports events and more, using a series of external add-ons. With Kodi for iOS 13, so long as you have an internet connection, you can watch what you want, when you want.

Kodi Features
Free to download and use
Use it for storing your own photos, movies, music, etc.
Use free add-ons to get even more content
Fully customizable
Choice of skins
Supports most platforms
Many more features
How to Download Kodi on iOS 13

Because you can't download this from the official App store, you will need to use an external installer app called TutuApp. This is a fantastic source of all kinds of apps and games that aren't in the store; modified, tweaked, tweaks, and more. You don't need to jailbreak to use TutuApp and its really easy to get.
Go to the TutuApp VIP Download Page
Tap on Install > Allow
When it's downloaded, close the page
From your home page, open your Settings app
At the top of the screen, you will see "Profile Downloaded" – tap on this
Tap on Install and type your passcode in if requested
Tap on Install > Done
Close Settings and open TutuApp from your home screen
Tap on Apps > Categories
Tap on TutuApp Apps and search for Kodi
Tap on the app and tap Install
Tap Install to confirm and wait for the process to complete
Now open your Settings app again and tap on General>Profiles
Tap on Enterprise Apps and trust the developer
Tap on Trust again and close Settings

Now you can use Kodi. If you are only intending to use it to store your own media files, enjoy. If you want more, read on to find out how to install Kodi add-ons.

Install Kodi IPA File

There is another way of installing Kodi onto your device; this way will only install the app, and no extras like you get with Tutu App. You are going to need:
Your Mac or PC
iPhone or iPad
USB-lightning cable
Your Apple ID
Before you start, make sure that you are running the latest version of iTunes on your device. Although you will not need to use it, you are using your Apple ID, and that means iTunes does have to be up to date:>
Open iTunes on your computer
Click on the Help menu
Click on Check for Updates
If an update is found, follow the instructions on the screen to update
Now you can close iTunes and follow these steps:
On your Mac or PC, download the latest version of Cydia Impactor tool – this is required to install the app to your device
Next, download the Kodi IPA file
Extract the contents and save the IPA file on your desktop
Plug your iPhone or iPad into your computer and open up Cydia Impactor
Let the tool detect your device, and then you can drag the IPA file over and drop it into Cydia Impactor
When asked to, type in your Apple details
An Expired Certificate warning message may appear; tap OK on the message
Now be patient; Cydia Impactor will retrieve the file and sign it, installing it onto your device
When it's done, the Kodi icon appears on your home screen
Before you use it, open the Settings app
Now select General and then go to Profiles and Device Management
Find the Kodi profile (it might be your Apple ID) and tap on it
Tap the blue Trust button
Close Settings; Kodi is successfully installed and ready for you to use
How to Install Kodi Add-ons

Kodi add-ons give you the functionality you need to watch thousands of TV shows, movies, sports events, live tv, documentaries and much more. Head to Google and find the add-on you want to install and make a note of the URL:
Launch Kodi on your iPhone or iPad
Tap on OK and then tap on Settings
Tap on System > Add-ons
Enable Unknown Sources
Go back to the Kodi home screen and tap on File Manager
Tap on Add Source
Follow the instructions from the website where you found your add-on
Fixing Installation Problems

If you can't get Kodi onto your iPhone or iPad, make sure you have sufficient storage space on your device first.
Open Settings and tap on General
Tap on About
Go to where it says Available, and you will see how much space you have free on your device.

If you don't have enough space, clear some stuff off your device – uninstall apps you don't need, delete files you don't need and move your media to another storage place, i.e., a USB flash drive.

Is Kodi Safe to Use?

Kodi app is perfectly safe to use, and it is legal – if you are only using it for storing your own media. Where the legality greys a bit is in using the add-ons as these are not strictly legal. However, if you use a VPN, you can hide them from your ISP and from Apple, so they cant be revoked. If you do choose to use an add-on, be aware that the smaller ones tend to disappear very quickly. Chose one of the better-known sources (there are plenty of lists on the internet) as these are regularly updated to keep them safe and secure.

There isn't any doubting the popularity of Kodi; it is used by millions across the world. You do use it at your own risk but, providing you keep yourself secure and use the official download links, you will have a lot of fun with the app.