LastPass - a free password manager tool

A must read article on LastPass password manager. LastPass is a famous, most preferred password manager tool in the world. Read to know more about the LastPass; the need, Price, advantages and importantly the comparison with other tools.


Ever wondered that if something would be there who tells you your usernames and passwordss for your favorite sites instantly without any fees, also writes them at allotted spaces and keeps it safe and secure. How nice! Yes it is now possible by special tool called Password Manager.


Overview

Password Manager is a password management tool which stores all your sites and their respective usernames and passwords. It creates a detailed database and organizes your data so that it will be ready whenever you need them. It organizes all these data in such a manner that when you need them, instantly you have them. It may come as a browser extension/add-one or a simple application which suits to your OS and device or it may also be a portable one.

Online password managers give you the only key—in the form of a master password. This password is only known by you. All your data privacy will depend on how strong is your master password. The stronger the master password, more secure the data will be.


Why we need them

IE, Chrome, Firefox, and other browsers can save your logins and basic information for automatic form-filling. This is convenient, because you don't have to download or set up another app. But is it secure? A big NO! It's absolutely not the most secure or robust option. There are a lot of tools or ways, shared online that any newbie can crack our information from our PC's/Laptops easily. It is hard but not impossible.

We need beyond these; we should be serious about online privacy.


Introduction

LastPass is the leader of the online password managers because it's both easy to use and can be locked down pretty tightly. LastPass is a browser based password management service. It is developed by LastPass.


Why Lastpass?

LastPass is an evolved Host Proof hosted solution, which avoids the stated weakness of vulnerability to XSS as long as you're using the add-on. No one at LastPass can ever access your sensitive data, because all the data is encrypted with 256-bit AES protection.


Features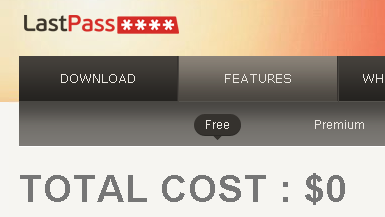 One master password

Yes! As said above it also uses one master password that opens your gateway for all your stored data. Isn't it easy? It is really a peace of mind I say! And their password generator is just a cherry on the cake. It will be unique to each individual. LastPass makes that task, like a piece of cake. It is more secure and faster.


Synchronization

Using Firefox, Chrome, IE or all of them? Or using multiple computers/Laptops? You can now synchronize your LastPass across your browsers and different computers. LastPass is available as an extension or add-on for almost all the famous browsers that are available across web.


Fill forms automatically

You have to make your 'Profile' in LastPass and fill all your form data. You can create as many profiles as you wish for your personal information, business information, and different credit or debit cards and automatically fill your personal information into web forms accurately and safely.


And lots more!

I cannot describe all the features here, but for sure list it out some for you.

Easily Import existing passwords from Firefox and some of password managers.
Back up and restore option for them who change their device most of the times.
Access and manage your data at home, work, or at an Internet Cafe online.
Share with trusted third party such as friends.
Generate password that are unique all the time when you register on a website.
Protection against key-loggers and phishing websites.
The comparison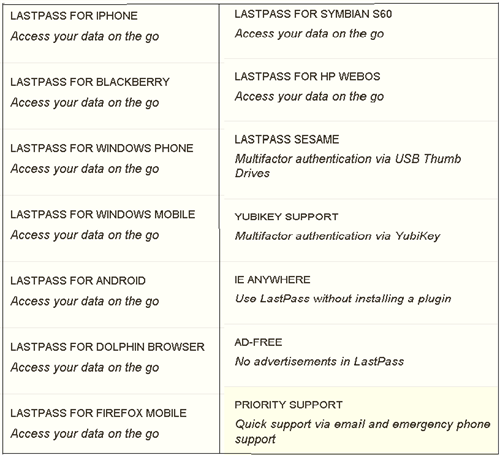 LastPass is often compared with RoboForm. LastPass has similar features that RoboForm have. But the main difference is in the price that these features are offered to us. LastPass provides us Most of the features free whereas RoboForm Keeps them only for their premium members. Now comparing the free and premium membership in LastPass, the only main difference is LastPass Mobilization. We mainly miss LastPass support for our I-Phones, Android devices Symbian devices. You can upgrade to premium membership by paying only $1 per month.


Advantages
Easily incorporated in most famous software.
Gives best defense against phishing and pharming
An automated login script
Protection against key-loggers
LastPass warns you when you are using weak or duplicate password.
This tool has an option to export your passwords and information to a USB device.
Disadvantages
One master password is to be used and if you forgot it then it is quiet difficult to retrieve it. LastPass will send a clue that was saved by you at the time of registration. That's it!
This service does not have multiple user support.
Summary

LastPass is a comprehensive and useful tool. The free version is more than enough for most of the users. I would recommend this to all my friends.

Read Store and secure all password in single place using Sticky Password