Top 5 best Android games to play and enjoy in 2013

Tons of Android games are being developed each year. Some are extremely great games featuring fantastic gameplay. On the other hand there are games that are not worth even installing. Today in this article I will be dealing with 5 best games to play on your Android Smartphones that really worth installing. So continue to read on and find out the best games to enjoy your free time with.


A lot of Android Smartphones are launching day by day resulting in creating new fans across the globe. Apart from just using an Android Smartphone, the users are looking forward to utilize the maximum out of their devices. They explore new apps, games and live wallpapers daily. Even they are desperately waiting for new apps and games to be launched at the beginning of each month. Now let me get back to the article and give you a list of best Android games to play on your device.


Best Android Games to play in 2013
Boxick

Boxick is a simple but addictive puzzle game for you to play on any android devices. The game is available for free at Google Play Store. This game features a classic design that consists of 5x5 boxes along with lines between each box. Your main objective in this game 'Boxick' is to enclose each box and collect the points. The game also features a simple control option by which you can enclose the boxes by just clicking over the lines that you see in between them. This simple puzzle game allows you to earn points as much as you can and the points vary according to the number of boxes that you enclose. In this game you will be competing against the computer and successfully enclosing each box will gain you another turn. You must also keep an eye on the time limit that gives you only 60 seconds between each available turn. Get the game on your device, play and win by collecting maximum points than your opponent.


Order & Chaos Duels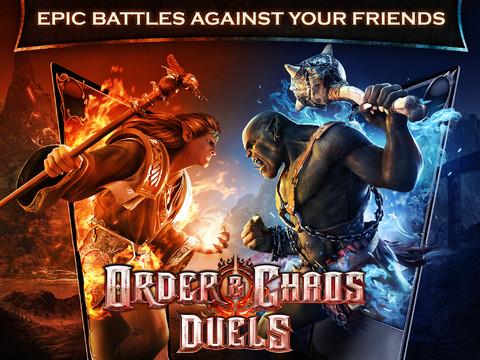 This is yet another impressive game for those looking to play on their Android devices. Even though the game requires Android versions above 2.3, the game can be played very smoothly on almost all the Android devices. The game 'Order & Chaos Duels' is a great trading card game that you can get for free from Google Play Store. The game features a wonderful storyline that introduces an ancient demonic spirit Velik who has been returned to the world once again with his corruption. There is also an impressive gameplay that features a magical fantasy universe where the story is taking place. At the very beginning of the game, you are asked to create your own hero and also allows you to battle against other online players in real time. There are a plenty of thrilling options available to you in the form of managing your deck, online battle through multiplayer modes, quests and adventures and so on. Apart from these brilliant features, Order & Chaos Duels also delivers an excellent game mechanics.


Bad Piggies

'Bad Piggies' is an extremely fun-filled game available for Android devices. This game is from 'Rovio' who is best known as the creator of Angry Birds. This is one among the best arcade game available on Google Play Store. Another impressive feature of this game is that, it is available to you absolutely for free. This is a must have android game as it is very challenging like the rest of Angry Birds series. This awesome game features over 87 stunning levels along with additional levels up to 18 which can be unlocked easily by getting 3 stars. As you pass by each level, the difficulty gradually increases. There are times where you will need to play a level again and again until you achieve all the objectives. Overall the game is just rocking with all the features listed here and there are even more exciting features awaiting inside for you to be explored. So get this game for free and start enjoying it in your android device right away.


Metal Slug 3

This is another great game to enjoy in your Android device in your free time. Metal Slug 3 is an action-based game that features various deadly weapons to battle with. The game allows its players to play the game in two different modes, mainly: Arcade mode and Mission mode. Mission mode allows you to choose a particular stage that you wish to play on. The game also has various stages along with map system that will deliver route for you at each stage. Metal Slug 3 even delivers a feature that allows you to connect with OpenFeint and to update your rank. Player rank is being made according to the number of 'Achievements' that you complete. OpenFeint delivers a global Leaderboard of all players from all around the world. So get this game right away, beat down the best and become the best.


Wild Blood

Wild Blood is one of the highly rated action game at Google Play Store. The game is highly impressive with addictive features like high-end graphics and impressive background features. As the game offers a full 3D graphics, there must be at least 2GB of free space on your device to get the game installed. Wild Blood delivers very interesting gameplay that features battling with more than 20 different enemies with unique power. There are over 10 different gorgeous levels in front of you to be crossed in order to get to Avalon. Another impressive feature that makes you entertained is the weapon system. Wild Blood offers a wide range of weapons starting from basic axes to longbows and powerful swords that will slash the enemies into pieces. Apart from these thrilling events, this great game from Gameloft also takes you into an epic multiplayer mode. There is a thrilling death match featured in the multiplayer mode that can be played between friends teaming up with 4 payers in one team and up to 4 players in another. There is also Leaderboard facility by which you can connect to Gameloft live and compare your scores with that of others.

Read Review of the latest "Help me Fly" android game