Samsung refrigerator - RF67-579L – features, specifications and reviews

In this article, I have given the overview, features and technical specifications of Samsung Refrigerator – RF67-579L. Please read the below article to know more about it.


Introduction

When it comes to electronics, there are a few devices which have now become a necessity of every family. Gone are the days when electronics like fridges, AC, geysers, etc., were found to be belonging to the people of high class. In today's fast growing world and technology, the electronics have gained a lot of space in the market as they can be now manufactured at low price making it affordable by almost all the classes.
There are a few devices which definitely grab an attention of the people and create a necessity to be bought. Especially in summer, electronics like AC, Air coolers, Fridges, etc, strike mind of the people as the climate demands. With the improvement of the standard of living of the people and affordable cost involved in manufacturing electronics, many electronics companies have manufactured almost all kinds of products for the convenience of the society.

One of them is refrigerator, a device which serves to be a must in every family. Samsung, the tycoon of electronics manufacturing has come with their newest model of fridge – RF67 579L. This product seems to have been manufactured by keeping most advanced needs of the people in mind. It has a lot of features which are absent in other fridges of other models of Samsung and manufacturers of fridges. Hence, the price of this product has been accordingly set. It's best suited for the people of high class and those who like to main high life style.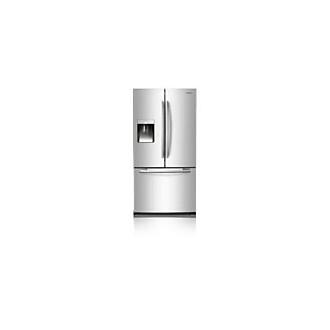 Let's look at the features, specifications and price of this product in detail.

This product of Samsung French Door can be easily fit in a small space, that means it doesn't consume much space. However, it doesn't compromise on any of its functioning well expected from Samsung. This fridge has been patented with a TWIN Cooling system, meaning more space for storing food items with a French Door look in 33'' of space which is exciting. Twin cooling system means there are two separate cooling systems to maintain the humidity and temperature in all the compartments of the fridge. In general, the humidity maintained by most fridges is 17%, while the Twin Cooling system of this product generates 43% of humidity which is a remarkable increase in humidity and it helps to keep the food items fresh as the compartments do not get dry due to more humidity.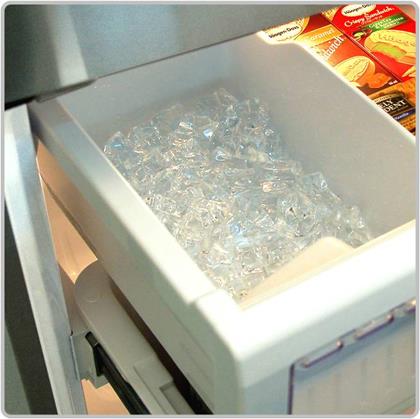 The ice producing system of this product takes half the space of other conventional fridges, that means it has a compact design; however it produces the amount of ice as produced by other fridges. The fridge is provided with easy handling design for opening the drawers without any difficulty and with convenience. It just requires a slight pull to slide the drawers.

Each shelf has been provided with vents through which chilled air flows always to maintain the consistent temperature in the fridge and freezer. Once you open the door of the fridge, the temperature is restored immediately because each compartments of this product is cooled separately by using the multiple vents technology.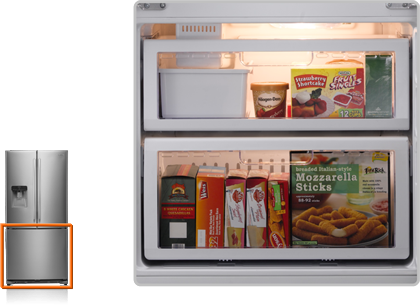 It has a dispenser which looks stylish and professional. There's a stylish glooming ice-blue light associated with it. It not only looks beautiful but also provides a pleasant feeling to touch. The interior lighting of the fridge is provided with LED to illuminate each corner inside. Even the internal sides of the fridge have been provided with LED lighting adding style and brightness to its looks.

It has a movable fresh box, big space to store foods when people purchase food items in bulk especially during sales and offers. It has a separate place to store Jam, cheese, bacon, etc.

Let's look at the technical specifications of this amazing refrigerator by Samsung.

It has a capacity of 579 Liters, height is 1906 mm, with gallon door storage of 2 and humidity control is also 2. It comes in Platinum Inox. It has been provided with a dispenser, AL handle, door alarm. The dimensions are 879 mm WxHxD and depth with door handle is 840 mm, weighs about 282 kg.
This product has received a maximum positive customer reviews. Samsung has kept the quality factor in mind while manufacturing this product. This product targets the high class crowd who like to maintain high class life style.

Samsung is also providing a support and service for the customers' convenience. There are manuals provided with the device to know about its features and usage instructions. It also provides a warranty of 1 year for comprehensive parts and 5 years for its Compressor. However, the parts like Plastic, Glassware, Bulb and tube are not covered under warranty.
The price of this fridge is 85,000/- in India. You can purchase it on line from Samsung website which would direct you to its dealers online. Apart from it, you can also purchase it from the stores located in your area. You can buy it online also from e-commerce websites like flipkart.com, bestbuy, etc.


Conclusion

Hence, these were the reviews, features, specifications price and availability of Samsung refrigerator - RF67-579L. I hope this article would help the people looking for stylish refrigerators at high price.

Read Best selling refrigerators in India