Top 10 best blogging apps for iPhone that bloggers must have

Are you looking for some blogging apps for your iPhone to help you in blogging? Then read the following article and find out the 10 best must-have blogging apps for your iPhone.


Blogging is a real fun, especially for the people who often have something very interesting to share with others. Popular blogging service providers like Blogger, Wordpress etc, have been reinventing and adding new features continuously to provide more flexibility and customization for the users.

The times are changing now and the bloggers are not making use of just their laptops or desktops for putting their thoughts in digital form. The smartphones, as well as tablets have given the bloggers new platforms for writing anything from anywhere at any moment.

A couple of years back, there were very few apps specifically for the smartphone users, as their number was very less. Since then, there has been a huge surge in the smartphone user segment. The number of iPhone users has also increased rapidly and the developers too have released many apps, targeting the users of

1. Blogsy

It is a simple, yet powerful blogging app for your iPad. Its user interface is very nice and intuitive. Blogsy supports WordPress, Tumblr, Blogger, Facebook, Drupal, Squarespace, Vimeo, Flickr, Picassa, YouTube, Joomla, Instagram etc and can be bought at a very affordable price of $4.99. there are a few other interesting features make it worth trying.


2. Posts

This app has been developed by Picodev and is a very popular one. It allows you to not only manage multiple blogs, but to moderate comments and keep the track of the posts. You can also write on your blog in offline mode i.e. you don't need internet connection for writing as this app saves your post in drafts which can be published whenever you go online. However, Posts is little expensive at $9.99 and supports only blogger and wordpress. This is the only thing which goes against it.


3. Wordpress

Wordpress is one of the most popular names in the world of blogging along with Blogger. It has also come up with its own app for iPhone. The app is very decent and has got all the features traditionally provided by Wordpress on desktops/laptops. The user interface is very good and the only glitch in this app is that it sometimes crash suddenly. But we can't deny the fact that nothing gives a blogger more flexibility than Wordpress.


4. Tumblr

This is another famous name amongst bloggers. Tumblr too has released its app specifically for iPhone and iPad users, though the app hasn't been perfectly optimized for iPad. It too has got all the features of its web version and the user interface too is intuitive.


5. Typepad

Typepad is a popular blogging app which has also won award for its amazing blogging service. The app is simple yet powerful with all the prominent features in place. For all the bloggers on iPhone, Typepad is a perfect app to begin publishing their thoughts.


6. Blogger

This comes from the house of Google and like other Google products, it comes with plethora of options for customization and a very neat, intuitive user interface. You can manage your posts very efficiently, moderate comments easily and write effortlessly on Blogger. Since blogger is well known among the bloggers, it makes it even more conducive for them to use it on their devices.


7. Dragon Dictation

Typing on the iPad is a little arduous task and this is where the utility of this wonderful app lies. Dragon Dictation makes optimum use of the amazing advanced hardware of the iPad and you can easily dictate your content through this app. You just need to speak, copy and paste & your blog post is ready to be read. So, there is no need for you to tap your fingers on the iPad screen or carry your Bluetooth keyboard with you to different places.


8. Flickr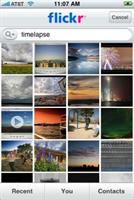 Flickr, the popular name amongst the photo sharing and editing sites, has come up with its version for iPhone and iPads. So you can easily access your photographs, capture new ones, and upload them in your albums. Flickr also allows you to access your photos, which are online, from apps such as Wordpress and Blogsy. So just click pictures, edit them and share them very easily on blogs now.


9. Instagram

The huge name in the photo-blogging service, which has achieved new heights in the popularity in last one year or so, has its equally amazing app for the iPhone users as well. Its popularity can be gauged from the fact that more than 80 million users have already downloaded it. Moreover, recent acquisition by social networking giant Facebook has given further boost to it. Instagram is a must-have app for all the photo-bloggers on iPhone and iPad out there.


10. Youtube Capture

This, again, is a Google product. It allows you to very swiftly upload your videos on youtube through your account. You can not only trim the video, but can add audio and exercise various other editing options on it. This is a very good app for the persons who are interested in making video blogs or a blog dedicated to video tutorials as it makes it very easy to edit, upload as well as share the videos. Apparently, this is one app which you can't afford to miss.

Read How to integrate Wordpress onto an existing website?