Digital Subscriber Line (DSL) Technology - future of data transmission

Data transmission has gone through a lot of massive changes and development. Is Digital Subscriber Line (DSL) Technology the future of data transmission? Read the below article to know more.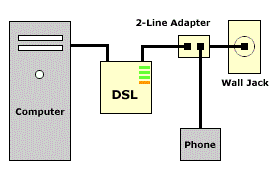 Massive development in the field of Information Technology and Networking need high speed data transmission technology. Services like Voice over IP, video streaming, tele medicine, telecommuting, broadcasting TV program, online video games, online shopping, etc require high speed internet access for effective operation. Existing high speed services don't suit the need of these services.

The present twisted pair cabling can be used as best option. It just needs equipment to be added to the exchange along with a small installation at the user location to be able to access Digital Subscriber Line (DSL) technology.


Introduction To DSL Technology

Unshielded copper wire technology is currently being used for transmission of voice signals in 300 – 3400 Hz frequency range. But this technology is capable of transferring information at much higher rate.

Analog modems have poor performance in comparison to DSL. Solution for this problem is using two modems coupled with each other for doubling the performance. But it is not sufficient for present requirements. DSL is a better option.

The difference between DSL technology and cable line technology lies in the distribution of bandwidth. In DSL technology, the bandwidth is dedicated locally to all subscribers i.e., speed of the data won't drop when others use it in the same time. But cable line modem service works differently, the bandwidth is locally shared with all the subscribers. This means the data rate received by the subscribers decreases with the increase in number of total subscribers in the network. For faster data transmission, the most popular technology used in telecom industry is Integrated Services Digital Network (ISDN). But the date rate is much slower as compared to DSL technology. The very fast expansion of DSL technology is superseding ISDN.


What is DSL Technology

DSL technology is a broadband technology as it is an "always-on" data connection that supports interactive services including internet access. It has a minimum download speed of 256 kbps to an individual subscriber from point of presence (POP) of service provider. DSL is a modern technology which works with existing twisted cable technology to support high bandwidth data to subscribers. xDSL services is a family of DSL technology.

In order to provide DSL connection on existing telephone network, a network element called Digital Subscriber Line access multiplexer (DSLAM) is installed in the exchange and a modem is placed in subscriber end. DSLAM provides multiple DSL connection for access of available bandwidth in the network.

A connection is made between DSLAM to main distribution frame (MDF). From MDF connections provided to the subscribers via twisted copper lines. These twisted cables are terminated at DP and from there they are first run to splitter that sits in the customer end. The splitter, a low pass filter removes the plain old telephone signal (POTS) from DSL signal. The high frequency DSL signal is then given to DSL modem. Then the signal is taken through Ethernet port to subscriber end. DSL technology divides the single phone line frequency into two bands. High frequency band is used for data services and lower one for voice.


Conclusion

Advances in electronics have largely made DSL a successful, faster and cheaper technology. The rapid development in VLSI has significantly lowered the cost of Digital Signal Processors that support DSL technology.

Also read BSNL prepaid broadband data plans in India - a review