Best Android Browser App for Smartphones

This article presents the top 10 best Android web browsers. Read on further and find out which Android web browser is best for you.


Knowing how a large chunk of smartphone users now use their device for surfing, reading emails and watching videos, various companies have launched the web browsers for mobiles. Here we present before you the top 10 best web browsers of 2013 for the smartphones running on Android OS.




1. Google Chrome for Android


Google chrome is the default Android browser in many of the Android based smartphones and that is apt considering how chrome has got all the important features required for a good mobile web browser. The user can use the default address bar as the search bar for quick searching. Then there is the sync feature which lets you transfer bookmarks and saved passwords from the chrome installed in your PC to your mobile chrome. Other prominent features include accelerated browsing, scrolling and double tap to zoom, autofill forms, black pop-ups, text scaling, full JavaScript support and many more.


2. Opera Mobile Web Browser


The positive for Opera mobile web browser is that it is fast, easy to use and very smooth in functioning. It is especially very good browser for fast network connections like 3G, 4G and Wi-Fi. The opera has been designed to give the optimum browsing experience to the users. One important feature of Opera is that it adapts automatically to the way user reads, watches or interact with the screen. It also supports flash and so the user won't face difficulty with web sites that use flash.


3. Dolphin Browser for Android


Dolphin browser is one of the best browsers for Android based smartphones. The most prominent feature of it is the simplicity of scrolling. Dolphin is a very fast browser too and websites open at a greater speed than the normal browsers. It also boasts of many extensions acquired from Google play store. In short, it is a browser worth using.


4. UC Browser for Android


It is another one of the good browsers for the Android phone. The speed is pretty good and the stability factor is great as well. There are several nice features like download manager, multi-touch, quick reads, night mode, voice control features as well as inbuilt share options to popular sites like Facebook, Google+ and twitter. Lastly, the adaptable configuration helps adjust your way of browsing under different network connections.


5. Maxthon Android Web Browser


The most prominent feature of Maxthon Android web browser is that it is a cloud based multi-device browser and so it can be used to sync all your data if you have multiple phones or devices. There are many other good features in it viz. cloud download, reader mode, cloud push, add-ons, private browsing, download manager and personalization etc. This is one good browser for all the Android users.


6. Firefox Browser for Android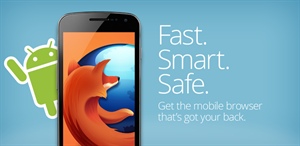 Mozilla Firefox is one of the most popular browsers and its Android avatar is also pretty good. It is fast and provides a very secure environment for browsing. Firefox supports 'Do not track' and 'Awesome page' that display the tabs recently visited by you. It has got a fabulous smart searching feature as well as supports Firefox sync through which you can sync your bookmarks and passwords. Firefox is customizable as well.


7. Boat Browser for Android


Boat browser has got many interesting features that make it one of the best mobile web browsers. First of all it is customizable and allows you to make changes in the default settings. Bookmarks management has got a No. of options like batch delete, import/export features, sync for bookmarks etc. The user interface has got a new design and a new slide toolbar has also been integrated in the latest version. Boat browser is available in both free as well as pro versions.


8. OverSkreen Web Browser for Android


OverSkreen web browser has seen pretty good success in past some time. It has got numerous features which make it one of the most sought out mobile web browsers for Android phones. Firstly, you can view and interact with multiple tabs at once. Then it is customizable and provides a very safe environment for browsing. Other notable features include adobe flash support, system wide bookmarks/history, truly floating, chrome keyboard shortcuts and suggest while typing URL bar etc.


9. Sleipnir Mobile Web Browser


Sleipnir mobile web browser has got many of the features discussed in the browsers above and that makes it one of the good browsers for Android based devices. It too allows you to customize tab and offers you slew of features to make your browsing safe, fast and fruitful. Lastly you can sync bookmarks without any hassle between your Android phone and tab, desktop and laptop.


10. ASTRO File Manager/Browser


Astro File Manager / browser functions as an efficient file manager too. So now you can browse and at the same time organize your important stuff like photos, songs, videos, documents etc. It can be compared to windows explorer or Mac's finder. Its SkyDrive feature supports Google drive and Dropbox. Many of the other features are the akin to the ones we have already discussed in the browsers above.