Review of Sweetcouch.com, an innovative shopping and online window shopping experience

Don't you have enough money to afford your shopping? Do you just want to pick your favorites and shop later? Are you interested to witness all your favorite picks at one place? Feel free to visit Sweetcouch.com, an innovative mechanism put forward to enhance shopping and online window shopping experience. Take a quick look at the post to grab more information about Sweetcouch.com


Sweetcouch.com, a glance

All of us have been through some difficult times while we used to take a peek at our favorite apparel or jewellery in a shop and we walk out since we wouldn't be in a position to afford. As our wish list increases, even if we tend to return back someday to the same shop, it would be very difficult for us to remember which one out of the whole lot did we wish to buy?

Sometimes it becomes very important for us to view our favorite picks all at one single place. How many of us have been through the following questions on our mind? I will buy it next month but will the product still be available? Will I remember this product after a month? Will I tend to forget the store's name? How do I compare two products from two different shops? Is my window shopping going to be confined to one single place?

Here goes the answer for all the above questions running on your head and it is Sweetcouch.com. Sweetcouch.com is a very innovative idea of online shopping along with window shopping put forward by a group of unique minds. Did we ever imagine that window shopping; our favorite pastime would flourish online?


What does a Sweetcouch.com comprise of?


Sweetcouch.com comprises of various products from reputed manufacturers that could be shopped online. The only differentiating aspect is that the site works well for people who can't afford too. How is that possible? Look for your favorite products, shop them if you can afford otherwise add it in your list of picks and shop it directly from your picks whenever you got money to afford. (See: Top and cheap online shopping sites for middle class Indians)


How is it different from any other ordinary online shopping portal?


We might know many online portals but when we look for a specific category, we find a huge lot of items out of which we might hardly like 1 or 2. Just imagine when you find a page with full of your favorite picks, how does that feel? You easily get the privilege to compare the prices, quality, looks, brand reputation and much more.

This flexibility is possible only when you get to see your favorites all at a single place which is why Sweetcouch.com is offering you. You can also share your picks with your friends, you can suggest improvisations in their choices, you get to meet your shop mates online and what else isn't offered in Sweetcouch.com?


What is a Shop Picker plugin?


You have a dedicated Shop picker plugin that can be mapped on to your bookmark toolbar and whenever you shop online on any portals, if you are hoping to come back for the product quickly click on the icon and identify it in your picks later whenever required. Your effort to save a URL of your favorite product and revisit it again is long gone. Your dream to achieve what you want is just a click away.

You can also access Sweetcouch.com through mobile. Before you log on to this innovative site, here are some interesting screenshots that tempts you more to visit the website.


How do I see the price of a product?


As you place the cursor on the product you can see the price of it on the left and also you can pick it to add it to your list of favorites. Options are also available for you to buy it, share it and grab more details on the product through the icons displayed below the product.


What are the different categories available?


On the top left you can take a look at all the categories that you can browse for.




When you click on Popular Shops tab that is present on the top left, you will be directed to a page that consists of variety of items manufactured by reputed manufacturers. Click on view storefront to take a look at all the products listed from a specific manufacturer.


Does the purchase take place in the manufacturer's site itself?


Once you click on 'Buy Now', you will be directed to the main website of the manufacturer and you can directly purchase the product from there as seen below.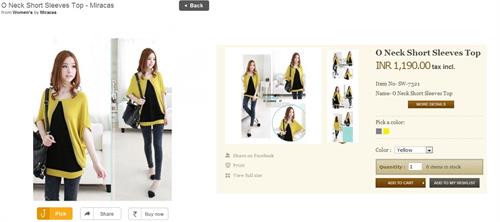 Last but not the least, you can view all your favorite picks from the website as you directly keep stacking your favorites. Buy it now or save it for a future due, have a fun filled shopping and window shopping experience on Sweetcouch.com