e-Touch Pen: convert your old monitors into touch screen

Have you ever wondered if some innovation would be capable of converting old monitors into touch screens? The answer to your question is right here. Take a look at the strategy behind e-Touch Pen which is capable of converting old monitors into touch screens.


e-Touch Pen at a glance

Are you one among the millions of consumers who wish to experience the Windows 8 touch sensibilities but all you got is a non-touch Laptop Screen? Your problem ends here right now for you are already fortunate and blessed to witness an innovative creation e-Touch Pen introduced by the combined masterminds of a Bangalore based group Hi-Tech solutions (A Division of Jeswill Hitech Solutions Pvt. Ltd).

Through the introduction of this pen, you will now be able to utilize and make the best use of Windows 8 OS. The e-Touch Pen is capable of converting the non-touch based laptop into a touch screen device. Take a look at the post to grasp the strategy behind this E-Touch Pen.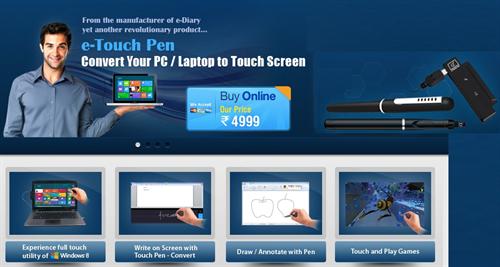 What is the underlying technology of e-Touch Pen

e-Touch Pen utilizes the ultrasound and infrared technologies which encompasses ultrasonic digital stylus and a receiving unit. The e-Touch Pen is exclusively designed for Windows 8 platform and all the non-touch Laptop screens can now be enabled with the touch features.

Also Read: Review of e-Touch Pen: A smart gadget to use Windows 8 on non-touch computers

The e-Touch Pen operates as a screen digitizer which henceforth is capable of introducing touch functions on the laptop screen.


Review of e-Touch pen

It uses a scratch free pen tip, which assures that your laptop or monitor screen will not be scratched all over after a few months use. The device is capable of supporting up to 17 inches screen size, which covers almost all laptops and most of the monitors. It is a plug and play device and does not require any separate drivers, making it easy to open the box and get started with it. It is quite easy and flexible to do the one time calibration and get started. The e-Touch Pen is compact, comfortable, stylish and portable!

One of the drawbacks I like to mention is, it works only with Windows 8. If you are using Windows 7 and want use your monitor as a touch screen monitor, sorry, you will have to wait.


Technical specifications of eTouch Pen

• Utilizes ultrasonic and infrared technology
• Can cover upto 17 inch screen size (Maximum)
• 100 DPI resolution
• 0.2 mm accuracy
• Communicates via USB 2.0, USB cable
• Powered by 2 SR41 batteries
• Capable of continuous writing for 500 hours
• Follows FCC/CE standards
• Requires Windows OS platform
• Sampling rate is 58 samples per second


What are the system requirements?

• Requires Microsoft Windows 8 OS
• Requires 1 USB port


What are the components involved?

• Cordless electronic pen
• Special Refill
• Batteries
• Base unit which could be detached
• A USB cable connection to PC


How to use e-Touch Pen?

Step 1:

Remove the compartment cover of the battery.


Insert two LR41/SR41 batteries and make sure that the positive poles are facing up.


Close the compartment cover of the battery.


Step 2:

Into the lower edge of the pen, you must slide the stylus and press it hard until it is locked.


Step 3:

Through the USB, connect the base unit into the computer.


To the left edge of the computer, you must paste the metal strip.


Onto the metal strip, attach the base unit along with the magnet.


Step 4:

Calibrate the screen with the pen in order to achieve accurate touch.



Best price for e-Touch Pen

e-Touch Pen is priced at Rs 4,999 which is quite considerable for enjoying touch sensibilities in a non-touch Laptop screen. You can buy it online from eDiaryWorld.com. You can learn more about the product in the company official website - http://www.etouchpen.in/How-to-use.html

Have you ever used an e-Touch Pen? Share your comments and opinions about this pen.