Best gadgets for women- cooking, cleaning, headphones and more!

Utility gadgets are an integral part today in the lives of modern women juggling between family responsibilities & demands of job. This article talks about some amazing gadgets & accessories which I believe any woman would love to have.


Chocolates, jewelry, flowers are usual gifts but if you gift your wife, mother or sister a gadget, trust me, you will not only make them feel special but also make their lives a whole lot easier.
Check out some stylish & useful gadgets below.


Electrolux Kitchen Laptop :

What can be a better gift for woman than a kitchen laptop! She spends half her life in kitchen preparing daily meals. Yes, at times she experiments and ruins a recipe but seamlessly makes an effort to serve you something new, delicious & healthy. She is the 'annapurna' of your home, the true spirit of a family. Would it not be wonderful then if we could make her life a bit easier!

Designed by Dragan Trenchevski, 'Electrolux Mobile Kitchen' is a wonderful concept wherein a four tier induction cooking element, a cutting board and a touchscreen are amalgamated to a portable kitchen laptop. So, now women can manage all office work while cooking in their kitchens. Like any laptop, Electrolux Kitchen Laptop has web camera, mic, speaker, 3G connection, Wi-Fi & Bluetooth connections and like kitchen equipment, it has grater, cutting board & four different sized induction rings to support different sizes of cooking pans you may need. The induction rings in the base of the induction cooking touch screen senses what you cook and accordingly saves energy. The battery powers the cooking and the computer touch controls act as kitchen tools. There is a slide in the side which allows you to open the grater and grate food like cheese & potatoes. There is a cutting board on the other side and it allows you to chop vegetables & fruits.



What's more-you can even video call your friends & family while cooking and chat! You can share updates or cooking tips & recipes. Now this can be a perfect way to learn cooking for novices like you & me. Cooking could never be more fun than with a kitchen laptop.
Such laptops are a blessing for campers or frequent travelers who can now get home-made meals conveniently while they are far from home. No matter where you go, you can easily carry this portable kitchen along and cook whatever you like.

Kitchen laptops come primarily in three colors: brown, blue & green. However, these can be customized as per buyer's preferences.
The price of the laptop is not disclosed on the official website. You can visit Electrolux for further details.


Aesthetician's Skin Rejuvenator :

Appearance plays a big role in confidence. Not everybody is born beautiful but definitely desires to look beautiful. Owing to the daily life demands & the multi-tasking women undergo, skin care almost takes a toll. Now, a rejuvenator of the size of a toothbrush will take care of all skin care needs.

Aesthetician's Skin Rejuvenator by Hammacher Schlemmer uses the same therapy light that most aestheticians use in high-end beauty clinics. It is light weighted and easy to maneuver on face. Its two dozen pink LEDs emit four Infra-Red light wavelengths which are believed to facilitate blood circulation. High blood circulation stimulates cell growth & production of collagen that reduces fine lines, blemishes & wrinkles. Its non-thermal light is also believed to heal Sun damage.
When you look good, you feel good but this feel-good factor does not come in small price. Aesthetician's Skin Rejuvenator comes with a life time guarantee at $ 399.95 (Rs. 21,597 in India). If you do not like the product, you can anytime exchange it or return. Your money will be refunded back.

To purchase the product, you will have to send a product request at Hammacher.com.

If you have any queries related to the product, you can call 1800-321-1484. You can also email at customerservice@hammacher.com. The customer care center is open 24 hours each day a week. Upon sending a mail, the customer care team will respond back to you within an hour.


Roomba Vacuum Cleaner :

Imagine how many hours are spent every day on cleaning chores, especially in big spacious homes. If you yourself do all the cleaning, don't you at times feel like giving up? When you feel drained off all energy, you just want to lay back helplessly while the layers of dust continue to accumulate. How convenient it would be if you had a robot that could clean the home for you!
Roomba is a robot vacuum cleaner. You must have come across some vacuum cleaners in past but this cleaner is different in the sense that you just need to switch it on and do nothing. It is an intelligent robot that roams around the floor and does all the cleaning. Its Infra-Red cliff and stasis sensors detect and suck dirt in an in-built debris bin which is very easy to empty. It is smart enough to detect furniture or walls and change directions accordingly. The side brushes ensure no corner of the home is left unclean. Rugs & carpets can also be easily cleaned in minutes. The device has a rechargeable APS battery and can work continuously for two hours. Roomba Vacuum Cleaner is available at amazon.com with one year warranty period. You will have to pay $150 (Rs. 8100) for this vacuum cleaner.

Ultrasonic Jewelry Cleaner :

Jewelry is often an important memorabilia for women. Every woman has a box-full jewelry she cherishes but no longer uses. Your favorite jewelry pieces, wedding & engagement rings, old gifts- no matter, how much you try to clean these, the jewelry may appear a bit cleaner but never like new.
Ultrasonic Jewelry Cleaner renews old, tarnished jewelry and eliminates the need to buy new pieces each time. What's more? You can not only cleanse jewelry pieces but also old watches, pens, eye glasses, debentures, utensils and more.

You just have to place your objects in the stainless steel cleaning tank of device. Pour in small amount of water. The tank has a capacity of 20.3 ounce and has a see-through lid so that you can see how dirt shakes off as ultrasonic waves cleanses the valuables. Within 3 minutes, all valuables will shine like new. Haier is a globally reputed brand and its Ultrasonic Jewelry Cleaner uses only ordinary tap water and no harsh chemicals.
Haier's Ultrasonic Jewelry Cleaner is available at an affordable price of $29.25/ Rs. 1579.5 (after 41% discount) on amazon.com .

Gadget Jewelry :

Gadget Jewelry is trendy and highly useful. I am sure- not many people would have imagined before that gadgets could look so appealing & beautiful. Below given are some amazing Gadget Jewelry designs.

Also Read: Dacor launches World's first Android Smart Oven with Wi-Fi connectivity

Apple's remote controlling iRing- Designed by Victor Soto, iRing is a sleek, elegant silver or black ring with a blue Apple logo on front. This logo holds immense possibilities- you can remotely control iPods, iPhones or other devices at home. The small OLED strip screen displays play/pause, volume regulation & other executing functions. The ring works on the inbuilt Bluetooth technology. You just have to move your finger & the sensor rubber keypads of devices will detect the pressures and allow you to execute them the way you want. The gadget has a good battery life. With a single charge, it can operate for two days.

The price of Apple's remote controlling iRing is $40 (Rs. 2160 in India).


4 GB Watch cum MP4 player - Manufactured in China, this funky piece is the most adorable of all watches I have seen. It has a bright OLED LCD screen, a cute pink polystyrene strap and can you believe it also has an inbuilt microphone? The mini MIC can record what people say without them being aware of it. Surely, this feature can act as a secret weapon for women in many circumstances. You can record class lectures or interview & statements if you are a media professional. You don't need to carry an MP4 player. Just plug in your headphone and enjoy your music anywhere you want. The watch has an FM tuner too. It has 4 GB internal memory so that you can store all photos, videos and view them on the 1.5 inch OLED LCD screen. The watch also has 25 FPS (Frames per Second) playback of digital movies. It comes with an USB cord, earphones and a mini CD with conversion software. The conversion software formats supported are: MP4, AVI, ASF, MPG, WMV, DAT, ASX, RM, RMVB, VOB, MOV and 3GP. The device runs on crystalroc.com.



i84 CrystalRoc Ear Clips - These sparkling ear clips by iLiv Company can be used for iPhones. They give high quality stereo digital sound even in acoustic conditions. The sound levels can be adjusted by the inline volume controls. The ear clips are suited for daily use and have adjustable sliders for comfort. i84 CrystalRoc Ear Clips come in two colors: silver & black. These are available at crystalroc.com.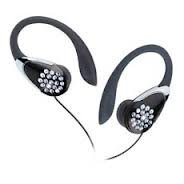 Active Crystals USB pendants by Philips & Swarovski- Philips is a well-known electronics brand. In association with Swarovski, the company has introduced a jewelry gadgets' collection called 'Active Crystals'. These glammed-up USB flash drives & earphones are in form of pendants. The device has a 1 GB capacity and can store over 230 songs & 900 photos. Active Crystals by Philips & Swarovski are available at only selected retail stores at a price of around Rs. 10320. These come with a warranty period of two years.



Dr. Dre Beats headphones- These sparkling earphones are a dream gadget for fashionables. These high definition headphones are adorned with more than 4320 Swarovski crystals. Dr. Dre Beats headphones are jointly created by CrystalRoc and Beats headphones.
Guess the price of this luxury.




Dr. Dre Beats headphones are available online at crystalroc.com for Rs.60114 after discount.