Smart Android tablets/phones with dual SIM

This article gives you list of Android smartphones and tablets with Dual SIM feature. Also fine the technical specifications and features of Dual SIM Android phones.


Dual SIM is becoming a standard for smartphones, even though some of the high-end phones are yet to introduce this option. For me, Dual SIM is an essential feature to have on a phone since I use one SIM for personal use and another one for business use. See some of the popular Android phones and tablets with two SIM card option:


Swipe Tab All In One

Swipe, a California based mobile company, has recently announced a Dual SIM tablet. This 'Swipe Tab All In One' tablet is having a 7" touch screen. The tablet is expected to be of around Rs. 12000/-. The phone/tablet works with dual GSM network and comes with capacitive touchscreen. The resolution of tablet is 1028 by 768 pixels. This dual SIM Swipe tablet is having 1.5 GHz processor and 1 GB RAM that makes tablet fast enough for multitasking. This Swipe Tab All In One tablet comes with 2 Mega Pixel rear camera and 1.3 Mega Pixel front camera for video calling facility. It runs on Android 4.0 Ice Cream Sandwich OS.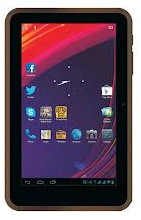 iBall Slide 3G 7334

iBall slide 3G 7334 Dual SIM comes with Android Ice Cream Sandwich at a Price tag of Rs. 11000/- approximately. This 3G Android tablet has 8 GB built-in memory. Also the speed of Cortex A9 processor is 1 GHz. The battery of this tablet is having 4400 mAh capacity. This 7" Tablet is also equipped with capacitive multi-touch screen. The rear camera of the tablet is of 2 Mega Pixels. The screen resolution of the tablet is 1024 by 600 pixel.


Idea Ivory

Idea Ivory is an Android 4.0 Ice Cream Sandwich smart phone with 3G & Dual SIM facility. The phone comes with 1 GHz processor and 512 MB RAM. The capacitive touch screen of the phone is 3.5" size. The screen resolution of this phone is 320 by 480 pixels. This dual SIM smart device is having 4 GB internal memory (Extendable up to 32 GB by Micro SD Cards). This phone/tablet is having 3.2 Mega Pixels front camera. This phone comes with other features like Wi-Fi connectivity, Bluetooth facility and 1300 mAh of battery capacity. The price of this phone in India is around Rs. 7500/-.


Karbonn A30

This Karbonn A30 smart device/Phablet comes with Dual core processor with 1 GHz speed. The device works on Android 4.0 Ice Cream Sandwich OS and has two cameras. Front camera is having 8 Mega Pixels with auto focus, face recognition and flash options. It also has front camera of 1.3 MP for video calling functions. Device has battery capacity of 2500 mAh. Karbonn A30 also offers USB tethering which allows internet connection sharing with your friends and family.


Zen Ultraphone U4

Zen Ultraphone U4 has a 4.3" screen, 800x480 pixels resolution and TFT capacitive touch screen. It also runs on Android 2.3 (Gingerbread) operating system. Zen Ultraphone U4 is powered by a 1 GHz processor. This Dual SIM (GSM+GSM) phone also supports 2G and GPRS. Phone has VGA front camera and 3.2 MP as main rear camera. The approximate cost of this Zen Ultraphone U4 is Rs. 6499/-.


Spice Mi-500

This Dual SIM (GSM+GSM) Spice Mi-500 comes with 1 GHz Dual core processor . This tablet comes with RAM of 512 MB Size. Its screen is of 5" and has LCD TFT type capacitive touch screen. The screen resolution is 800 by 480 pixels. About 500 MB internal storage is available and one can extend the external memory using Micro SD up to 32 GB. The phone works on Android Ice Cream Sand, version 4.0. The phone offers some cool features like USB Tethering, FM, GSP, Wi-Fi, 3G and 2G support. The phone also comes with 5 MP rear camera and 0.3 MP front camera for video calling. The approximate price of the phone is Rs. 12500/-.


Conclusion

After carefully analyzing the price and features of many Android based Dual SIM phones, I recommend Zen Ultraphone U4, thanks to its big screen (4.3"), high resolution camera (3.2 MP), lowest price of Rs. 6499/- compared to Idea Ivory (3.5" screen) having price of Rs. 7400/-. When it comes to high budget phablet listed above, Karbonn A30 is best compared to Swipe All in One. Karbonn A30 gives better camera with 8 MP compared to that of 2 MP in Swipe All in One but when comes to screen size, Swipe All in One is having bigger screen compared to Karbonn A30.

Which is your favorite phablet among the ones listed above? Share your opinion.