iPhone & iPad game: Space Settlers review, walkthrough and tips & tricks to play

Read about the cool new game Space Settlers from Digiarty softwares and know all its features. Go through our review and walkthrough to know the tips to make this game a little easy for you and what all its worth of!


Today all game developers are giving their best to make the most amazing apps and games which can attract the users and can become a addiction of smart device players. Digiarty software has developed Space Settlers game which is a free online game with multiplayer feature for the iPhone, iPad and iPod touch. This game allows users to connect with their friends and can spend their time building their powers and destroying others. It promises a lot in its gameplay and the features just might surprise you. So check this out for the new level of gaming experience on your iOS device.


Storyline

Stepthen Hawking is able to leave his body and take his brainy matter into the world of internet where is able to prove the existence of God particle with the help of a super computer. This has opened new frontiers for the humanity and now it is up to us to establish a space station and expand to other planetary areas.




Also Check Out: Top 5 free iOS games of 2015 for Apple iPhones and iPads


How to play

1. Download Space Settlers to you phone and install.
2. You will get the instructions and you have to click next to start the game.
3. On your screen you can see the option of base and legion. Base is your planet which you have to protect with the help of thousands of soldiers which is called legion.
4. Now you have to send your powerful weapons with powerful force to other bases to completely destroy that and mark it as yours.
5. When you send your force they will fight with the other base and win the battle for you.
6. You have to connect your friends so that you can build a group of planets and fight.
7. You can choose what you want to send and numbers of troops you want to send to that base.
8. The screen will show you the loss which is faced by both of the bases and if your loss is more than you will lose the battle.
9. You can reset or enhance your powers in refitting factory. You have to select a slot and according to that you will have the enhancements and choose the best which can win the battle for you.

Features

1. The powerful planets with a hub of powerful weapons consist of 25 mechas and over hundreds of accessories.
2. You can create your world with the robots and accessories you want.
3. You can explore the planets and chat with your friends during the play.
4. Honors and awards are provided to the smartest player of the planet or who can make strategy so that people of the planet remember them.
5. It is a multiplayer game and you can become owner of any planet you want, just send your best robots with high tech accessories.
6. You can use chariots and build them to a larger form so that they can defeat the enemies.
7. You can enhance your attack speed, attack range, HP, energy and propulsion.
8. You will get a personal assistant who will help you in your game and alert you when you are going to take wrong step.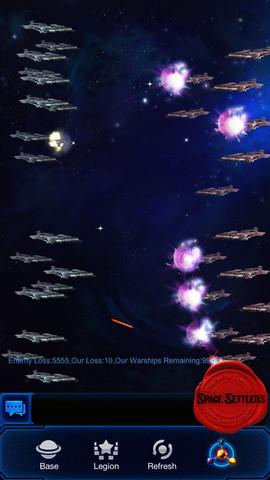 Tips and tricks for Space Settlers

1. Connect more numbers of users so that you can have a competition.
2. Don't forget to upgrade your accessories and attack other planets if you think you have enough force to beat them.
3. In case if you are losing you can repair your accessories so that they can help you to get back in to the game.


Review

Space Settlers is a mixture of two genre- action and castle building. Though we have seen such mixtures earlier too and they have given quite nice results but this time it looks like a mismatched result. A fun, easy castle building side with a challenging offense fighting would have been nice or even vice verse. Presently the game is quite difficult; it hurts to see your resources being blasted after spending so much effort into building them.

Space Settlers is for those hardcore gamers who are bored with the same repeated gameplays of iPhone/iPad games and are looking for something challenging. You have different controls of moving, viewing and shooting which can take a lot of effort to keep them in control while in full combat mode.

Graphics and audio
Space Settlers has slick cool graphics which is quite a feat considering the complexity of the game. Maps, objects, animations and the completele design is praise worthy. The audio compliments the gameplay quite nicely and is enjoyable.




Wrap up

The developers of Space Settlers game, Digiarty Software have come up with a good idea of multiplayer gaming in iPad or iPhone which has high level of difficulty as a human player can give you best competition and is offering something which very few games on iTunes can offer. A user can interact with others to make strategy and get the rid of other planets which is coming in their way. The game has all the features in it to keep you hooked and is an amazing game a user can have with nice design and awesome sound effects.

On the other hand if you are not into heavy gaming then it just might frustrate you with its difficult gameplay.