The 10 best Gadgets for Kitchen

Are you looking for the top useful gadgets for your daily kitchen use? Then go through this article and get to know about the 10 best gadgets for kitchen use. In this article, I am going to give the full specifications, features and prices of the top 10 gadgets which are very beneficial for the the kitchen purposes. So, read this article and know about these top gadgets to ease up the work load in the kitchens.


An enthusiastic cook always appreciates a good piece of apparatus. Here are about top 10 Gadget for Kitchen which you can choose to purchase.


Pepper Pro Automatic Peppermill with Light

This gadget is not just the grill tong with an integrated LED, but is an automatic pepper mill with a light. The Pepper Pro Automatic Pepper mill with light can grind pepper just by pressing a button located on it. It is made up of Chrome and is adjustable from fine to coarse grinds or from course to fine grinds, to complement your salads or steaks. By using its four AA batteries, it lights up your food (in case there is darkness). It also comes with a spare bulb and peppercorns. You can purchase this gadget for just $43.95 on Amazon.com.

Also Read: Use of Android in variety of electronic devices


Musical Cake Slice

This gadget is pretty good and is audible to all, as the Musical Cake Slice plays many tunes, such as the tunes of "Happy Birthday," "Jingle Bells," and the "Wedding March", while you are cutting the cake. It is made up of stainless steel and takes only two AAA batteries to sing. It costs only £8.99 ($18) at PresentsForMen.co.uk.


SensorFreshQ

If you are not able to tell whether the meat that has been sitting in your refrigerator for days and weeks is bad, you have the need of all-new SensorFreshQ. It is a handheld device which can determine if the meat is fresh or not. All what you have to do is to hold the SensorFreshQ a half inch above the raw meat or poultry, which has been in the fridge since many days or weeks, press the button and then wait for 30 seconds to get the reading. The gadget takes over 2,000 samples of air to detect the presence of bacteria. If you see a "green" light coming from the device, it means that the meat is fresh; "yellow" means that the meat is still edible and "red" light just indicates that you should steer clear of the meat. This device only costs $89.95 at Amazon.com.


ButterWizard

Who ever knew that your butter dish could/can be so high tech? Here it is, The ButterWizard. It is a temperature-controlled butter dish gadget that always ensures of keeping your butter at an optimal temperature for up to two hours or more. It is designed as well as created by Alfille Innovations Ltd. The ButterWizard sits on a recharging station (rechargeable batteries) with a tight-fitting lid that can only be plugged into a simple power outlet. You can choose one among the five designs of this gadget, including Cow, Pastel Pink, and Creamy design. Remember! By using this gadget, your butter will never go/be too hard or too soft again. The ButterWizard costs around $59.95 on Amazon.com.


Cordless Warming Tray

There is not only a stick of butter that is needed to be kept at an optimal temperature. You can also rest your food here, on Cordless Warming Tray. This gadget heats up in less than 7 or 8 minutes when you plug it in a power outlet, and it keeps food at the constant, suitable and right temperature for about 60 minutes or more. Whenever you are to serve, just remove the cord and carry your food to the dining room table or to your outdoor patio or anywhere else. Cordless Warming Tray costs about $89.95 at Hammacher.com.


Hog Wild Twirling Spaghetti Fork

On a fork, twirling spaghetti takes a lot/much of effort. Among the companies, one believes that eating your favorite pasta dish shouldn't be a chore one. All credit and thanks to Hog Wild's Twirling Spaghetti Fork. This modernized and motorized gadget does all the twirling for you while eating. It comes in many patterns and colors; green, yellow, purple, red and white, costing $9.95 each at Amazon.com.


Melitta Smart Mill & Brew 10-Cup Coffeemaker

This gadget was developed by Salton Ltd. Melitta Smart Mill & Brew 10-Cup Coffeemaker is smart enough that it can grind and brew the coffee automatically, with about the choice of seven different grind selections. It is not only the functions like pause-to-pour, warming plate with an auto shut-off and the backlit LCD display in blue that are useful features of this coffeemaker gadget. It is also capable of detecting the current weather conditions in the area, forecasts, sunrise and sunset times and much more through the MSN Direct. The MSN Direct is a content included with the purchase price of the coffeemaker gadget, available at TheSharperImage.com for $99.95 only.


Digital Timer with Removable Remote Beeper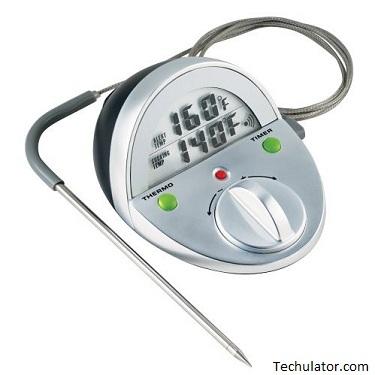 If you aren't able to leave the kitchen anyhow while cooking, this gadget is the best choice for you. Digital Timer device promotes the cook to leave the kitchen for a period/interval of time. The device includes a meat thermometer that is inserted into meat. All you have to do is to run the wire through your oven to the timer. Choose the designate or desired temperature and try to keep the beeper with you while you do laundry or anything else. When the food is ready to serve, the beeper will alert you. This gadget is available at Smarthome.com for $29.99.


Zero Gravity Magnetic Spice Rack

Do you have a small kitchen? If yes, then you probably feel a need of having counter and it is very important to have spices at hand which take up space and your kitchen gets more shortened. Zero Gravity Magnetic Spice Rack is the best choice for you and for your kitchen. Simply mount the rack/gadget to your kitchen wall, and place the included 12 magnetic canisters on the top or just below the shelf. A very good locking mechanism on each side of the spice canister prevents accidents, while the air-tight seal keeps them fresh always. It costs about $35.99 at Smarthome.com.


Thermador Freedom T36IT70PNS Refrigerator

This is the best kitchen gadget. The Thermador Freedom T36IT70PNS Refrigerator is made up of stainless steel which does not support an LCD TV or provide the weather information like the above. The technology is wholly inside the gadget. Thermador Freedom T36IT70PNS Refrigerator's shelves can be completely adjusted with a single touch of a button, that means no more fiddling out with shelves yourself. The all-new electronic control board (ECB) contains many sensors that help in keeping the fridge temperatures consistent. All this costs around $6,699 at AJMadison.com.


SHAFIRE Egg Shaped Stainless Steel Kitchen Timer


This is a very cool and funky kitchen timer from SHAFIRE. When you are baking cakes or cooking any particular item, you need to keep a close watch on the cooking or baking time. This timer will come handy in such cases. It is shaped in the form of an egg and is made up of stainless steel. The best thing is that it works without batteries and has a time count of 60 minutes. This cute funky egg-shaped kitchen timer costs around Rs.500 on Amazon. You can refer to this amazing article on best kitchen timer in India to find various other funky and cute shaped kitchen timers.