Features of Nokia Lumia 820

Nokia has finally launched Lumia 820 in India. This fully featured Windows 8 mobile phone is priced at Rs. 27599. Read the article to know its features & specifications before you decide to buy Lumia 820.



Nokia is one brand which has always mesmerized the tech world with its extra-ordinarily high performance gadgets. Nokia always focuses on customer satisfaction. This time, Nokia has come up with Windows 8 phone Nokia Lumia 820. The company has launched the latest Lumia 820 in India for Rs. 27559. The newly launched Lumia 820 has incorporated wireless charging in order to boost up batteries. Let's find out Lumia's other interesting specifications.


Memory & processor of Nokia Lumia 820:

Nokia Lumia 820 is another mind blowing device by Nokia. The phone is packed with internal and external power factors. It comes with Dual Core 1.5 GHz Krait processor, Qualcomm MSM8960 Snapdragon chipset, Adreno 225 graphics unit and 1 GB RAM which ensure high performance. It comes with 8 GB internal flash memory and 7 GB in sky drive. Using a memory card, memory can be expanded by up to 32 GB. New Lumia 820 comes with latest Windows 8 Operating System, powerful chips and processor. The stunning performance of this device can be credited to the latest technologies it uses. This latest Lumia 820 offers better battery performance. The BP-5T 3.7V 1650mAh battery has a life of around 24 hours.


Display & design of Nokia Lumia 820 :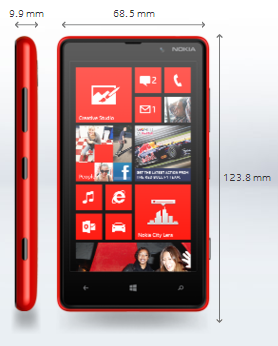 Nokia Lumia 820 comes with eye-catching display features. Its 4.3 inch display and 16M-color AMOLED capacitive touchscreen of 480 x 800 pixels resolution make this phone pretty impressive. Other display features includes ambient light detection, polarization filter, aspect ratio 15:9, super-sensitive touch, brightness control, Corning Gorilla glass, colour boosting, orientation sensor and proximity sensor. Large-screen size, contrast ratio, sharpness, pixel density and display resolution of this phone are highly commendable.

New Nokia Lumia 820 has a mono block form factor which is quite similar to Nokia Lumia 920. It incorporates scratch-resistant gorilla glass. Its dimensions of 123.8x68.5x9.9 mm and weight of only 160 grams make it easy to handle and gives a solid feel. The Lumia 820 is available in different colours like Black, white, Yellow, Red and Cyan. The simple but compelling aesthetic beauty of new Lumia 820 will definitely win customers' hearts. Indian market is always open to aesthetically rich smartphones and Nokia has used this factor very well in Lumia's marketing.

Also Recommended: Review, features and specifications of Microsoft Lumia 640 XL


Camera & connectivity features of Nokia Lumia 820 :

One of the unmatchable features in this latest smartphone is camera. Nokia Lumia 820 comes with 8.0 MP rear and 1.3 MP front cameras. It has a 26 mm wide-angle F2 lens by Carl Zeiss and a smartly designed sensor which gives you 8 MP photos with 16:9 aspect ratios. It has 3264 x 2448 Pixel(s) picture resolution and pretty nice digital zoom features of 4X. Secondary camera has 640 x 480 pixel resolution. The camera of Nokia Lumia 820 features dual LED flash, touch focus, auto and manual exposure, geo tagging, auto & manual white balance, landscape orientation, , still image editor, true 16:9 sensor and lens applications.

Nokia Lumia 820 comes with impressive connectivity features. It is a powerful smartphone compatible with GPRS (2G), EDGE/EGPRS (2G), HSUPA (3G), GSM (2G), HSDPA (3G) and WCDMA (3G). It many other features too. A good thing about Nokia Lumia 820 is that it supports a Wi-Fi which is 802.11 b/g/n. You can easily use Bluetooth for faster wireless data transfer and wireless charging to boost up the battery. The device has a micro USB 2.0 port.


Other features of Nokia Lumia 820 :

The new Nokia Lumia 820 is quite similar to Nokia Lumia 920 which was a little low on features but most of the features are same in both devices. In Nokia Lumia 820, music features includes music player, media player, audio streaming and dolby head phones. Multi microphone is used for noise cancellation. Nokia city lens gives proper routing of ways.


What to expect in the Nokia Lumia's box?

The contents of the box in which Nokia Lumia 820 comes include Nokia AC-50N MicroUSB charger, BP-5T 1650 mAh battery, Nokia charging & data cable CA-190CD, Nokia Headset WH-208 and a user guide.


Price of Nokia Lumia 820 in India :

The new Nokia Lumia 820 is launched in India for Rs. 27559. If you want, you can buy this phone online from this link. You get interest free EMI and free shipping on online shopping.