NFC Enabled Windows 8 Convertible laptops from HP: Specs and reviews

Near Field communication is an innovative technology used to transfer contents between NFC enabled devices. Read this post to get information on NFC enabled convertible laptops from HP.


Near Field communication (NFC) Technology:

NFC technology is being used by advanced smartphones for establishing connection between devices for sharing contacts, videos, web pages as well as apps. But now this communication technology is also available on many Windows 8 tablets and laptops. The technology is also called as Tap + Send because NFC is used for just establishing initial connection between NFC enabled gadgets with tapping them together and the remaining process is handled by Bluetooth or some other transferring means.
My last post covered some Windows 8 laptop and tablets with Replaceable battery and this time I am going to share specs, price and reviews for two NFC enabled convertible laptops from HP.


HP EliteBook Revolved convertible laptop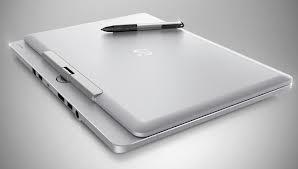 After its 2730 EliteBook tablet PC HP brings its advanced version - EliteBook Revolved running on Windows 8 operating platform. This is a highly portable lightweight tablet with ultrabook finish and high end configuration. This HP machine with strong processing capacity is entirely different from its earlier version for having convertible ability with a fixed keyboard as well as NFC capability. Its hinge fixed at the central-top side of keyboard connects display screen and keyboard to let display twist and fold over keyboard converting notebook to tablet.

The device features an 11.6 inch touch screen display and 1, 366 x 768 pixels of screen resolution with ability to swiveling around for giving different viewing angles to customers and enhancing its presentation. Its screen also provided with Gorilla glass protection for saving device display from external damage. The HP machine is expected to be powered up by any of Intel Core i3/i5/i7 processor coupled to 12GB of DDR3 RAM and 256 GB of SSD storage to optimize system speed and booting speed. The chassis of machine made up of magnesium alloy with 1.36 kg and also having option for micro-SIM and stylus.
For connectivity, the machine will be having Bluetooth, LTE, NFC, Wi-Fi as well as Ethernet LAN with two USB ports also.

Also Check Out: Windows 8 RT tablet- Asus 600 hands-on review, price & availability


Pricing and availability :

This is a high end device with both LTE (4G) network connectivity as well as NFC capability that is going to arrive in market very shortly. But still the price for this device is not unveiled from HP.


HP Envy X2 convertible laptop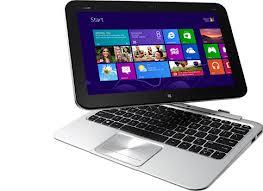 Envy X2 Windows 8 tablet is also a convertible device with strong aluminum body and a keyboard dock. A magnetic latch with device allows user to convert tablet to a full-fledged laptop. With touch screen and NFC, beats audio and writing pen support the device also configured with a light processor. Envy X2 runs on new Microsoft's new operating system and has access to all traditional as well as modern metro, UI/ Windows 8-style apps via Windows 8 store.

The device features 11.6 inch touch screen display with 1, 366 x 786 pixels HD resolution and 400 nit IPS panel and Intel's 3rd gen clover Trail Atom Processors. This light weight processor is capable to do multitasking with amazing speed but only 64GB memory on machine seems to be somewhat disappointing for customers. The device also supports an integrated webcam for providing video conferencing and HDMI output for streaming audio and video to other digital device and it also has an inbuilt stereo speaker with beats audio. The device weights to 1.45kg when docked and 700gms without keyboard.

It also features an 8 MP rear face camera to record HD video with better quality than its 720p front camera. It also embeds variant connectivity ports such as Wi-Fi, wep, two USB 2.0 ports, keyboard dock as well as Trackpad. It also supports most innovative LTE (4G) technology to give immense networking connectivity to its users. The microSD card slot on keyboard dock also there with NFC and optional stylus support. The sliding keyboard of device has a magnetic hinge for transforming laptop to tablet and gives premium look.


Price and availability :

This is an affordable offer from HP and you can order the device online also through major retailers of company like Best Buy at the starting price of $489.99.