A detailed review of Samsung UA75ES9000 Smart 3D Full HD TV

This article gives a detailed look at the Samsung 75" ES9000 3D HD Smart TV. Here you can find the price, specifications and features of this high end smart LED television.


Samsung in its 70 years of experience has brought a revolution in digital world with its outstanding products. Now there is another such product form Samsung and this could be one of the best smart LED televisions in this century. This ultra-smart 9 series television comes with a Smart Evolution Kit which allows us to upgrade to the latest technology, every year.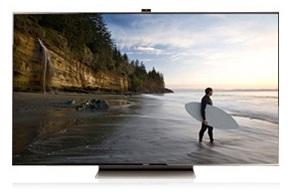 source: samsung.com


Design and Features:

This Samsung 9 series ES9000 LED TV comes with an outstanding 75-inch widescreen which absolutely meets the entertainment needs of the buyer. With its huge screen size, it gives a comfortable and realistic watching experience. This masterpiece comes with a rose gold metallic touch that adds an extra glamorous and luxurious look to it.


Interaction with voice and motion control:

This smart 3D TV offers a new sophisticated interaction technology that enables the user to interact with his/her smart television without any button system. One can control some functions like turning on and off the TV, changing channels, browsing web, accessing applications by voice commands and motions.


Some guidelines by Samsung:
source: Samsung.com
Samsung recommends its users to use smart touch control for voice control function
Voice interaction is not available in all languages and dialects.
Actual performance may vary depending on the language spoken.
Some features within smart interaction may require internet access.
Facial recognition may not provide high security as logging with an ID and a password.
Samsung has introduced 3 new signature features like Kids, Fitness and Family story in its smart Hub. The Samsung Kids application program brings fun and educational programs, Samsung Fitness helps us to maintain fitness in our daily routine and Family story provides a feature which ensures best family moments not only to save but also to share them.

Suggestions regarding smart Hub:
The content available via smart Hub ma vary among products, models & territories
Certain Smart TV features may require firmware upgrades.
Fitness service may not be available in all regions.
Samsung's Smart Evolution Kit enables the user to update or renew to latest technology every year without replacing the entire set. With the help of this kit, one can add new and updated features to his/her television. Samsung says that the Smart Evolution Kit gives their customer a new TV every year.

About Smart Evolution Kit by Samsung:
Smart Evolution Kit is sold separately from 2013.
Actual performance may vary depending upon models and hardware.
Smart Evolution Kit improvement levels are based on the year of purchase.
Kit may change when launched

Also Recommended: Samsung ES9000 75-inch LED Smart TV now in India priced at Rs 7.5 Lakhs

One can stream music, movies and other multimedia directly to this smart TV's All Share Play. A built-in Wi-Fi feature allows the user to connect to nearby mobile devices. With this extraordinary feature, one can enjoy multimedia easily with best connections.

NOTE: Web storage requires a separate registration for the users.


Tech Specifications of Samsung UA75ES9000:
Connectivity:
HDMI: 3
USB: 3
Headphone: 1
Wireless LAN Built-in: YES
Ethernet (LAN): 1
Digital Audio Output: 1
DVI Audio In: 1
Smart Features:
Social TV
Skype on Samsung
Web Browser
Your Video
3D active glasses
Game Mode


Smart Phone Remote Suspended
WiFi Direct
Built-in Camera
Face Recognition
Voice control
Samsung Smart Apps
3D Converter
Motion Control
and much more.
So all the above features would definitely make this smart TV an outstanding device. But the price of this smart device is nearly Rs.750000.00 which may not be an affordable one. Hope the price would come down to increase the customers.