B-Speech Coba review –A dual purpose Bluetooth headset

B-Speech Coba is Bluetooth device which is not only used as mono device for making and attending calls, but can be otherwise used as stereo head set for listening to music with the use of additional ear plug which can be plugged out when not in use. It is compatible with most of the smartphones and other mobiles.


B-Speech Coba is German designed Bluetooth headset which impresses everyone with its stylish look which can be used as mono headset for dealing with calls or as a stereo headset by connecting additional ear plug for enjoying streaming music.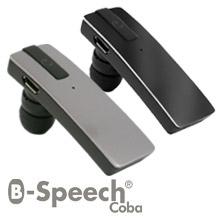 Specifications with its significance
Version: BT-Version 2.1 + EDR.
Bluetooth version 2.1 has the advantage of better pairing experience for the user and the EDR refers to Enhanced Data Rate which has a data rate of 3Mbit/s.
Bluetooth Class: Class 2
Bluetooth Class 2 means it will have a working range of up to 10 m.
Lower version compatibility – Compatible with V.2.0, V.1.2 and V.1.1
B-Speech Coba can be used even if your mobile Bluetooth version is of 2.0 or 1.2 or 1.1 apart from 2.1. Check your mobile specification to know your Bluetooth version.
Profile: Headset, Hands free, A2DP (1.2) and AVRCP (1.0)
A2DP means Advance Audio Distribution Profile which helps in wireless transmission of stereo audio and AVRCP stands for Audio Video Remote Control Profile which allows the device to control media playback remotely.
IC: CSR-BC 05 Rom
Frequency: 2402 – 2480 GHz, 2.4G ISM band
Power supply : Rechargeable LI polymer, 90mAh
2 Microphone technology
Digital Signal Processor to decrease noise and echo.
Call Answer –end/ Last number redial / Voice dialing
Energy management function.
Clear sound.
Talk time: up to 3.5 hours
Standby time: up to 70 hours.
Size : 50 L x 15 P x 7 H mm
Weight : 9g
How B-Speech Coba is different from other Bluetooth devices?

Bluetooth headset in general are used for two main reasons, one is to answer and make calls even when you are in work just by keeping your mobile in your pocket or table so that you don't give any strain to your hand. Secondly some people use it as wireless stereo head set so that he/she don't have to worry about the cable getting twisted in his shirt or anywhere else when they are in travel. Some people prefer for the first reason and will go for a mono device and some prefer stereo device with two ear plugs for streaming music. However for those who use both ways at different times then he has to sacrifice either of the one. So to end the compromise B-Speech coba has come with a feature of additional ear plug which can be removed if wished to use it as a mono or can be connected if liked to use it as a stereo.


How to stay connected in poor mobile network signal areas?

Do you suffer from poor mobile network signal in your locality or office? Do you run outside to make and attend calls? Do you scratch your body in the corner walls in your office near the window to attend calls? Do you keep your mobile in a fixed place in your office or home to receive calls? If the answer is Yes, for any of these questions and the most appropriate solution will be to buy a Bluetooth headset, so that you can keep your mobile in signal receiving place and answer from sitting at a distance, so that you don't have to scratch your body to the walls any more. I would suggest buying B-Speech Coba as I personally faced similar problem and with the Digital Signal Processor I was able to hear a clear sound even when I sit at a distance. Being a Class 2 Bluetooth you can move up to a distance of 10m for good range.


Stereo sound during audio streaming

The stereo sound has quite a decent effect compared to other Bluetooth devices in market. However you cannot expect the same effect you get in mobile head set.

Recommended: Top 10 Wireless Bluetooth Headsets in India in 2014


Can I use B-Speech Coba with Nokia/ Samsung/ Sony Ericsson?

This is the common question for first time Bluetooth head set users. All you have to know is it is compatible with all mobile models irrespective of which brand it is unless and until version of the head set and your Bluetooth device in your mobile matches. B-Speech Coba works fine with Bluetooth version 2.1, 2.0, 1.2 and 1.1. To say it in simple words most of the old and new Nokia, Samsung, Sony Ericsson and other brands works fine with this device. I used this device with my Sasmung Galaxy Fit, Samsung Galaxy S Duos and Nokia C2-00. Just check your mobile specification to know your Bluetooth version.


What should be your decent bidding price?

Either you buy it online or in shop the most decent price to buy it not more than Rs.1800. I purchased from Poorvika mobiles at the cost of Rs.1800/- (inclusive of Vat) in the month of September. So the now the cost should be quite less than that. Some online shopping portals are selling it at the cost of Rs.2500 even now (as on January 7, 2013). So be cautious before buying. Less than Rs.1800 should be good deal.


Verdict

From my overall experience I would rate it as the best and would suggest keeping it as the first preference if you decide to opt for a Bluetooth headset. Apart from the mono/ stereo options, the battery life is absolutely great and I charge it at my convenience. B-Speech Coba should be the perfect accessory for your perfect mobile.