Android game: Defense of Warcraft game review, walkthrough, tips & tricks and gameplay

Read all about the game Defense of Warcraft and know what all is in this game. Know the features of this game and read the storyline. Know the pros and cons of Defense of Warcraft and enjoy the game.


Pros: Multiple varied power ups to keep you feeling all powerful in game, two great auto-replenishing weapons which are a great option for mass annihilation.
Cons: Gameplay is not original and is picked from War of Guns
Developers:
Defense of Warcraft game is different from other games as it is based on the same idea as that of the online game War of Guns in which you have different gun options and there are different type of shields available so according to money you have you can buy the gun. So Defense of Warcraft also provides you with same features and it is indeed an addictive to have in your phone.

How to play

1. Download the game from the Google Play store and install it to your Android phone.
2. Start the game by clicking on the START option.
3. After clicking Start you will receive the option of battle, select the option given and more battles will be unlocked as
the game progresses.
4. After this you have to select the level from normal and hard and then again click on start.
5. The screen will show you the different attacks and weapons you have. Click on done after watching the attacks and weapons.
6. Now your game is ready to start, you can see the screen in which you have two powers at left corner at bottom and different huts on your screen.
7. When you click on the hut it will show you different powers to use, you can select according to your wish and same can be applied to all the huts with different powers.
8. These huts will automatically attack the enemies who have different level and you have to update your power at regular basis and make a cool combination to break them.
9. For using the two powers at the bottom of left corner you have to drag the power to the screen and leave it where the enemies are attacking.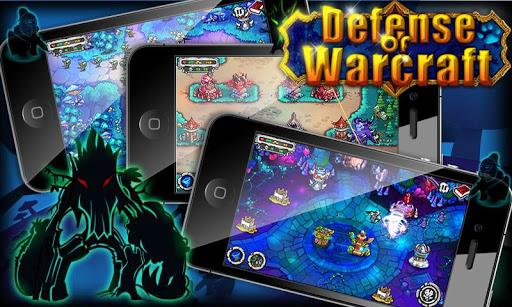 Features

1. The package of powers and a different level of addictiveness is offered by Defense of Warcraft game.
2. There are two powers at the bottom of left corner- one is tornado which will blow away the enemies coming in the way and other is your army bots coming with powers to blow away the enemies. The attacks take sometime to replenish so use these judiciously.
3. You can see your scores and coins you have earned and these coins will help you to buy new gun turret.
4. Good graphics and sound effects are available with this game.
5. You have to update your gun turrets to get rid of the enemies with high power.
6. With regular update of huts it becomes difficult task for the gamer to be quick and strategic to solve the puzzles made by them otherwise they will come close to your area and the game is over for you.

Tips to play

1. Make a good combination of guns to beat them as early and as far from your area as possible.
2. Use of cyclones and strong army should be used at perfect time as they are capable of removing the whole group at the spot.
3. Make you gun turrets at the right place and at the right time.

Also See: Top 5 free action Android games of 2015


Review of Defense of Warcraft

Defense of Warcraft game is full of features and if you are thinking that you will have a messy control than you are wrong as you are provided with the easiest of controls to play the game. The size of the game is about 32MB which is quite big for smaller phones and can slow the performance of their phone but with the big screens and good featured phone this game will work perfectly without any difficulty. A cool game to make you work your mind making strategies to survive the game as long as possible.


Wrap up

According to me it is a must try game for Android users and people can spend lots of time playing it without getting bored. So just download the game without any hesitation and share the experience with your friends and us.