Violent Racing 3D Android game review, walkthrough and how to play tips

Read all about the game Violent Racing 3D and know the features of this game. Know the tips and tricks to play this game along with complete review along with the pros and cons of this game.


Pros: Ability to blast other cars, making your car invisible are some nice features to the common car racing game. Graphics are nice too.
Cons: Violent Racing 3D is not much addictive, if you ignore the features of blasting other cars and invisibility, there is nothing else new to offer.

Violent Racing 3D game with ten to fifty thousand of installation in one month is a cool and superb game to have on your phone. People always have the problem about the messy controls of the game but this game is a motion sensor game and if you want to get invisible with speed you have to just touch the screen which will take you to a new level of speed. With stunning new features and more to come look at the following features it has stored for us.

How to play

1. Download and install the Violent Racing 3D from Google play store.
2. After installing you will directly get the option of starting the game.
3. Now you have to tilt your screen to tackle the cars and trucks coming your way.
4. Collect as much coins as possible to unlock new and amazing cars.
5. Now in your way you will come across new powers which will help you to increase your score.
6. Touch your screen to increase the speed of the car.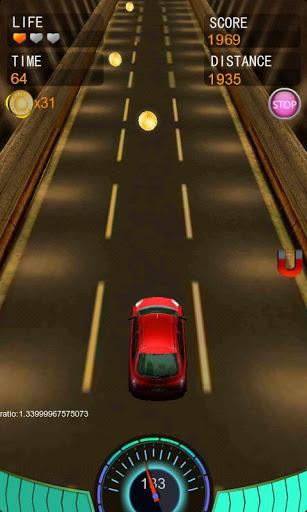 Features

1. Gorgeous 3D effects and great graphics are the key points of the game as other games are not as good as this game in field of graphics.
2. The power of magnets to attract the coins and the power to blow away the cars and the power of invisibility helps you to set a high score.
3. Accelerometer game control and motion sensor game which will give a real time experience of driving.
4. Average rating of 4.2 with cool and amazing tracks to cover.
5. Size of 13MB and compatible with Android 2.1 and above and don't have to pay money to download it.

Tips to play Violent Racing 3D

1. Tilt your screen to move the direction of the car so that you maneuver around the cars on the track.
2. Touch the screen to increase the speed which will give you a new experience and you will get extra points for a higher speed.
3. Collect as many coins as possible and unlock the coolest cars available and waiting for you in the store.
4. Do not play with the trucks if you have the power to blow away the cars because you cannot beat the defense of truck so be careful handling the trucks.


Review

A nice and beautiful combination of acceleration and reflexes. We can't say that it is a must game as it lacks addictiveness which people demand for and market is full of games similar to this. But the difference comes with the power features it have as games similar to it doesn't provide power like this. It makes the game easy and does not require a high level of maturity. If you are new to Android, one can start with this game to check the sensitivity feature of the Android device. Driving down the city to show the people your car and your skills of handling the car. Getting better with time, this racing game will offer you the fun for a limited period. The background music and 3D effects are much better as compared to other games similar to it.


Wrap up

It is hard to say about the future of the game and what the developers have stored to take it to a new level of experience because there are a multitude of similar games on Google Play. They have added a feature of powers and blowing the cars which is nice idea and concept to have. So one can have a good time with this game and check their speed of reflexes and please don't forget to share your experience with us.