BlueStacks Review: Installing Android Apps on Windows

This article describes how to install Android apps on Windows. If you are an Android fan but don't have an Android smartphone, don't be disappointed just read below!


There would be so many like me who don't own an Android Smartphone but wants to try the Android apps. There is a good news for the folks reading this article as now it is possible to try any android app even without an Android smartphone, that also on your own Windows PC. There is a nice piece of software called BlueStacks allowing Android apps to be installed on X86-based devices such as Windows 8 or Mac even.


Installation

Installing of BlueStacks is pretty simple, point your browser to http://bluestacks.com and download for your OS. After downloading, while installing you might encounter with an error "BlueStacks currently doesn't recognize your graphics card".


The reason for this error is your OS is currently using the default inbuilt graphics drivers, therefore missing the Open Graphics Library for your graphics card. This can easily be resolved by visiting your graphics card manufacturer's website and downloading the latest drivers for your graphics card.
After installing it download some data from Internet ~100 MB. You can also download offline standalone BlueStacks. Installation takes a little time.

Read more detailed installation steps of Bluestacks on Windows.


GUI

After booting up it will download an app called "1Mobile Market" which is similar to Google Play store. I tried downloading some apps they were installed flawlessly. In the BlueStacks window you get all the virtual buttons such as Back, Home, & Menu as found in any smartphone. There is a toggle button to toggle between full screen and normal screen.


Installing Apps

There are various methods to install apps in your BlueStack:-
1. Download via 1Mobile Market app.


2. You can use Cloud Connect to sync your Android mobile phone apps to BlueStacks.
3. If you have apk files in your PC then you can simply install them by clicking them, as while installing BlueStacks .apk files are associated with BlueStacks itself.


Transferring files

You can easily transfer file between your PC and BlueStacks. For that first install any file manager in your BlueStacks then you can move to /sdcard/bstfolder/ folders here are the folders in your Windows user account's Documents and Pictures folder.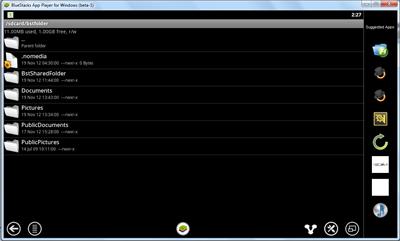 You can simply transfer files using these folders.


Rooting BlueStacks

Similar to an Android smartphone BlueStacks can also be rooted. It's quite simple in BlueStacks case than in any smart phone. For this purpose download a file from here and replace them with the original files at C:\ProgramData\BlueStacks\Android. Make sure that before replacing you take the backup of original files and more importantly close all the running instants of BlueStacks using task manager.

Enjoy your own Android smartphone on your Windows!