Lenovo launches a series of new smartphones in India

Learn more about the new set of smartphones launched by Lenovo in India. The models launched in India are K860, S880, S560, P700i and A60+. Read our initial review on these devices.


Lenovo, the #1 PC vendor in India with the record market share of 17.1% announced their foray into the smartphone market by introducing an array of new phones. The new set of phones were demonstrated today at a press conference in Bangalore. Lenovo is new to the smartphone market in India but have already demonstrated their strength in China with a 11.2% market share within a very short period of time after they entered this segment. Being the unquestionable leader in the PC market, Lenovo expects to repeat the same success story in this new category as well.


New smartphones from Lenovo

Lenovo launched 5 new smartphones today in India. Read more about each of the models below.


Lenovo K860


Lenovo K860 is the premium smartphone in the series with a 1.4Ghz Exynos 4412 quad-core processor featuring a 720x1280 pixel, 5 inch IPS display. One of the biggest advantage of this phone is it's clear display even at wide 178 degree viewing angles. The Lenovo K860 has an ergonomic design which will be very comfortable in your hands and the textured back gives it a good grip for comfortable handling. It comes with an 8 megapixel camera, some built in special effects and editing options and a few custom apps. It has got 8GB memory.

Price of Lenovo K860 in India is Rs 28499.

Read Lenovo K860 specs.


Lenovo S880


Just like its elder brother, the Lenovo S880 also has got a 5 inch display but at a lower cost. Some of the advantages of this phone are the slim 9.9mm design, long battery life and dual SIM capability. Another big advantage is the front facing stereo speakers to provide a great balance between mobility and entertainment. Also, you can experience great gaming control with the the 6-Wheel gravitation sensor and E-Compass sensor.

Price of Lenovo S880 in India is Rs 18999.

Read Lenovo S880 specification.


Lenovo S560


Are you looking for studio quality music in a smartphone? The Lenovo S560, may be the one for you. Featuring Dolby Digital Plus technology to make music sound better than ever, the S560 also packs a dual-core processor and a 4 inch IPS screen to watch videos or view pictures taken with its 5 megapixel camera.

Price in India: Rs 14499.

Read Lenovo S560 specification.


Lenovo P700i


Want dual SIM phone, but don't like big size? P700i is a dual SIM, 4 inch phone that will fit perfectly in your palm and pocket. With the Lenovo Smart Energy technology, this phone greatly enhances battery life with a talk time of up to 28 hours and up to 13 days on standby

Price in India: Rs 12499.

Read Lenovo P700i specification


Lenovo A60+


Do you think smartphones are over priced? Well, the Lenovo A60+ may be the best choice for people who are looking for smartphones under tight budget. But lower price does not always mean poor performance, atleast in the case of this Lenovo smartphone. The A60+ offers the best possible features at this price range.

Price of A60+ in India is Rs 6499.

Read Lenovo A60+ specs


Compare all Lenovo phones

Click this link to compare all Lenovo phones. You may search for various other phones like Samsung Galaxy S 3, iPhone, LG Optimus Vu etc and compare with Lenovo phones.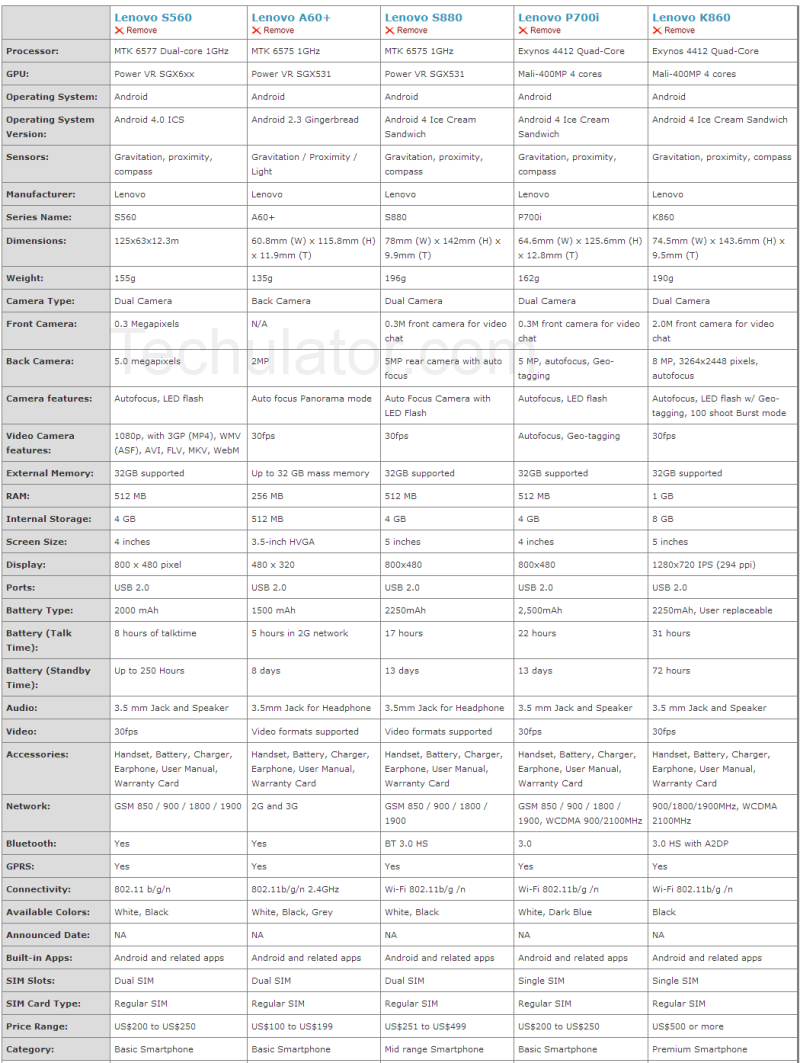 Lenovo Smartphone reviews

We are currently waiting for the review units and soon we will publish a detailed hands-on review of all of the above phones. We spent a couple of minutes with each of the units today and overall we are impressed with the series of phones from Lenovo. The best part is, they have devices that match every budget and have a good range that can meet the demands of all consumers. Regarding the quality, performance and value for money, we will share our expert opinion as soon as we do a detailed review.


Lenovo and smartphone market

According to Mr. S. S. Bassi, the head of Smartphone Business Unit at Lenovo India, the success of Lenovo Smartphones comes from China which is the first market they entered with smartphones. They have already built a strong and successful mobile phone business as the number two player with 11.2% (Q2 2012) market share in China. Along with India, they are entering the smartphone markets in Russia, Indonesia, Philippines and Vietnam as their global strategy.

Lenovo is the number one PC company in the world, but they are probably bit late into the smartphone segment but better late than never! All of the devices launched today are Android based and company is very optimistic about the future and success. Company is in discussion with various service providers in India to provide integrated mobile services. Also, company has tied up with few retail chains in India to sell the phones throughout the shops in select cities in the country. There is no official word from Lenovo yet on when they are going to launch any Windows or Windows 8 based phones.

How Lenovo named their smartphone series

Lenovo officials explained how they came up with the K, S, P and A series names for their phones. "K" is derived from the word "GeeK", which indicate these are high-end phones meant for geeks. The series "S" indicates "Style", fashion and trendy! "P" series stands for "Professional", indicating these phones are professionals and business people offering a long battery life and dual SIM capability. Finally, the "A" series stands for "Affordable", which are price sensitive, budge phones.




Where to buy Lenovo phones in India

As of now, Lenovo smartphones are available in only selected markets in India. Within next couple of days, these units will be available in select retail stores and Lenovo showrooms in Kerala, Karnataka, Tamilnadu and Gujarat. Eventually they will be expanded to other states as well.