Dell Ultrabooks and Desktops with Windows 8

Dell announced many Windows 8 based ultrabooks and All in One PCs during IFA 2012 and now disclosing their price and taking their pre-orders from customers.


Windows 8 Ultrabooks and All in One PCs from Dell

Just few days are left in arrival of Windows 8, and the earlier announced ultrabooks, hybrids and All in One personal computer from PC makers are also going to be rolled out with Microsoft's flagship operating system. Dell announced a wide range of Windows 8 devices and now some of them are ready to pre-order on various online websites. Here we have come up with three remarkable Dell machines – One convertible ultrabook and two All in One PC available to pre-order online. All these Windows 8 devices are capable to access both the traditional desktop applications as well as modern UI/Windows 8-style, UI/Metro apps via Windows store.

Our first pick is Dell's 12.5 inches full HD Dell XPS Duo 12 transforming laptop, powered by Intel processor with aluminum and carbon fiber body. Our second pick is Dell XPS One 27 All in One PC with an adjustable stand, 27-inches full Quad HD with high resolution screen of 2,560 x 1,440 pixels. The third and last pick is Dell Inspiron One 2320 All in One Windows 8 PC with 23-inches full HD display and 2nd generation Intel Core processor with wireless mouse and keyboard and warranty period of 3 years.


Dell XPS duo 12 Transforming laptop: specs and reviews: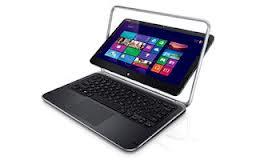 XPS duo 12 ultrabook, a 12.5 inches touch screen PC with full HD incorporating 1,920 x 1,080 pixels resolution screen display is a better specimen of upcoming technology and has edge to edge layer Corning Gorilla glass protection. The full HD display capability lets the Dell machine deliver up to 97% more pixels when compared to regular HD display. Device body is designed with carbon fiber and aluminum with transforming ability from tablet to ultrabook via flip hinge and backlit keys keyboard with a nice touch pad.

This Dell machine runs on Windows 8 operating system and claims to show very sharp and clear images with full HD capability. Empowering with very fast Ivy Bridge Core i5 processor, the device is anticipated to give ultimate working experience to users. With 4GB of RAM and 128GB SSD, Dell XPS duo 12 tablet-laptop is the best device from Dell with well engineered and revolutionary designed transforming ability.


XPS duo 12: Price, availability and pre-order

Customers can pre-order XPS duo 12 hybrid laptop at various online stores and available at the price of $1200. The Dell machine will start shipping to customers by end of this month.


Dell XPS One 27 All in One PC with Adjustable stand

XPS One 27 is a stylish premium all in one PC packed in a compact and stylish chassis featuring 27-inches large multi-touch display screen with full Quad HD and 2,560 x 1,440 pixels resolution that seems more than any other Windows 8 PCs available in market in such price range. The device runs on Windows 8 operating system platform and has a 720p HD webcam also. The display quality of device makes it suitable for professional photographers who require high quality and high resolution images.

Use can configure Dell XPS One 27 with Intel Core i5 Ivy Bridge processor with 16GB RAM, 2TB HDD and 32GB SSD for rapid start and 2GB Nvidia GeForce GT 640M graphics card. The integrated waves MaxxAudio 4 sound enhancement technology gives users best multimedia experience. TV tuner card can also be added to computer for watching TV channels and preloaded Skype comes preloaded for video chatting with a McAfee Antivirus trial subscription.

For connectivity, XPS One 27 has Bluetooth 4.0 for sharing data wirelessly, WiFi 802.11b/g/n for high speed internet, two USB 2.0 and four USB 3.0 ports, HSMI input with output connector, 8-in-1 memory card reader and integrated DVDRW drive or Blue-ray disc drive. A special unique adjustable stand of XPS One 27 allows user to set display screen to best suitable position, he requires.


Dell XPS One 27 Price and pre-order details

You can pre-order XPS One 27 online at the starting price of $1,599 for its touch screen model configuring - a Core i5 3330s processor, 6GB of RAM, 1TB HD and 2,560 x 1,440 resolution and 27-inches large screen. On the other hand, the other non touch screen model is also available at the price of $1,399.


Inspiron One 2320 AIO PC: Specs and reviews

Inspiron One 2320 from Dell is an All in One PC with 23 inches Full HD multi-touch display and 1,920 x 1,080 pixels resolution screen with WLED backlighting. Dell machine is designed to have slim and sleek shape suitable for enhancing beauty of your room.

The device runs Intel's Core i3-2100 processor with running speed of 3.10 GHz enhanced by Intel Graphics HD 2000 and 3MB cache. Coupled to 6GB DDR3 RAM and 1TB SSD/HDD internal storage and 8-in-1 card, the Windows 8 PC is dimensioned to 397 x 66.5 x 567mm with 3 years of repairing warranty from Dell.

Wireless mouse and keyboard support lets your room clutter-free and allows user to work freely from more distance comparatively. The keyboard can also be placed under display screen when one doesn't require it providing user more working space around the system. To enjoy multimedia, crispy JBL speakers also provided with system and preloaded apps like YouPaint lets yours kids enjoy drawing and enhancing their creativity with fun. A built-in HD webcam also provided with device.

Besides this all, for connectivity, four USB 2.0 ports at rear side and two USB 2.0 ports at sides of device allow files and data transfer to other digital devices. One HDMI in for video streaming, VGA port and IEEE 802.11b/g/n wire LAN also provided as connectivity options.


Inspiron One 2320 Price and availability

You can now pre-order Dell Inpiron One 2320 All in One PC online at the price range of around $920.