Speed Night, Android Game Review

Read this review of Speed Night, an android game with detailed walk-through and useful tips.


Pros and cons of Speed Night game
Pros- The game is similar to Infinity Racing, but it is way better. More coins, more power up, great graphics, all in all this 3D game deserve a download.
Cons- The game is not responsive and suffers from frequent crashes.


Speed Night- a Fun Racing Game

Speed Night is a fun and frolic game that brings fun and the entertainment, on the first go. The mastermind of this game is ICLOUDZONE INC, a name that speaks aloud of the driving games. Here's a quick walkthrough of the game.


Have you ever felt like thrashing your competitor or how about thrashing a pseudoboss? With Speed Night game, you can at least vent your emotions. Consider that you are competing with them and start the game.

It is a prominent car racing game where you can step on the accelerator to the maximum speed even during the mid night. Once you ameliorate the speed, you'll be faced with hordes of competitors in form of cars that will pose a challenge for your responsiveness.
The game is all about accumulating wealth in form of coins that lets you to unchain a replacement vehicle. Of course you need to attain a level to unlock new car.

To increase the speed of automotive, use touch screen interface. This interface is not responsive and makes the game exasperating.
In the course of the game you'll collect following struts:

Magnet-Within a stipulated period of time you need to draw a certain range of gold coins.


Stealth- It is time frame within which an individual can cross NPC vehicle on the road.


Life – It is another prop that can be used when you think that your life is in danger.

Depending upon the performance, you'll get experience that will help you to bolster to the next level.

If you are able to double the expectations of game you'll receive coins through which you can unlock the worlds fastest and furious cars that you always desired to own. Reaching to this luxury cars is not an easy cup of tea. Sheer determination, passion and addiction can help you to attain this level.

Most of the users have labeled Speed Night, a 3D car racing game as Whoa game. But it suffers from certain setbacks like touch screen is not responsive, app crashes now and then and the most irritating part is the pop up ads that props up again and again.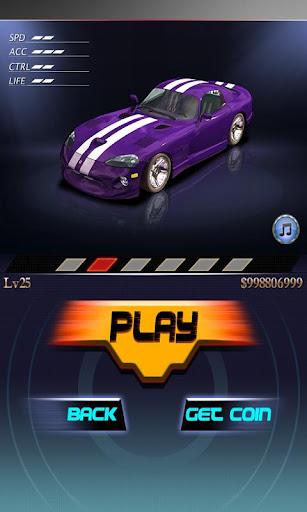 It is recommended that the game publisher should add a zing of customization, improvise 3D and make the controls silky smooth. Lest, it is a fantastic and addictive sports game.

You can share the scores with your friends on Facebook, Twitter, or on other social networking sites. Or even you can submit the scores on online leatherboard and compare it with competitors.
Specifications

This 3D racing game runs on Android 2.2, Android 2.3.3-Android 2.3.7 operating system. It is compatible with Android 2.2 and above. The file size is of 7.56 MB and it is a free download. Since, its release (October 10, 2012) this game has become a rage among the teens and adults. The version is 1.0.3

This driving game can be downloaded from the publisher site http://www.icloudzone.com/icloudzone/website/index.html or from Google Play


Wrap Up

No doubt Speed Night game suffers from certain bugs but hope after reading this game review the game publisher will try to improve it.
Till then immerse yourself in this racing game.
Happy Gaming!