Mutant Roadkill game Review

Read the review of Android/iOS game Mutant Roadkill along with useful tips for easy playing.


Pros and cons of Mutant Roadkill game
Pros: Nice gameplay of running over other moving things
Cons: Copied idea, bad and old graphics, Mercenary monetization scheme






About Mutant Roadkill game

Zombie and mutants are one of those characters whose mass massacre is always acceptable. Not much time has passed since the game Zombie Highway was released. A new game for iOS as well as Android devices is in the market named as the Mutant Road. This game is very similar to the gameplay of Zombie Highway, You have to kill the mutants which are coming in your way by leaping on to your vehicle with the purpose to kill and eat you. Basically, only the Zombies have been replaced by mutants here. So let's see more about this game and find out how we can get away from these mutants.


Gameplay of Mutant Roadkill

First of all, let me tell you that these types of games are not suitable for small children. Reason is pretty simple that you are running over mutants by the car and this probably is not a good thing to show innocent children. If you in any case let your child play this game, well then, you are solely responsible for that. Now getting back to the game, it is pretty simple. You have a car in Mutant Roadkill game and there are small cities which have roads. In these roads you have to drive a non stop vehicle and along the way kill the mutants coming near your car. Some of these mutants will try to eliminate you and will damage your car. And once your vehicle is destroyed then game is over. There are various coins which you will get when you kill the mutants. You can spend your coins to buy stronger vehicle. You car is provided with the ammunition like gun, machine gun, Sub machine gun. You have to be precise about using your ammunitions as they will run out fast if not used properly. The game is fun as you smash the mutants hard and get away from there. You can buy more coins by paying real money.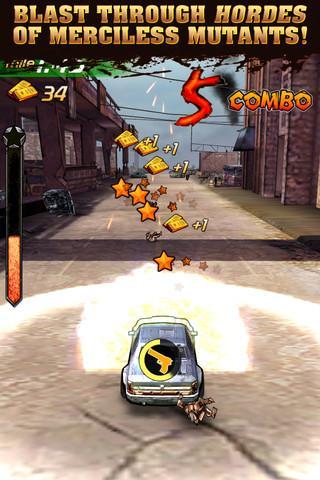 How Mutant Roadkill is different from other games

Mutant Roadkill is nowhere different from the Zombie Highway game. The gameplay is similar but lacks the quality that was present in the Zombie highway game. For example, the graphics are not that good. The whole plot is same and copied from the Zombie highway. But the difference is there are mutants here in place of Zombies which you are killing on your way down the road with your ammunition and car bumper.


Interface of Mutant Roadkill game

The user interface of the game is pretty simple with simple boxes on it. You will not get confused with the controls. But the main problem comes with graphics and sound. I mean the car looks like that this has been imported from the times of road rash game. The sound of the bullets, skidding of car and other sounds are also not that good and needs more attention. The whole graphic which comes in to play during the action is boring and looks like somebody has updated the PowerPoint in the gaming industry.