Coins Game for Andriod and iOS - A Review

Read the review of Coins, a game for Android and iOS. Also learn tips that is helpful for playing the games.


Pros and cons of Coins game
Pros: Mechanics of this game are pretty much simple, features interesting and sophisticated puzzles. Very impressive way of presentation, very easy to play.

Cons: Very few number of puzzles.

As a born gamer, I love playing variety of games. Last week I was really tired while searching for a great puzzle game. I could not find anything special, it was like a fate this game pops in front of me just before 2-3 days. I was really thankful to god for such a great game.

Coins, yet another great game for you to entertain. This is another awesome game where I used to dedicate some of my precious time for playing. By hearing the name, at first I thought the game to be a boring kid type one, but surprisingly the game turned out to be an interesting and highly addictive one. As you go along this review, you will come to know about all the interesting features, pros and cons of this game: coins. Come let me describe the game for you.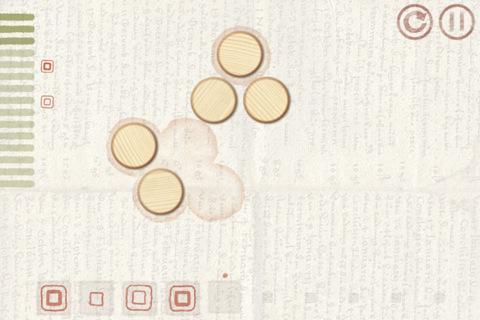 Gameplay of Coins game

Coins is an extremely simple game with lots of fun filled puzzle game. This game will stimulate your mind and is a fabulous option for you to get relaxed. Apart from stimulating your mind, it does not frustrate you in any manner. The game features many levels, each with variety of challenges to accept. The game will ask you to arrange the specific pieces of woods into the spaces which are highlighted on the game board. Coins also allows a great option for user interface, as we can place the objects in the allotted space with a stylish touch. The playing field isn't actually a board, but it is similar to a piece of paper or a sheet, which really makes this game visually more grateful. Even the gameplay of this is more interesting compared to other crap puzzle games. There will be a wet spots on the sheet, where you have to place the appropriate wooden disks.

Apart from other puzzles, the main mechanics of the iOS game Coins are pretty much simple. The actual mechanism that is behind this game is, when we move the wooden disks to our desired location, we will have to place them in between two adjacent disks on the sheet. This is all it, all you have now left to do is to rearrange those wooden pieces to solve your puzzle. But always make sure that the pieces that you have placed, touches the other two disks on the same sheet.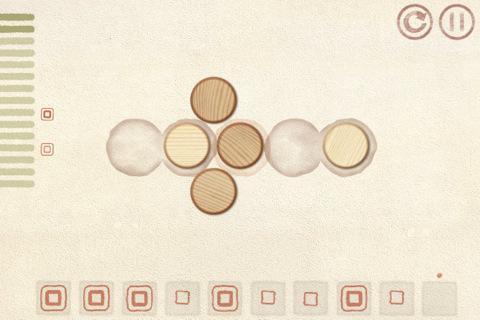 As far as the real puzzle is considered, it is not much easier like what we saw in its mechanism. Each levels of this game will hold its own hardness for solving the problems. But it won't be that hard, such that you may burn your hair out. By acquiring enough experience, you will be able to gain your own pace for solving the problems within the puzzle. If you are pretty expert in puzzles, then you will also able to challenge your brain by completing more tough levels. The number of turns that you had taken in a single game will be notified to you on the left side of the screen. You can make the game more challenging by trying to solve out the puzzles within less number of turns. You can even challenge yourself by defeating your previous set of number of turns.

As you progress level by level, you will get introduced to new mechanics of game, as you complete halfway across the game. The new mechanics features new wooden disks with darker colour and new set of watermarks, where the wooden pieces have to be placed. Unlike earlier stages, these advanced stages of this game features placing the wooden pieces between two other disks of different colours. As the levels are being raised, the complexity in solving each puzzles too increases.


Wrap up

I strongly believe that there is no one who do not love puzzles, am I right? If you are one among them, then be happy, this game is surely made for you. Coins is a very much addictive and a chill out game. You can play this game even at your lunch time while listening to your favorite music. 'Coins' can also be used as a great weapon to kill some of your boring time. As I mentioned above, this game features very highly addictive options for you to get addicted in this game for more than an hour or long. I would strongly recommend everybody to have this game and according to me my life would not have completed without this game.