40 games including 'Angry Birds', 'Fruit Ninja' making way to Windows 8

Windows 8 is going to be officially released on October and as apart of it, Microsoft has announced a list of games that are making their way to Windows 8, including Angry Birds and Fruit Ninja. Want to know the full list of games? Just read on the article and find if your favorite game is there and see the full list too.


There is a good news for the die hard Angry Bird Fands and Windows 8 Fans. Because, your favorite Angry Birds and other great games are making their way to Windows 8. The news appeared in a Windows Team blogpost by the Microsoft itself. Windows 8 being their most highlighted product, they are doing the maximum to make it a complete hit. And this migration of the Angry Birds is a good sign of it.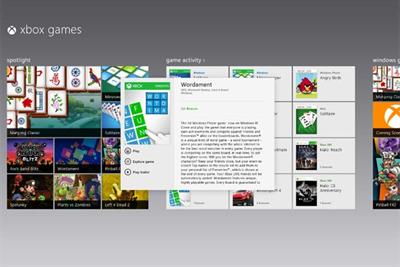 Not only Angry Birds, many other games too, like Fruit Ninja, From Halfbrick Studios is also coming to Windows 8. Among all these, microsoft has announced about 40 games for the upcoming Windows 8 and anomg this 40, 20 are from Microsoft Studios. And some of these games will also be available to play on Microsoft console too. In the post, Microsoft said," Xbox is also announcing support from Rovio, Miniclip, Gameloft, Zeptolab, Glu Mobile, Halfbrick Studios who are bringing Xbox games to Windows 8 in first wave". And they also mentioned that the games will be made available through the Games App, which will be provided with the Windows 8 itself, and also through Windows Store.

But the thong is that, they didn't yet said avlut the workability of the games on the Windows RT OS, which were built for the tablets and for ARM based OS for PCs. Anyway its a happy news that, the birds started the migration, and the Microsoft is trying to make the Windows 8 a grand and best of them. And the other thing is, the games are specially designed for touch devices and also for 'Keyboard and mouse' PCs. And in addition to the games that they just announced, the are including an app called Xbox SmartGlass in Windows 8, which will help the user to control and know the current game statics and maps of the game, which is also good and just adds up the Gaming features of Windows 8. And by this Windows 8 is also becoming a gaming platform too.

Here is the full list of the games which will be available for the upcoming Windows 8.

1. 4 Elements II Special Edition
2. A World of Keflings
3. Adera: Episode 1
4. Adera: Episode 2
5. Adera: Episode 3
6. Angry Birds
7. Angry Birds Space
8. Big Buck Hunter Pro
9. BlazBlue Calamity Trigger
10. Collateral Damage
11. Crash Course GO
12. Cut the Rope
13. Disney Fairies
14. Dragon's Lair
15. Field & Stream Fishing
16. Fruit Ninja
17. Gravity Guy
18. Gunstringer: Dead Man Running
19. Hydro Thunder Hurricane
20. IloMilo
21. iStunt 2
22. Jetpack Joyride
23. Kinectimals Unleashed
24. Microsoft Mahjong
25. Microsoft Minesweeper
26. Microsoft Solitaire Collection
27. Monster Island
28. PAC-MAN Championship Edition DX
29. Pinball FX 2
30. Reckless Racing Ultimate
31. Rocket Riot 3D
32. Shark Dash
33. Shuffle Party
34. Skulls of the Shogun
35. Taptiles
36. Team Crossword
37. The Harvest HD
38. Toy Soldiers Cold War
39. Wordament
40. Zombies

We can be so sure that this is not the complete list. There will surely be more and Micorsoft are trying maximum to get the upcoming Windows 8 to the top of the list. And for that, the Gaming will play an important role. We have just seen it on mobiles and this migration of the games to Windows 8 will be a happy news for not only Windows 8 fans but the Angry Birds lovers too.