Google Nexus 7 vs Huawei MediaPad 7 Lite: Battle of Low Priced Tablets!

Today in this fine article I going to compare the world's two finest budget friendly tablets: Google Nexus 7 and Huawei MediaPad 7 Lite. Through this article, you can review the specs and features of each tablet and finally will be able to choose the best tablet with great specifications under low cost. Continue to read on this article and find out the best from the comparisons of the above two tablet.


Huawei MediaPad 7 Lite vs Google Nexus 7

Huawei recently launched its latest Anrdoid tablet called the MediaPad 7 Lite. This 7-inch uber-stylish tablet in a unibody metal casing sports a premium look as well as high performance Android 4.0. Although Huawei hasn't yet confirmed the availability or pricing MediaPad, the market is soaring with anticipations about the performance of this tablet. Mediapad 7 Lite is a sleek and stylish tab. Let us compare Mediapad 7 Lite with the high performance Nexus 7 by Google.


Comparison of Google Nexus 7 and Huawei MediaPad 7 Lite
Processor of Google Nexus 7 vs Huawei MediaPad 7 Lite

Media Pad 7 Lite runs on a 1.2GHz Cortex A8 processor which seems to be a compromise between performance and price as most tablets in the market are based on A9 processors. Huawei MediaPad 7 supports operating frequencies of GSM 850/900/1800/1900 and HSDPA 900/ 2100 MHz.


Operating Systems of Google Nexus 7 vs Huawei MediaPad 7 Lite

The operating systems for both the phones are also almost similar with the MediaPad 7 featuring Android 4.0 Ice Cream sandwich and Nexus 7 featuring Android 4.1 JellyBean OS. Additionally, MediaPad 7 also supports Java through its Java MIDP emulator which is absent in Nexus 7.


Memory of Google Nexus 7 vs Huawei MediaPad 7 Lite

However, Huawei has not compromised with the storage, RAM or connectivity of the tablet. Huawei MediaPad 7 Lite offers 1GB of RAM and 8GB of internal storage which is similar to that of Nexus 7. Nexus 7 as well as MediaPad 7 have an internal memory of 8GB and a practically unlimited phonebook, call log details, inbox capacity and message details. In addition to the internal storage, MediaPad 7 features a memory slot for microSD cards which is unavailable in Nexus 7. MediaPad has an expandable memory of up to 32GB which is also not provided in Nexus 7.


Connectivity of Google Nexus 7 vs Huawei MediaPad 7 Lite

With the Huawei MediaPad 7, you can stay connected with its integrated 3.6Mbps UMTS/HSDPA modem. It offers 3G connectivity through HSDPA 21 Mbps and HSUPA 5.6 Mbps modems. The modem also claims to support SMS and MMS services. Apart from the integrated modem Huawei also features WiFi b/g/n, WiFi Hotspot, DLNA and Bluetooth v2.1. It also has Class 12 GPRS connectivity which is not offered by Nexus 7.


Display of Google Nexus 7 vs Huawei MediaPad 7 Lite

If you are looking for unmatched display quality Nexus 7 beats MediaPad 7 Lite with its high-resolution LED Backlit IPS LCD display that recognizes 16M colors as opposed to MediaPad 7 Lite's 1024x600 IPS LCD display with color recognition of 256k colors. Both – MediaPad 7 and Nexus 7 feature a display size of 800x1280 pixels.


Camera

Unlike most tablets in the market, including Nexus 7, MediaPad 7 Lite has two cameras - a 0.3MP front camera for video calls and 3.2MP back camera for taking photographs and videos. Also, the image resolution of 2592x1944 pixels offered by the MediaPad 7 rear camera is much
higher than that provided by Nexus 7 with an image resolution of 1280x1024 pixels.


Battery Life

The battery for MediaPad 7 is a Li-ion 4100 mAh pack but Huawei hasn't yet given indications about the runtimes. The battery supports a talktime of around 7 hours. Nexus 7, on the other hand, comes with Li-ion 4235 mAh battery with a longer runtime.


Additional features

Apart from the basic specifications of storage, processor and connectivity, MediaPad 7 also boasts of an in-built accelerometer, a digital compass and an ambient light sensor. The in-built browser for MediaPad 7 supports HTML5 and Adobe flash whereas Nexus 7 supports HTML and RSS on its browser. Both the tablets have audio and video player supporting most codec. Furthermore MediaPad 7 employs SRS sound enhancement system for a better audio quality than the Nexus 7.


Google Nexus 7 Specifications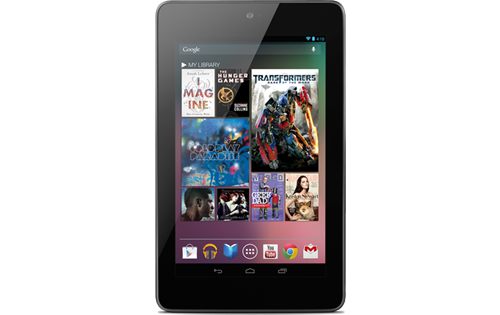 Processor: Quad-core Tegra 3 Processor
OS: Android 4.1(Jelly Bean)
Display: 7" 1280x800 HD display(216 ppi)
Memory: 8GB/16GB
RAM: 1GB
Connectivity: Wifi 802.11 b/g/n and Bluetooth
Camera: 1.2MP Front Camera
USB: Micro USB
Huawei MediaPad 7 Lite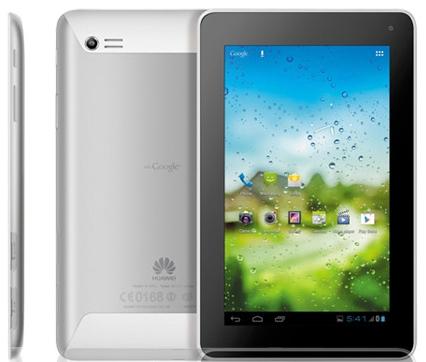 Processor: Cortex A8 processor(1.2 GHz)


OS: Android 4.0(Ice Cream Sandwich)


Display: 7" 1280x800 display


Memory: 8GB


RAM: 1GB


Connectivity: Wifi 802.11 b/g/n, Bluetooth V2.1 and Class 12 GPRS connectivity.


Camera: 0.3 MP Front Camera and 3.2MP Rear Camera.


All-in-all the MediaPad 7 seems a promising alternative to the Nexus 7 tablet for those seeking a high-end tablet with a premium business class mien.