Android game DragonCraft review, walkthrough and how to play tips

Read about the Android game DragonCraft and know the features of the game. Know the tips to play DragonCraft and go through the walkthrough of the game. Read the pros and cons of the game and go through the review of the Android game DragonCraft


Pros and cons of Android game DragonCraft
Pros-The game is preloaded with fun and entertainment. It has set commandments for the players.
The game includes transportive sound, squeaky aesthetics and words of positive reinforcement-all in mid range frequencies.
Cons- The game suffers from technical glitches. Server errors and disconnects are the major turn off. Moreover, this game doesn't provide the value for hard earned money.
Developers: ngmoco




Revitalize your Life with DragonCraft

Dragon Craft is a funky game with cool music, it appeals to all generations from newbies to hardcore fans. On the first beat, the game seems to be energetic and fun filled, but later you realize that you are not the one giving the orders, you're just following these orders. A major turn off.
It follows a standard formula of building cities, improving armies, and harvesting resources. With just handful of spears, you can be rest assured that you can face the game challenges head on.




Gameplay of DragonCraft game

DragonCraft game is about hyper real characters that are set to ablaze and destruct your city. You need to drain out your sweat and defeat them. Defeating one dragon will earn you five points or scales, which magically changes into a dragon egg. This dragon egg will provide you the maximum benefits. Once you are hands on with the game, you will realize how dragons can be fused with one another; this in turn renders you the limitless power. The demons continually create the fear that keeps you away from the victory. Here are some strategies for a quick getaway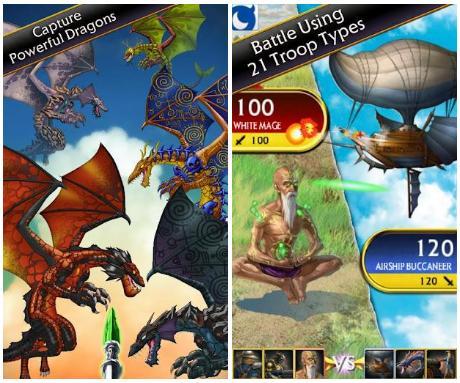 Collect a host of dragon spears to combat these dragons. It provides you the opportunity to create your own state of bliss. Having a dragon's spear enhances your chance of victory, but the probability and uncertainty still remain.

How to earn the dragon spears in DragonCraft game
Dragon crystals can be found scattered all around, but if you are running low you can purchase them for real money.


Features of DragonCraft game
It is a battle that consists of 21 different types of troops from three distinct classes Magic, Brute force and Tech.


Discover how to fuse dragon together, to create a powerful combination.


Explore a world of treacherous alliances and deadly monsters.


Visit the various portals to create more powerful combinations.


Play with your comrades, make new allies, and participate in the weekly challenges.
USP's of the game DragonCraft

DragonCraft is a game that lets you charge yourselves, on the first go. Here are some unique points of the game

Detailed and immersive graphics leaves you in the fantasy world.


Background animation is designed to stream high definition content.


The music is preemptive and renders you cinematic experience.


Menus and controls are simple and easy to use.


Interactive tutorial guides you in every step.
Major turnoff of the game DragonCraft
The major turnoff of the game- there is not much to do except to follow the instructions. Your city is built not according to your whims and wishes rather everything has a preset location.


The real clashes need to have an element of strategy, but the game seems to arrange the battle as it deems fit.


Building structures and troops are relatively a slow process. You can only speed up this process with the help of dragon crystals or real money.




In epilogue, the only player who wins the game is one who never decides to step out.