New Lava XOLO X900 smartphone specifications and price

You might have tried all the Android smartphones in before and got lots of good experiences. But I recommend you to take a taste of a new smart phone Lava XOLO X900 with a 'Intel inside' badge. This smartphone is going to take the top smartphone market at presented, as expected. So, read this article to know more about this Lava XOLO X900 smartphone and also know about how to buy it online.


We see in our desktop/computer a badge of 'Intel inside'. Seeing this we always prefer to by those desktops or laptops and claimed those are best than any other device for nearly two decades. Finally the 'Intel inside badge' finally made its way on a smartphone, courtesy the Lava XOLO X900. It is expected that this smartphone will get the top market place of smartphone device at present. Even it has thrown challenges to the top smartphone product company like HTC, Samsung and Sony.



Now, the obvious question you may ask that does Xolo X900 serve up as the best Android phone due to the Intel Inside badge only? To get the answer you have to go through for the entire specifications and features of XOLO X900 which I will give below.


The outside body of X900 feels premium and polished and quite looks like the latest iPhone. The screen display comes up with 4.03-in LCD display having a resolution of 1024x600 which adorns the front of the device. Along with the Android buttons overall looks are very clean and minimalist. The display of Lava XOLO X900 offers users reasonable pixel density of 295 pixels per inch and also offers average color output.

There is a 8MP HD camera with flash that gives you better snapshot experience and you can get 10 photos in a second by just one click! Also, there is a front camera with 1.3 MP. The XOLO X900 is powered by Intel atom 1.6 GHz processor with Hyper-Threading Technology. It runs on Android V2.3 Gingerbread (upgaradable to ICS) and 1GB Ram which makes the XOLO X900 the benchmark smartphone in its class.

The internal storage capacity consists of 16 GB. The high speed 400 MHz graphics engine offers you rich and immersive 3D gaming with super-responsive graphics. This smartphone comes up with a 1660 mAh battery that promises to run up to 14 days standby time. But before buying it you need to keep somethings in mind- several games have support compatibility issues.


Technical specifications of XOLO X900
Processor : 1.6 GHz Intel® Atom™


OS : Android V2.3 Gingerbread (upgaradable to ICS)


RAM : 1 GB


Screen Size : 4.03"


Camera (Flash): 8 MP with Flash


Front Camera : 1.3 MP


Download Speed : HSPA+ Up to 21 Mbps


Display Resolution : 1024x600


Internal Memory : 16GB


Dimensions : 123 x 63 x 10.99 mm


HDMI TV out : Yes


NFC Ready : Yes
Pros & cons of Lava XOLO X900 smartphone

Pros of XOLO X900:

1. Above average build quality

2. Good Camera with dedicated camera button

3. Better performance

4. First Intel powered Android phone

Cons of XOLO X900:

1. No ICS out of the box

2. App compatibility concerns

3. 16GB internal memory with no expandable storage


Price of XOLO X900 smartphone


The price of Lava XOLO X900 smartphone is around Rs. 22000 ($400). If you are too much smartphone-addicted then you may take a taste of XOLO X900.



Where to buy XOLO X900 online

Go to the website xolo.in and click on the 'Buy' tab. You have to pay only Rs. 2000 while purchasing online and the remaining money will have to be paid during home delivery. You never have to pay a single cent for shipping delivery. To buy Lava XOLO X900 online you have to provide the following information:

1. Your valid email address.

2. Shipping address to where the smartphone will be delivered.

3. Then review your order

4. Make secure payment

I have attached the snapshot below-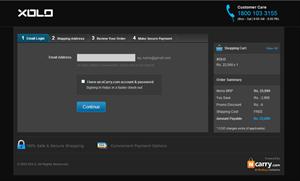 You might also like my another article Some interesting applications and accessories for Laptops and Android devices