Review of Audacity, an Open Source Professional Sound Editor

Are you looking for an open-source sound editing software program? Read our review of this high quality software called Audacity which competes against sound editing software by big companies like Apple or Sony. Read the article to know how to install and use Audacity.


One of the most basic needs of sound engineers is a good sound editing application. This type of an application is needed to edit & mix soundtracks, record new soundtracks or change the properties of sound. There are many great sound editing software programs available which can manipulate and write sound effects up to a great level but most of these software are very costly and only rich studios can afford them. In this article, we are presenting a sound editor which is totally free of cost. Once you get familiar with this software, you won't ever need to go to a recording studio to edit sounds. What's more? Audacity is Open Source!


How to install Audacity sound editor?

Audacity is totally free to download and install. It has cross plat form and is available for Windows, Mac and Linux Operating Systems. Here is the link of the official website from where you can download the software. This website is hosted under source forge.
Installation of Audacity in Windows
1. Download the .exe software from the above link.
2. Double click on the setup icon.
3. Go through the screen instructions and install the software.

Installation of Audacity in Ubuntu
1. Open the Ubuntu Software Center.
2. Type 'Audacity' in the search box. Wait till Audacity package appears.
3. Click on 'Install'.
4. Wait for the installation to finish and restart the computer.

Graphical user interface of Audacity sound editor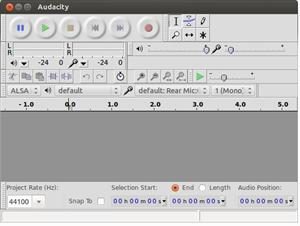 Above is a screen shot of the user interface of Audacity on Ubuntu. You will get this type of screen when you open the program. To open the program, go to:
Start > All programs > Audacity or Dash > Applications>Audacity.

The circular buttons in the top right of the screen are the main control buttons. From left to right order, these are pause, play, stop, previous, next and record buttons. To the right to these buttons are buttons of mouse cursor selection. There are different types of mouse cursors available for different tasks. Below these is a volume manager which allows you to adjust the volume of your sound output and input. To the left is the sound intensity indicator. The green bars indicate the intensity of output and the red bars indicate the intensity of input. You can select the input and output hardware and drivers from the buttons just below these bars. Below these is the edit tool bar which has various editing tools such as cut, copy, paste, undo, redo etc. The big gray region contains your soundtracks which you have imported or you are recording. The bottom tool bar offers various handy functions.

More functions and tools can be accessed from the menu bar located at top of the screen (not shown in this screen shot).


Recording and Editing in Audacity sound editor :

How to record your own soundtracks?
1. Connect a mic or a similar recording device to your computer with its driver installed.
2. Open Audacity.
3. Select your mic as input from the tool bar we mentioned above.
4. Click on the 'record' button.
5. Start recording your sounds.
6. When you are done, click on 'pause' and 'play' buttons to listen to your soundtrack.
7. When you have done your recording, click on 'stop' button.

Sound editing can be done by simply selecting an area from the soundtrack and using the edit tool bar. From the menu bar, 'Transport', 'Track', 'Generate' and 'Analyze' menus can also be used to edit soundtracks.

How to add effects to your soundtrack?
To add sound effects like amplification, echo, repeat & reflect to your soundtrack, select the appropriate region of your soundtrack and use the 'Effects' menu from menu bar.
This concludes out introductory post to Audacity audio editor and recorder. Since many people are looking for open source software these days, I hope this article would have been useful. For more information on open source software programs, stay tuned.