Evernote Android products review: best productivity android applications for note taking

This article gives everything you should know about Android application Evernote. This write up also discusses how to do more with Evernote and improve your life style with the one of the best productivity app from Google Playstore.


This article introduces you to all Android applications of Evernote corp. Here you have the chance to know more about apps like Evernote, Evernote skitch, Evernote Food and Evernote Hello.

Evernote is just what they tag themselves; REMEMBER EVERYTHING! It is one best note taking application available in android market playstore. Evernote have variants across various platforms like ios and blackberry. Evernote allows the user to create a note and store an online copy in the Evernote server. This can be synchronized to all the devices where you have installed Evernote. That is if you are using windows or mac in your pc, download the Evernote application for that particular platform and press the 'sync' button to synchronize all your notes stored in your phone to pc and vice versa.


How to start using Evernote?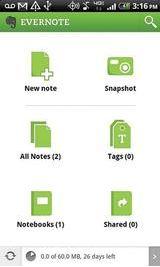 So how to start evernoting? Evernote requires an online registration with a valid email address. Anyone can have Evernote for free with 60MB of storage every month and premium users can have 1000mb per month paying 5$ a month. From my experience college students can really take advantage of the free option provided by the Evernote Corporation, as all you need is a smartphone. Once you register, you can start accessing your Evernote app; actually you can access all the fore mentioned applications from Evernote. After your first login Evernote will create something like 'yourusername.xxxxxxx@m.Evernote.com' as your Evernote mailed, to which you can send notes to store which an additional facility available in Evernote.

Note making in Evernote is a real fun, look at the screenshot of Evernote application given here. Evernote gives a good number of updates for user interface and effectiveness of the application, so the application have changed from what it was as it appeared for the first time in android market. A number of notes and notebooks can be created from the app. By clicking the new note button you can start creating a note. There are options to attach your note with media files and images. There are options to create audio notes as well as image rich notes. Before saving your notes you can tag appropriately so that the notes remain well organized. Both snippet and list view modes are available for application in Android. Highly efficient search to even search inside your notes is an attractive and helpful feature. It has to be noted that it is not required you to be online while you create notes and no need to log in every time you open Evernote. You may update your server whenever you wish.


Review of Android app Evernote skitch

Evernote made skitch, as they say to 'draw attention'. Evernote skitch can be used as tool to make notes in Evernote. Using skitch you can take and edit images to additional details to draw attention of the viewers. You can add additional text, put arrows and boxes to project things which are otherwise dull in the image. I have great experience in using skitch to facilitate my notes created in Evernote standard app. There plenty of saving facilities available inside skitch. While who don't use Evernote can also use skitch to save edited images locally or to export to all other apps which supports image importing. The working of app is perfectly smooth and has good rating in Google playstore.


Review of Android apps Evernote Hello and Evernote food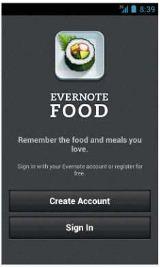 Once you create an Evernote account you can also use other free apps from Evernote like Evernote Hello and Evernote food. Both of these apps are available for free download from the Google playstore.

Evernote Hello is an application which assists you in remembering each and every person you met and arrange them attractively in your smartphones mini screen. If you are someone you hate forgetting the names of the people you meet or someone who like to keep all the info of your friends and relatives then Evernote Hello can be your best friend. Using Evernote Hello you can create browsable history of all the interactions so that nothing can make you forget those moments, that is simply capturing forever. First of all, the application will ask you to give your detailed information, once you give it you can start adding people you meet to application. There are two options to add people:

1. Select 'pass your phone' and give your phone to your friend. Then Evernote HELLO wil start asking your friend like "hai I'm ***your name**** what is your email address?" and so on.

2. Select 'add yourself' and enter details yourself.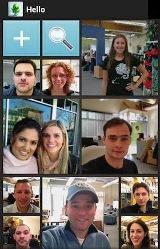 Evernote Food is an application where you can food memories alive forever. Using can store your dishes from your workplace, house, travel everything into this single app to live your delicious memories. Once you click the new button app will ask for meal title, tag and notes. You enter it one by one and take a snap of your meal. Application can also incorporate the place where you had the meal using Google maps.

Both of this above mentioned applications also have advance search as it is in the main Evernote application.

I hope it is time for you to check out these apps from Google playstore if you haven't tried it yet. Wish you great time taking notes!