10 Must have Android Applications for 2012

This article has details of some amazing Android applications which I believe nobody must miss. These are some top applications which every android user needs to have. So, check out our list of applications and grab one which you miss.


Smartphones are a necessity these days. There are over a million applications available in Google Play app market. For some users, it is really hard to decide which application to install for a startup. To make the decision-making easier, here are 20 unique Android applications which you must consider.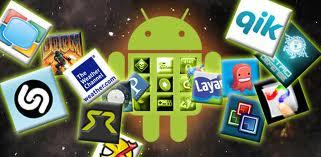 Applications for Security :

McAfee Mobile Security

McAfee mobile security offers privacy, a reliable antivirus and security software for your Android smartphone or tablet. It protects your device from viruses, thefts and has powerful features like app protection, call & SMS filter and safe mobile surfing.
Price – There is a 7 days free trial after which you are required to pay $29.99 in order to continue the service.
Download


Applications for Media Players :

Real Player

Real player is one of the best music players for platforms. It is a favorite of many users. It manages digital entertainment. Real player has an attractive & user friendly interface. Real player supports any media formats that your device supports. It can manage hundreds of images, songs and videos. It can be a good choice to start with.
Price – Free
Download

Adobe Flash Player

Adobe flash player plays flash based videos, games, applications and more. Flash players give a complete web browsing experience. You can see a demo of this application on m.flash.com.
Price – Free
Download


Applications for utility :

Battery Defender-Battery Saver

Low battery strength is a common problem in most phones. Saving battery for longer use is a key requirement. This application can save your battery greatly with its easy notification features. After installing this application, you will never have to worry about battery life of your device.
Price – Free
Download

Advanced Task Killer

Advanced Task Killer is a cool application to kill or terminate unused tasks and save memory. This optimizes the performance of your mobile device in many ways. One of the implied benefits is increased speed. This application is available in both free and paid versions. The paid version is free of advertisements.
Price – Free; 277.06 INR for paid version
Download


Applications for torrents :

UTorrent

UTorrent is a smarttorrent client. Many tech enthusiasts around the world use it to download and upload bitTorrent content. If you have an internet plan with good speed, you might want to download torrents. This application can help.
Price – Free
Download

Swarm

Swarm is a lightweight bittorrent client that supports multiple simultaneous downloads, tor, dht, and magnet links. Swarm integrates with file managers and web browsers. Downloads can be enabled over Edge/3G/4G or Wi-Fi.
Price – 277.06 INR
Download


Gaming applications :

Angry Birds Space

After a giant claw kidnaps their eggs, the angry birds chase the claw into a wormhole and find themselves floating in a strange new galaxy – surrounded by space pigs! Luckily, the angry birds have super powers of their own...
This famous Angry Bird's sequel is one of the most popular gaming applications in world.
Price – Free
Download

Cut the Rope

Cut the Rope, catch a star and feed Om Nom candy in this award-winning game. The long-awaited hit game is finally available for Androids. Join MORE THAN 60 MILLION PEOPLE who have already played this game. Users rated this game 4.81 (out of 5).
Price – 53.62 INR
Download



Applications for sharing files :

Dropbox

Dropbox is a free service that lets you share all your documents, photos and videos. Once you install Dropbox on your computer, any file you save to your Dropbox will be automatically saved to all your computers, your Android device, and even the Dropbox website. With the Dropbox application, you can always carry along everything that matters to you.
Price – Free

Download