Most useful Hi-tech e-Surveillance Systems

Read this article to update your knowledge about such surveillance systems like – What is e-Surveillance, Application of e-surveillance, worldwide need for e-Surveillance and types of hi-tech Surveillance devices. In order to control increasing crime rate and terrorist activities across the globe, the hi-tech security systems requirement observed universally. A wide-range of hi-tech security equipments, embedding innovative features are available in worldwide market.


Most useful Hi-tech e-Surveillance Systems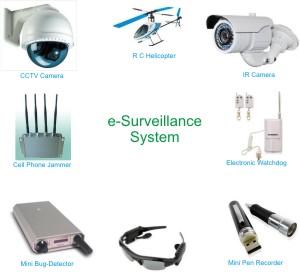 In the current scenario, security from theft, loot, robbery at public and private places and terrorism at national and international levels is the most considerable issue. In my earlier post regarding Tracking software and services for lost or theft expensive devices, I talked steps that has to be taken after crime but this time I am talking about controlling the crime. Knowing how and where to use particular type of surveillance can help individuals and companies make the right security decisions.


What is e-Surveillance?

e-Surveillance stand for Electronic surveillance which simply means using electronic devices – such as surveillance Cameras, digital cameras, computer software, GPS Technology, wiretapping devices, Jammers, and other tracking technology to monitor or record someone else's private communications. With advance leveled technology, virtually each and every aspect of the suspect's activities can be monitored. Using satellite communication and IP cameras, this information can be shared around the world.


Applications of e-Surveillance :

At individual level
A homeowner can travel outstation fearlessly, monitoring his home on his laptop virtually from anywhere, by installing an e-surveillance and video devices at different home locations, as required. Nanny cams and other video surveillance devices can ensure safety for home alone kids, even when parents are away.

For companies and workstations
Theft and fraud is a serious issue for companies, employees can easily be monitored to ensure their honesty while doing their job in the workplace.

For crime investigation and detectives
Devices like CCTV Camera, spy camera and spy sunglasses most useful for sting operations, and detectives to investigate crime.

For Anti-terrorism acts
At national and international level, satellite based surveillances can be used to monitor and control terrorist activities around the world.


Worldwide need for e-Surveillance

After the 9/11 attacks on the world trade centre, world's outlook towards the terrorism had been changed. All nations worldwide increased their security budget against terrorism. Before September 2001, for security, only metal detector could be seen on airports but after 9/11 disaster, the scenario changed entirely. As a rapid action, Advance Imaging Technology (AIT) equipments accepted on worldwide airports and bumper need for various security equipments had grown up a huge Surveillance market. For enhancing anti-terrorism activities, 21 May declared as Anti-Terrorism day.


Types of e-Surveillance devices
CCTV Surveillance system

CCTV (Closed Circuit Television) camera assumed to be the most useful surveillance device for monitoring and crime investigation. The incredible video monitoring CCTV camera includes zoom in and out, tilt and pan features. A camera can be analogue or digital (depending on type of signals it sends). Different shape and sized night vision or IR cameras are capable to serve monitoring and recording, amazingly at night. An IP Camera can either be analogue embedded with a video server having an IP address, capable of streaming the videos or a digital.


R C Helicopter

R C helicopter is most useful in controlling terrorist activities. It can be controlled by a 4-channel radio, well equipped with powerful camera and hearing equipment that helps to find out hidden terrorists while anti-terrorists operations.


Mini Bug-detector

This surveillance equipment is capable enough to trace-out all equipments operating on a frequency ranged within 50 MHz to 3 GHz. It is also great for personal use such as for wireless pin-hole cameras radio transmission, tracking down cellular phones, walky-talky and many more.


Cell-phone jammer

The Cell-phone jammer is capable to jam all cell phones entering within 60 ft. radius to it. It sends out same frequencies radio waves through its antenna that cellular phones use, to block them. For more dedicated units, the radius of cell phone jammers can be up to many kilometers which is most useful for anti-terrorist operations. The smaller jamming devices are mostly battery operated where the stronger devices wired into vehicle's electrical system.


Spy sunglasses

Spy sunglasses are most useful for detectives. It enables you to see your behind also. This surveillance equipment is very useful for keeping a strict eye over the suspects without let them know. Spy sunglasses contain a camera, microphone and a rechargeable battery that lasts up to 6 to 9 hours. They can not only record but also pick up audio from far away. Most spy sunglasses are embedded with a pinhole or pin camera to let you record all the time.


Mini Pen camera recorder

This surveillance equipment is mostly used in sting operations. This Micro Camera recorder is a compact audio and video camcorder. This small and light weight device can be used as normal pen, packed with incredible features like recording hi-resolution real time 15fps video via its internal pin-hole camera. Its storage capacity is around 16 GB built in USB memory, video recording up to 10 hours with internal rechargeable battery.


Electronic watchdog

This device starts hooting as soon as it senses any movement around in the range of 25 ft. It is most useful for controlling theft as it sounds to inform you that somebody is at the gate or crossing your lobby. The device circuit comprises a transmitter and a receiver unit mounted face to face on the opposite walls of your lobby or pillars of your gate such that IR beam gets interrupted as soon as anyone passes through.