MK802 reviews: World's Smallest Android PC in your Palm

Today we are introducing you with world's smallest Android O.S. and Linux O.S. based PC. It is so small in size, even you can grab it into your palms. To get more details about this amazing PC,just scroll down your mouse and read this article below.


The name of this unique and amazing PC is MK802. After looking at this PC, you may confuse it by ordinary USB stick, but it is not like any ordinary USB stick, but it is not like any ordinary USB device, but it is a fully-functional computer device. This tiny PC can run Android 4.0 and Linux operating systems.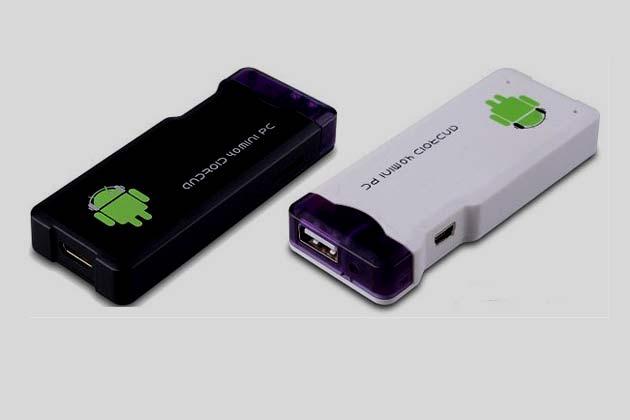 Specifications and features

This unique tiny computer features a 1.5 GHz A10 Cortex A8 ARM based processor, 512 MB of DDR3 RAM, 4GB of HDD, Wi-Fi and Bluetooth connectivity. This device also supports a micro SD slot up to 32GB to increase storage. The device has two USB ports and head phone slots. There is also an undetermined "3D graphical processor" inside the device. This tiny computer comes with Android preinstalled, although you can also install other platforms of various operating systems including Linux and MS-DOS on this PC.


How to use this Micro PC

To use this amazing tiny PC, first of all you need a display or screen, of course, you have to connect this computer through a display to get the output. Then you have to connect a keyboard and mouse to its USB slot to work on this PC. You may also try to use portable FXI dual-core USB stick, which let you turn any HDMI display into an android powered personal computer. In this PC HDMI is a connector rather than a socket, so you will need to use a cable than just stick it into the back of any display. I think it would be a great experience to use this PC.
Users will have to rely on third party sources to install additional application on this PC, as Google's play store is not included in this.


About manufacturer and reliability

This device has been launched by a Chinese company by the name of 'Rikomagic'. As most of the people do not trust on Chinese products, so we also cannot say about reliability of this product. But one thing is sure, this PC looks like more adventurous than practical. So, if you are adventurous type person in the field of new technology and you don't mind to spend some bucks at any anonymous Chinese product, then you can surely go for this device.


Price of this PC

The price of the world's smallest PC is affordable to everybody. You will easily get it around 74$ along with additional cost of shipping, if you orders it online/offline.