Features, Specifications & Price of Nokia 808 Pureview

Nokia has come up again with another smartphone from it ends named as Nokia 808 Pureview. They are telling that this mobile is successor to the N8. This Nokia 808 would be 3G mobile with various features and specifications, So read this article to know the features, specifications and also the price of this mobile Nokia 808.


Nokia 808 - The new Lingo

Nokia keeps up to its brand name and its image of launching new and updated cell phones at budgeted rates specially for the Middle East and Asian Countries and to add to its list of Nokia series here we have the Nokia 808 all ready for its sale in the market. So what's new in it? Well for starters it a new set and people generally crave for new. Plus there are lots who love to be the first one to get a new set home and brag about it in the society!!! Its features and specifications make it worth the Nokia 808 PureView.


Features of Nokia 808

* OS - Nokia Belle OS
* CPU - 1.3 GHz
* Sensors - Accelerometer, proximity, compass
* Messaging - SMS (threaded view), MMS, Email, Push Email, IM
* Browser - HTML5, Adobe Flash Lite
* Radio - Stereo FM radio with RDS; FM transmitter
* GPS - Yes, with A-GPS support
* Java - Yes, MIDP 2.1
* Colors - Black, White, Red


Video –That's called clarity

With a High definition 1080 pixels and a 41 MP Sensor it redefines the word clarity. Incorporating the Carl Zeiss Lens and compacting around seven megapixels into one unit makes the video sharper and soothing to the eyes. It got a Xenon flash as an added feature! Now no more lighting up the room or hesitating to take snaps in the night cause it's going to be blurred- with the new lens and flash-basically the LED video lights, it can automatically adjust to the surrounding light conditions, enabling to get a perfect pure view! No doubt it has also been tagged as the Nokia Pure viewer thanks to its advance feature




Zooming becomes Easier

Tired of concentrating your full attention to the time taking task of adjusting your zoom to get that perfect shot? Well Nokia 808 got an answer to it! It has zooming button so designed that your fingers slightest touch will easily roll in and out giving you exactly what you desire. It is entirely based on complex algorithms which ensure that there is no loss of data while capturing the image. Not just that the Zoom function is more spontaneous than the earlier versions of Nokia So be it a tiny needle on the rack across the table or a picturesque some kilometers apart with Nokia 808 you get the perfect image .Now distance hardly makes any difference!


Sound – That blows up mind

It has meticulously implemented the dollby earphones particularly built for smart phones only, which gives music it worth. Built on a technology which filters all sorts of distortions .It gives such a quality of sound that sets it apart from other mobile phones. You got to get one to hear it for yourself!!!


Navigation – Maps

Navigation was never easier with navigation features available inside the car for all walkways and footpaths of your city. Getting access to around 300 places on Google maps makes you your own master. So there is no chance of getting lost. You are in a middle of jungle and bingo there is Maps for you navigating you through the way, showing you each and every turn. Forget getting lost. You perfectly know the world when your maps are right in your hand anywhere anytime!!!!!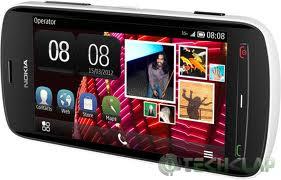 Providing all the basic specifications like accessing the net through multiple platforms like Yahoo, Google and Hotmail, Setting up your personal details in calendar, Reminders, Voice command, Speaker , Internal Storage memory and a lot more making it the complete mobile package fulfilling the demands of the common man who can just do whatever he feels like in just a click


Go Green

Yes, the technology is advancing with setting benchmarks. However, Nokia does understand the importance of mother earth – nature. It has ensured that all the parts of Nokia 808 are recyclable. Not just the materials can be reused again but can be used up as energy source. Now that's what makes Nokia – The Only NOKIA


Price of Nokia 808 Pureview Mobile phone:

Nokia 808 Pureview Price in USA :$ 610 Approx.
Nokia 808 Pureview Price in UK €450 = £ 384
Nokia 808 Pureview Price in India Rs 34000 Approx.