Moz Pro review - Is it worth the money?

Moz Pro, previously called SEOmoz is one of the leading SEO tool in the industry offering several tools to optimize your websites for search engines and end users. SEOmoz offers a Pro account which is a paid service. In this article, you can read my reviews on SEOmoz Pro account and I will discuss if it is worth the money.


I have been using some free tools from SEOmoz for a while and I was quite impressed by the accuracy of their statistical analysis and reports. So, today I decided to sign up for the premium account called SEOmoz Pro.

Price for premium SEOMoz account is US$ 99 per month.


Sign up for SEOmoz Pro account

Signing up for the Pr account was pretty easy and straight forward. It asked for few details about me which include name and email address and then took my credit card details for payments. The whole process was done in 1 minutes.

After the quick sign up, I was greeted with this welcome screen: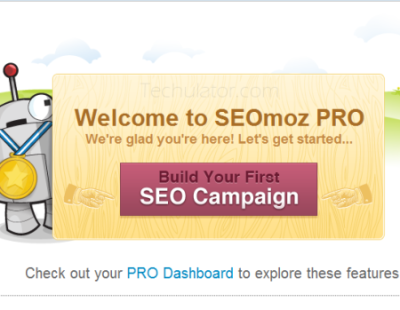 SEOmoz Dashboard

After signing up, I looked the dashboard, which was quite clean and easy to figure out. There was a welcome message waiting for me and also a message with the label "Where Do I Start?" which was quite self explanatory.

The welcome message explained I need to "create campaigns" for each site I want to track and analyze using SEOmoz. Also, it showed I can create maximum 5 campaigns which means I can track a maximum of 5 websites with a single SEOmoz PRO account.


Creating a campaign with SEOmoz

In the first step of creating a new campaign, you have to specify whether you want to track a full root level domain, a sub domain or only a directory under the domain. I chose 'Root Domain'.

I selected "Root Domain" and entered www.Techulator.com. But SEOMoz confused me a bit with the message "You've decided to set up a root domain campaign, but entered the subdomain path:
www.techulator.com.. Don't worry, we'll switch that for you and crawl everything on the subdomain: www.techulator.com.

Technically they were right: 'www.techulator.com' is a subdomain under the root 'techulator.com'. However, since most people consider www. as part of the root domain itself, SEOmoz could have given a slightly better message.

In the second step of creating a campaign, SEOmoz PRO wanted me to choose my primary search engine and the default country. Google was pre selected making my job little bit easier. I could select Yahoo and Bing as additional options.

Yahoo as a search engine uses Bing.com behind the scenes. So I think it is time for SEOmoz to remove Yahoo from the search engine list.

Also, since SEOmoz did not pre select any search engines other than Google, I was confused whether to select Bing/Yahoo and what would be the impact if choose and not choose. I decided to select Bing as well and clicked NEXT.

In the next step, I was asked to provide URL of the 3 sites to which I want to compare my site. I provided URLs of 3 tech sites I usually use.

The next step was to connect my SEOmoz account with Google Analytics account, which I skipped for time being.

The next step of creating the campaign was to specify few keywords I am targeting. That was an easy step and was the last one before my campaign was created. The confirmation screen at the end of creating a new campaign in SEOmoz looks like this:




There was one disappoint, which they can't really help: SEOmoz will crawl only 250 pages initially and the reports will be ready only after a day or so. The full crawling would take a week or more. The SEOmoz PRO plan I purchased will allow me to create only 5 campaigns and it can crawl a maximum of 10,000 pages, which will cover most of the important pages in my website.


SEOmoz Crawl Diagnostics

After few hours, I received an email saying the initial crawl of 250 pages is completed and the report is ready to view. I took a look at the Crawl Diagnostics and was surprised to see the number of the errors. There were 23 errors, 180 warnings and 193 notices.




Majority of the errors belonged to the following:

Title Element Too Long (> 70 Characters)
Missing Meta Description Tag
Too many on-page links
Duplicate Page Title
Temporary Redirect
Duplicate Page Content
Long URL (more than 115 characters)

Most of the errors were quite obvious and happened due to overlook from our side. I took only a few minutes to fix most of the issues and I have to say SEOmoz really helped us. Even though most of the SEO tools would show me these errors, the fact that I did not bother to use any other SEO tools and most other tools were not this easy to use, made me feel happy that I purchased SEOmoz Pro account. The one month subscription fee was worth just for the errors it showed me and helped me fix today.


SEOmoz: Improvements I am looking for

SEOmoz is indeed a great tool. But I think it has some scope for improvement. Here are my suggestions and enhancements I am looking for with SEOmoz PRO software:

SEOmoz should recognize canonical URL. Currently, it reports duplicate content for the same page if they are represented with different URLs or same URL with capital letter/small letter difference.


Waiting several hours to crawl 250 pages seem to be a pretty long wait. It could allow the user to choose the crawl rate and crawl faster if user choose to do so.


It would make it much easier if it can provide in-page help while creating a campaign. Some of the steps are bit confusing.


Remove Yahoo from the search engine list while creating a campaign. It does not exist as a search engine and having Yahoo listed there gives an impression that SEOmoz is an outdated tool which is not updated as per the changes happening in the technology world.


In the crawl diagnostics page, it shows the page for which the error is applicable. In most cases, when someone see an error in a page, the first thing they want to do is to look at the page itself. If a direct link is given to the page from the error report, we can easily look at the page and check the error.


Is SEOMoz worth the money?

I recommend SEOMoz as an SEO tool for all webmasters, but whether it is worth $99 per month is a question. In my case, I felt it is not worth spending $99 per month for the reports it provides and so canceled my PRO account recently. I think I would have continued to use their services if it was about $40-$50 price range.