iOS action game Ziggurat review

Read the review of the game Ziggurat. Know what are the pros and cons of the iOS game Ziggurat, what are the features of this game and what all is interesting in this game. Know how to play Ziggurat and a lot more about this game in this review


Pros and Cons of Ziggurat game
Pros: Extremely addictive, awesome synthesized electronic music
Cons: Controls need a little practise with them, retro visuals are boring


Detailed review of action game Ziggurat

Sometimes even a simple game without any potent storyline can entice you and make you go gooey with excitement. A game belonging to this genre is Ziggurat which is just a shooting game but can take you to the next level of excitement. Let us now have a peek over the insights of the game.


Ziggurat's tale is a very minimal one but is yet a very effective one to keep you glued to the game. In short it is a tried an tested method presented in a new form. In the game, you are the last human being alive in the planet and you have to fight the alien foes till the end. You are positioned above a ziggurat and you are required to fight your foes from there itself. Times change, seasons change but one thing that does not change is your task. You have to fight your foes till you survive and it's simply upto you how many number of aliens you can destroy. So, it is a simple yet effective game which will keep you glued to your seats. This endless shooting game entices you for the simple fact that it doesn't have any tricks, twists or frills. It is just a simple yet effective game. Even though the game play is just but after some mindless shooting you would start playing strategically and with ample amount of planning. The reason for this is the variation you would experiencing in threats, as you would be experiencing a variation in threat level and you are required to categorize and prioritize between various risk levels and act accordingly so that you would be surviving for a longer period of time.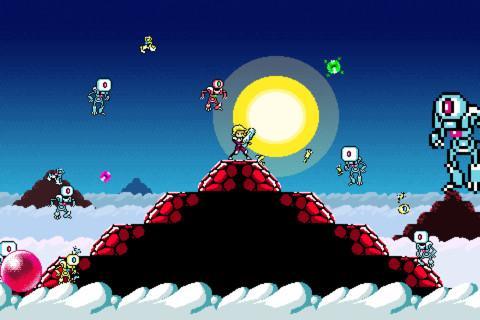 The next thing that will entice you is the fact that you can charge your gun but to with some limitations. You have a limiting point, if you exceed that point of charging then the blast your gun would be producing will barely move your foes some steps. Now, if you charge the gun to the maximum point, just upto that point, then it will create a blast which will clear your whole screen. Once you advance in the game you should have patience and should play with a calm and composed mind. When you advance in the game, the density of the aliens increases and the gist is to keep yourself cool-headed. The control with fingers does take some time getting used to, you need to avoid cluttering the screen with fingers while angling the gun. For those who find the angling of the gun by swiping your finger can shift to "Angry Birds" style slingshots but I would really recommend not going for it otherwise when you have too many enemies on the screen it will become very difficult to keep track on all of them.

Now let us have a peek over the technicalities of the game. The visuals and music are really amusing and adds on to the excitement delivered by the game. With the great onscreen action you are provided with a chip tune soundtrack which makes your game play even more interesting. The great soundtrack provided make your experience even more special which will give you the real feeling of the game, being the last person in the planet and fighting against all odds. One more thing that entices you would be unique controls ziggurat would be offering you. The default controls make you to swipe your gun by using the bottom of the screen. It takes some time for you to get acquainted with the controls but once you are used to it, it would be a natural and intuitive feeling.

Thus Ziggurat is a game with simple game play but effective enough to take you to the zenith of excitement. So go for it.