LG Mouse Scanner LSM 100 features & price

LG Mouse Scanner LSM 100 features & price are added here. LG brought world's first mouse cum printer LG Mouse Scanner LSM-100 which has no different with conventional average mouse and whose one portion is mouse and one portion is scanner. With this mouse scanner you can scan documents and photos and save them in Microsoft Words, Excel. Read this article to know more about this multi-tasking mouse.


LG Mouse Scanner LSM-100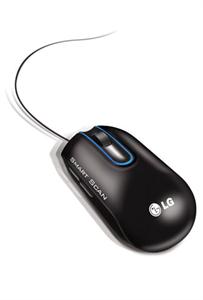 In our busy life we haven't sufficient time to carry a scanner with hand around and for study purpose to copy study materials from various magazines or news papers or to type those documents. That's why we are all want to have a tool with which we can do multiple of tasks. Which is why LG brought World's first Mouse Scanner LSM-100. It's one part mouse and one part scanner and it looks no different from the average can do multiple tasks like paste image and text, save, edit, share and print. LG mouse scanner enables you to complete your scanning and it has a great editing power with which you can convert text into Microsoft Excel or Word document.


This mouse scanner configured with laser sensor having 1200 DPI and 5-buttons where 3-buttons for scan and 2-buttons for backword. User can scan multiple size of pages (up to A3 size). It is very to use with the help of drag function. User just drag it across the paper that you want to scan and the scanning portion can be seen on the screen immediately. This mouse scanner's pixel size is 640x300 at 30Hz and it's maximum movement speed is 0.3 ms. The scanned image can be saved in JPEG, PNG, TIFF, BMP, DOC, XLS, PDF formats. Its main remarkable feature is Optical Character Recognition (OCR) technology with which user can scan and and no longer need to retype the text to edit it and it saves the scanned image as editable file like Microsoft Word, Excel. It enables you to share the scanned files via SNS like Facebook, Twitter, Flickr etc and connectable to email services.


System Requirement

Interface: USB port

Operating System: Windows XP/7/Vista

Minimum System:

Processor: Intel Core Duo 1.2GHz or AMD Athlon 64 x 2, 1.7GHz

Memory: 1GB of free RAM

Disk Space: 1GB

Graphic Card: 128 MB NVIDIA GeForce 8400 GS or 128 MB ATI Radeon X1300 or 384 MB (shared) Intel GMA x 3000 or better.

Recommended System

Processor: Intel Core 2 Duo or AMD Athlon II processor

Memory: 4GB

Free Disk Space: 4GB

Graphic Card: 512 MB AMD Radeon HD 4850 or 512 MB ATI FirePro V5700 or better.

Price: Rs. 3,500/-