How to solve Windows 8 installation error 0xc0000225 on Oracle VirtualBox error

Did you try to install Windows 8 or Windows Server 8 on Oracle VirtualBox and stuck with the error status 0xc0000225? Learn how to solve this unexpected error on Oracle VirtualBox and successfully install Windows 8 in the virtual environment.


Today I was trying to install Windows Server 8 on Oracle VirtualBox and got the following error:


Windows failed to start. A recent hardware or software change might be the cause. To fix the problem:

1. Insert your windows installation disk and restart your computer.

2. Choose your language settings, and then click "Next"

3. Click "Repair your computer."

If you do not have this disk, contact your system administrator or computer manufacturer for assistance.

Status: 0xc0000225

Info: An unexpected error has occurred.

Here is a screenshot of the installation error: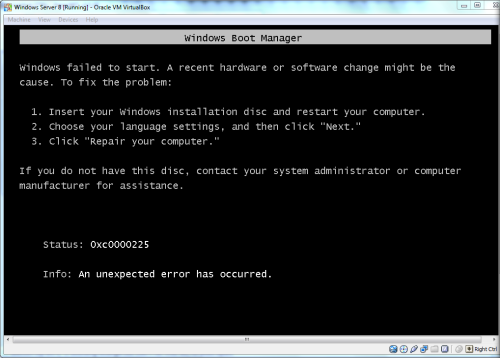 Unfortunately, the suggestions given in the Oracle VirtualBox error screen was not the right solution for the problem. After some extended troubleshooting and random tries, I figured out how to resolve this Windows Server 8 installation error.


How to solve the Windows 8 installation error on Oracle VirtualBox

To resolve the above error, all you have to do is, enable IO APIC on the VirtualBox in which you are trying to install Windows 8 or Windows Server 8.

Here are the steps to enable IO APIC in Virtual Box:

1. Launch your Oracle VirtualBox Manager

2. Select the VirtualBox in which you are trying to install Windows 8

3. Click on "Settings" in the top toolbar.

4. Choose "System" on the left pane

5. In the "Motherboard" tab, look under the 'Extended features' section. Check the checkbox "Enable IO APIC"

6. Click "OK".

7. Start your VirtualBox by clicking the "Start" button in the toolbar.

See the screenshot of the steps to fix the installation problem: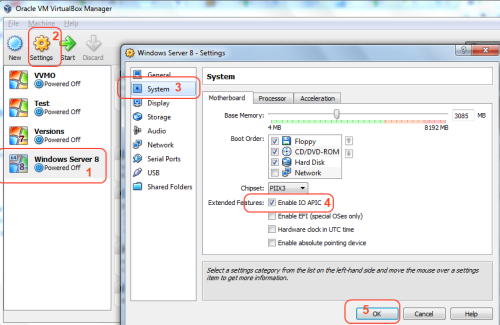 Now you should be able to successfully run the Windows installer without the error status "0xc0000225".