Nokia Lumia 800 vs Samsung Omnia W I8350 Comparison

This is an article which gives compares the features and specification of the recently launched Windows Phone from Nokia, the Nokia Lumia 800 and from Samsung, the Samsung Omnia W I8350. Since, 2012 is showing to be a great market for Windows Smartphone, many manufacturers are coming up with Windows Phone 7. Here in this article I'm comparing the Nokia Lumia 800 and Samsung Omnia W I8350 which are the latest Windows Phone.


The Windows Phone is the Nokia Lumia 800 which is a single bodied beauty from Nokia giving all a user needs and also backing them to regain their market in the field of smart phones and to compete with other smart phone manufactures mainly with Samsung which is the leader in Mobile world. Samsung has got to be the leader of smart phone market with all its features mainly with the Android operating system from Google. And now to prove themselves, they again have come up with a smart phone Samsung Omnia W I8350 which is a Windows Phone. Now let's look upon the differences between these two Windows Phone 7 by comparing their features and specifications as it has been a tough time to choose the best among these two phones. The main reason is they are Windows Phone and people are just going behind the new Windows phone and getting confused to choose which among them is best and suitable for their use.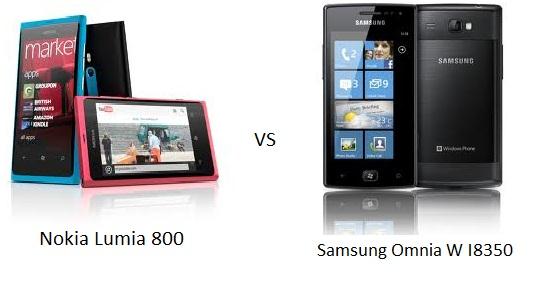 Comparison between Nokia Lumia 800 and Samsung Omnia W I8350

Nokia Lumia 800 from Nokia is the new beginning for them with Windows operating system. Before they had the Lumia 710 which was first phone from Nokia to have Windows OS and the main reason is to bring them strong in the US market to compete against Samsung who has established themselves. Nokia Lumia 800 is a single bodied Windows Phone 7 with all features and specifications which a user expects. But on talking about Samsung Omnia W I 8350 which is also a Windows Phone has moreover same and more features and specifications when compared with Nokia Lumia 800 which is considered to be a great competitor. Now let's compare these two smartphones which was recently launched running with Windows Phone 7 OS.

Display
First let us see the difference between the display of these two phones, Nokia Lumia 800 is designed with having AMOLED display which would give you 480 x 800 pixels of resolution. Lumia 800 has the 16M colors which makes them sprawled over the 3.7 inch capacitive touchscreen. When we see the display features of Samsung Omnia W I8350, its display is flaunted with a Super AMOLED capacitive touchscreen which is better than Nokia Lumia 800. Also it has the same specifications like 16M colors with same screen size just like Nokia Lumia 800. Multi-touch is supported well by both the smartphone and their touch is covered with Corning Gorilla Glass.

Form Factor
These Windows smartphones are just in the form of simple candy bar. There is nothing to talk much about Samsung Omnia W I8350 as this phone is just a creation from matching al the previous models and designs which was released by Samsung earlier. But on seeing the Nokia Lumia 800, this smartphone has been carved out by a single material which makes it to be called as single bodied eye candy smartphone. On comparing the measurement and weight of these phones, Nokia Lumia 800 measures 116.5 x 61.2 x 12.1 mm and weighs 142 g Whereas Samsung Omnia W I8350 measures 115.6 x 58.8 x 10.9 mm and weighs 115.3 g which is more lighter than Lumia 800.

Camera
Samsung Omnia W I8350 is sported with 5MP camera which is scooted with facilities like LED Flash, geo-tagging, image stabilization and auto-focus also whereas Nokia Lumia 800 has 8MP camera which is especially loaded with Carl Zeiss optics. They also built with dual LED Flash in order to support and take photos in the dark surroundings and also have other functions like auto focus and geo-tagging facility. For video recording both the Nokia Lumia 800 and Samsung Omnia W I8350 has the capability to record HD videos at 720p with 30 fps.

Memory
Since these both smartphones are Windows Phone 7, so they do not have the microSD card slot for expandable memory as this is not a tradition from Windows. They are having only internal memory where the Nokia Lumia 800 is given with 16GB of internal memory while the Samsung Omnia W I8350 has only 8GB which is just the half of the storage space of Nokia Lumia 800. But these both smartphones has 512MB of RAM.

Processor
Just keep in mind these both phones are Windows Phone 7, so they both will be having mostly all features to be same. Even in processor they both share the same processor that is the Qualcomm MSM8255 Snapdragon. Also they both have the same specifications like 1.4 GHz Scorpion CPU and Adreno 205 for Graphics.

Data Connectivity
There is no difference when it comes to Data Connectivity between these two smartphones. Both the devices have the average connectivity with all the latest trends in talking of features. The connectivity features includes the Wi-Fi 802.11, 3G HSDPA 14.4 Mbps, Bluetooth v2.1, HSUPA 5.76 Mbps and micro USB v2.0. But before that the one factor which Samsung Omnia W I8350 differs is, the users of Omnia W I8350 cannot transfer files through Bluetooth which could be an added advantage of Nokia Lumia 800.

Battery Backup
Nokia Lumia 800 can stand up to 13 hours of talk-time over 2G and 9 hours 30 min of talk time on 3G. This is possible because they are powered by 1450 mAh.
While the Samsung Omnia W I8350 is powered with 1500mAh standard battery which provides up to 7 hours of talk-time only.

Price
Hope you should be thinking that, I have said almost all features and specifications to be same between these two Windows Phones. Yes, that is true fact but not in the case of price. The price between these smartphones brings the challenge as Nokia Lumia 800 which has just almost the features and specifications of Samsung Omnia W I8350 costs 30,000 INS while the same Samsung Omnia W I8350 costs only 20,000 INR which is something to be a ponder upon.


Conclusion

The price is the only thing which makes the difference and brings the change and challenge between these two smartphones and the customers and buyers in the market need to decide the winner of these two Windows Phones. So if you are looking for a single eye candy smartphone, then go for Nokia Lumia 800 which would be a great deal if all the features are allured to you or else it is best to go for Samsung Omnia W I8350 which is the same and also not a bad deal when compared to Nokia Lumia 800.