Mobile Choice Consumer Awards 2011– Samsung Galaxy S2 Reign Continues

Here is the updated information on the Mobile choice consumer award 2011 winners. UK's top most mobile magazine Mobile Choice has announced the 2011 winners who had won the prestigious award for the current year. Read an exclusive report on this.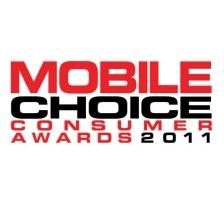 The reign of Samsung continues as the most active mobile manufacture in the world continues to dominate the markets by winning most of the awards in 2011 given away by Mobile Choice, the leading mobile magazine in United Kingdom. Every year Mobile Choice used to conduct market research survey to select the people's choice from among products and services rendered by different companies. This survey is being conducted in various mobile phone categories. The year 2011 seems to be the most prestigious year of Samsung as they continue to impress the world with wide range of products. Samsung had won six awards in which 5 awards were bagged solely by Galaxy S2, which include the Phone of the year award.

Here is the list of awards won by Samsung in the Mobile Choice Consumer Award 2011.

• Phone of the year - Samsung Galaxy S II
• Best Camera Phone - Samsung Galaxy S II
• Best Video Phone - Samsung Galaxy S II
• Best Android Phone - Samsung Galaxy S II
• Best Media Phone - Samsung Galaxy S II
Along with this Samsung won the 'Best Manufacturer of the Year' award too.

In the 2011 Mobile Choice Award function Samsung Galaxy S2 stood alone bagging the most of the prestigious awards.

Along with the above given list few more awards were also distributed in other categories.

• Tablet of the year – Apple iPad 2
• Best handset for Social networking - Blackberry Bold 9780
• Best Value Phone - Orange San Francisco
• Most Innovative Device - LG Optimus 3D

Being the most popular Android smart phone, Samsung Galaxy S and Galaxy S2 had reached 30 million users in September 2011. So the signs are quite clear – Samsung is just close to apple in sales of smart phones.