Top 10 free tools for Windows

Are you looking for free tools to optimize, tune and tweak your Windows 8? Read this post to learn more about the cool Windows 8 tools available currently.


I used to maintain a Top 10 list of all good things I use in life. So, now since I dedicate my last few days to work on Windows 8, I decided to start preparing my Top 10 tools for Windows 8 list. I still do not have the full list yet, I will start with what we have.


Top 10 tools for Windows

My top 10 list at this stage is going to be just a list of available Windows 8 tools in the market. I will start with the available tools, but I promise I will keep editing and updating this list as and when I find better tools worth including here.




Tool to toggle between Metro UI and Classic Desktop UI

This is a nice little tool from MyWindowsClub. You can use this tool to toggle between Metro UI and classic desktop UI in Windows 8. The actual use of this tool is to see or hide the classic start menu in Windows 8. You may have noticed that Windows 8 comes with the Metro start screen and there is no official way to switch to the classic start menu. If you switch to the desktop view in the Metro UI and then click on the Windows start button, it will simply switch you to the Metro start screen.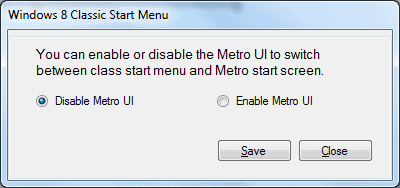 This nice tool from MyWindowsClub helps you easily toggle between classic start menu and Metro start screen.

Download classic start menu toggle tool from MyWindowsClub.