Update Error 0x80072ee2- Step by step instructions to fix this error

For updation of Windows operating system components in your system, Microsoft has provided Windows Update services with the help of which regular updates are provided to system after a fixed interval of time. When any interruption takes place during communication establishment then Windows Update error 0x80072ee2 occurs in system. In this article, I will explain the causes and fixing solution of Windows Update error 0x80072ee2 in Windows 7 OS.


When you are trying to install Windows update services in your computer system then most of times, Windows update Error 0x80072ee2 comes on screen. The reason noted for this error is clash between the dial-up accelerator and Windows update service. When your system components are not stable and suffering from improper maintenance then many complicated errors occur in your system. Windows update error is one of them which occurs due to incompatibility of Windows applications with hardware and other peripheral devices.

For maintaining better environment within Windows platform, Microsoft has provided online update services which is to be installed in the operating system from the official website of Microsoft. When any component goes wrong during updation then it results in Windows update error 0x80072ee2. It causes frustration among users, when you are not able identify the reason responsible for the occurrence of this error. Windows update error links itself with the registry settings and store the final result within the memory and causes data accessing error. So, it is difficult to recognize the actual cause of update error.


Causes of Windows Update error 0x80072ee2 in Windows 7 OS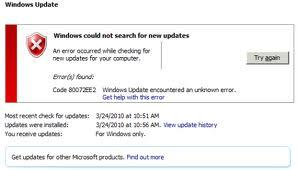 When you are updating Windows services from some proxy server which act as the interface between Microsoft and your system then there may be chances that interruptions may take place during Windows Updation services. Moreover, Router which is meant for the transfer of the data between sender and receiver may have high or low transmission speed which causes distortion and interference during duplex communication establishment.

Entry of malicious matter in your system corrupts the hard disk drive and causes outdated database occurrence in the system. The damage file in system interrupts the balancing of system components. It is Virus and Malware which causes the infection in system and disturbs the balancing environment of computer system.


How to resolve Windows Update error 0x80072ee2 in Windows 7 OS?

Resolve the driver's conflict by checking the drivers against any set of problems by installing them again in system. Also, check for older version of drivers whether they are compatible with the system requirement or not? if not, then it will not support different applications in your system. In order to resolve the issue, you have to download update driver software either from CD or from internet (drivers that could match the requirement of system).

Due to corrupt data of outdated files residing in system causes freezing of Windows based applications. In case any such error occurs in system then it require to be repaired at time which came to be possible only through sufficient knowledge of windows registry. There is a tool in Windows with the name of Windows fragmentation, the work of which is to clean the registry records so as to repair the Windows Update error.

Download the spyware or infection removal tool in your system which is capable of removing the malicious matter from the system by removing the linking of the system software with the registry settings by preventing the further access of Windows registry settings. Moreover, it increases the speed and performance of your system by avoiding the freezing and crashing problem.