Difference between time sharing and real time operating system

Always, students have confusion between real time and time sharing operating system as both of them uses the same principle of time sharing but differs in one approach which is explained in the article given below.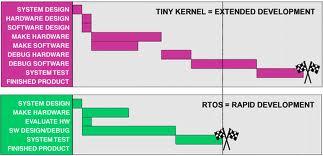 Both time sharing and real time operating system are used for the effective utilization of resources such that it reduces the spare time of CPU but both of them allows the users to work on the some CPU at same time using time slot which provides equal time intervals for various process for their execution. But, still both of them are different from each other which is explained below as follows-

In time sharing operating system, equal time slots are provided to processor for execution of programs which also leads to the context switching, in which process shifts control from one to another. In case any process does not complete its working within time slot then extra time slot will not be given to it. For example- you are running a process with a time slot of 5 seconds and in case process does not complete in 5 second and requires 1 extra second then it will be executed in next execution cycle but time slot will not be extended.

The real time sharing operating system is used in which different processes are executed for some time slot but in some process execution, time slot can be extended for process execution but context switching can also take place in same manner. For example- in case you are executing a process which requires 7 seconds for its completion but process requires 8 seconds then 1 second time period will be extended and after that another time switching take place.